Dreams on Ice 2015
July 21, 2015
By Atsuko Kuryu
Photos © Keiko Kasai

The annual Dreams On Ice exhibition, where almost all the eligible Japanese top figure skaters get together, was held June 12 - 14 at the Shin Yokohama Skating Center in Kanagawa, Japan. There were 4 shows and I had a chance to attend the very first one.
There were 17 single skaters, 1 ice dance couple, 1 synchronized team and 4 guests performing. To our surprise, 13 out of 17 were teenagers and 9 of them were under the age of 16. What does that mean? Well, it could bring new prosperity to Japanese figure skating, or it just showed that most top Japanese skaters have already retired. I think the former one is right. The World silver medallist Satoko Miyahara, the World Junior champion, Shoma Uno, the World Junior bronze medallist, Wakaba Higuchi, as well as the World Junior bronze medallist Sota Yamamoto, were all included in the younger skaters. What a rich stable! Let me share my impression of this wonderful gala event.
ACT I
The show started with Koshiro Shimada (13), the Japanese Nationals Novice silver medallist. He started his performance to Modern Times in a sad tone, but it became humours after the music changed. Throughout his performance he portrayed tenderness and sweetness using his whole body and facial expressions. He also displayed good skating skills and beautiful spins. He included many jumps and some of them were landed so easily and with great flow. Marin Honda (13), the ladies Japanese Novice Nationals silver medallist, skated to Beethoven's Spring Sonata No. 5. She wore a lovely pink dress. She had good speed and moved gracefully, and her spins were well centred and consistent. I do however guess she had a significant advantage in that she could move to the music in such a natural way.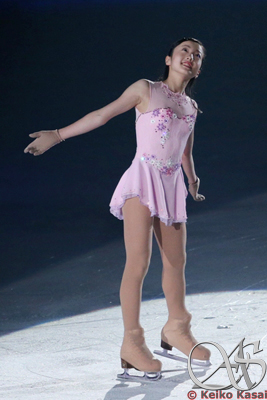 The Novice National champion, Sena Miyake (13), who skated to Child of Nazareth, showed visible improvements in every aspect. He landed his jumps cleanly and had fast spins. His skating skills have become much smoother and speedier since the Junior Nationals last November. One ground for concern, if any, is his stamina. He looked very out of breath at the end of his step sequence and lost speed. Hopefully it won't be a problem since he will get stronger as he grows up.
The girl who was a no-name just two years ago became the Novice champion at Nationals last year. Since then she has been showing what a promising talent she is at many skating events. Her name is Yuna Aoki, and she is only 13 years old. Her performance to Meditation of the Thais was nothing short of brilliant and left a lasting impression. Her balletic movements were both elegant and convincing, and with amazing speed she drew in the audience during her performance. She is definitely a talent to watch for, so please remember her name.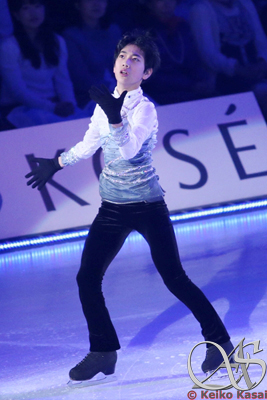 Shu Nakamura (18) placed 3rd at the Junior Nationals last year, but lost his ticket to the World Junior championships because of an injury. Now he showed a new, grown up style in his new program, Un Giomo Per Noi. He has been good at dancing and here he realized a sweet and romantic "Romeo e Giulietta"'s world through his skating. His jumps were not so good on that day; still his musicality enchanted the audience.
The young jumping bean, Kaori Sakamoto, grew up into a lovely girl. She skated to Malaguena and tried to show her grown-up side. I didn't say she looked passionate yet, but at least she tried to be expressive and will possibly get there at the end of the season. Her biggest appeal was her dynamism. Speed, power, sharp and consistent jumps were still there, so if she can add some maturity, next season will be hers.
How would I introduce Hiroaki Sato (18) to someone who hasn't seen him perform? A skating actor? A great expressionist? A promising young skater? I feel all of these are true, yet wouldn't describe what he really is. The skaters invited to perform in the DOI shows were very few; top skaters only, and for him, who has been a great expressionist but a weak jumper, it must have been a dream come true. And he chose Bolero for his first program for DOI. I had imagined a serious, danceable performance, but he made it playful and entertaining. Wearing a fake naked shirt, he parodied it. But it wasn't just an "easy fake stuff"-program; he turned it into a gorgeous show. I have introduced him in my previous reports (several times even), and I think he has a special talent. I expect him to become a world skater and cross my fingers that he will gain consistent jumps. Gradually he has improved already.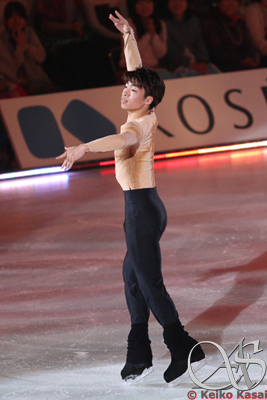 How many charming young skaters Japan has! I feel very proud as I write this report. Yuka Nagai (16) is a good example of a fusion of grace and dynamism. She gave a very powerful performance to Rachmaninov's Piano Concerto No. 3. She never stopped being powerful and especially during the step sequence, her energy and speed dominated the venue. Although she was remarkably elegant and feminine for a junior skater, she should step up to the senior stage, and her true worth would be evaluated. Another up-and-coming skater, and next to appear on the ice, was Sota Yamamoto (15). After he surprisingly won a bronze medal at the World Junior Championships, he became known nationwide and got new, young female fans. To our surprise, he chose Poeta for his short program for next season. It is a masterpiece of flamenco which includes human emotions such as joy, anger, pathos and more, so it requires a skater to use both stillness and motion effectively. Could this fifteen-year-old boy express the passion of this piece? I don't want to jump to conclusions yet. His step sequence was so attractive and his speed and spins were exquisite as usual, putting aside that his jumps were a little off that day. He might need some more time to truly understand and absorb the music, and it is interesting how he could grow so much expression-wise.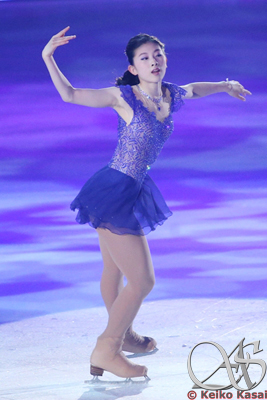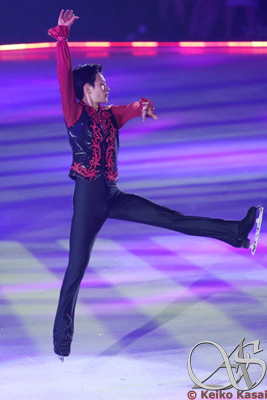 The only eligible international level ice dance team right now in Japan is Emi Hirai/Marien De La Asuncion. They skated to the opera Turandot. Starting with a well-unified twizzle, they put on an attractive performance featuring Emi's beautiful position during the rotation lift. Now that Cathy Reed has retired, they are supposed to lead Japanese ice dancing, and their performance well deserved it. Still, we missed Cathy and Chris a lot.
The only senior level single skater in ACT I was Daisuke Murakami (24). After winning the NHK Trophy last fall, he finished 7th at Nationals and 4th at the Four Continents Championships. His performance to Bring Him Home definitely has matured; the smoothness of movements, light and speedy skating, solid jumps and beautiful spins; every aspect you require of a senior skater was there. The music also suited him very well.
The Synchronized skating team, Jingu Ice Messengers Grace, 12th at the last ISU World Synchronized Skating Championships, skated to Japanese music: Zatoichi. Their team work was beautiful, with good flow and smooth movements. This music demands to be heard and also requires a certain atmosphere, but it seemed the team mostly succeeded in meeting the requirements. They also showed nice harmony, and at the same time sharpness.
ACT II
Shoma Uno (17) had a breakthrough this season. Not only by winning two major international junior titles (the Junior Grand Prix Final and the World Junior Championships); but he also became the runner up to Yuzuru Hanyu at the Japanese senior Nationals.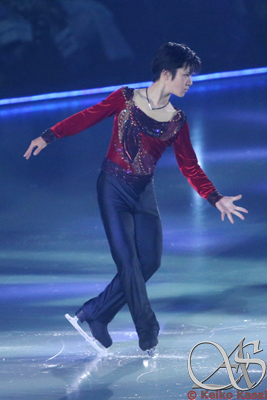 It meant he got medals at all the events he competed in, except in the Four Continents. He also picked his music from the Italian Opera Turandot for the short program for next season, and his performance was gorgeous! His great speed left as strong impression, as did the magnificent music. He knew how to make the most of his body movements and how to harmonize with the music. One thing that concerns me about him, is that most of his programs have left similar impressions; serious and deep. It would be nice to see something different from him, such as a light, playful, or humorous program.
Wearing an orange costume, Wakaba Higuchi (14) looked like a package of energy. She moved smartly through her performance with lots of turns, and the edges during her step sequence were very clean. She went with the quick rhythm of Mambo Fantasy and showed a flamboyant performance. There was no need of finding seriousness or difficult interpretations for the audience, so we just enjoyed her dynamism and power. While Rika Hongo (18) performed, I had some enigmatic or witchy feeling, and I was convinced after learning she skated to Incantation (from the Cirque du Soleil show Quidam). It was choreographed by Akiko Suzuki, and is Rika's short program for the upcoming season. She needs some more time in order to express the intricate interpretation, but surely she grasped a rough idea of the music already. Being taught by Akiko and practicing with her very closely, Rika has rapidly improved her expressiveness. She expects Akiko's verbal or silent lessons to raise her second marks. Adding to the strong jumps, the energetic style and the fluidness she naturally has, a higher PCS could lead to another breakthrough.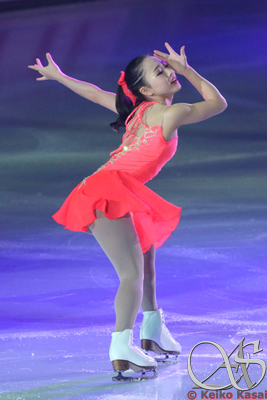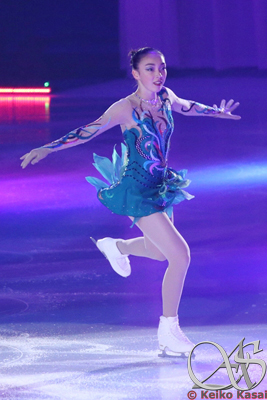 Takahito Mura (24) chose Dark Eyes for next season. This new short program was choreographed by Charlie White, and the famous music suited Takahito very well. He landed a quad toe at the beginning of the program, and then a gorgeous triple Axel. He improved his musicality and expressions a lot last season, and should go on doing so next season. The music seemed to fit his movements very well; especially his step sequence accelerando went along with the music superbly.
The skater who surprised me the most was Takahiko Kozuka (27). He skated to Respeto y orgullo (Farruca) last year too, but the performance here was completely different. He showed his new sexy style to enchant the women (and probably some men too) in the venue. In a red and black costume, his beautiful movements shone all through the program. I hope he will recover from the persistent injury, and be in good shape to compete next season.
Satoko Miyahara (17), the World silver medallist, came onto the ice with an umbrella. She has skated classic programs lately, but here she challenged a lovely piece of music with an urban chic style. She surely succeeded in this challenge. The vocals were cute and sounded very young, but she didn't look childish. She was feminine and elegant, but not exceeding her age. She is now the leader of the ladies' singles in Japan, and her performance well deserved it. The world silver medallist, Yuzuru Hanyu, chose music from the Japanese movie Onmyoji, and he named this program "SEIMEI". An Onmyoji means a bureaucrat who performed divination and magic for the government. SEIMEI is the name of the hero of this movie, and was one of the most famous Onmyojis in ancient Japan. At the same time, SEIMEI means life, statement, purity and clearness in Japanese. He might have infused the title with several spiritual meanings. I didn't think he could interpret the view of the world of the movie fully yet, but it will improve with time. What I really noticed was the harmony with the music. He seemed very young and today's kind of person, however, he looked really comfortable with the ancient, Japan-inspired music. I imagined prayers and mojoes from his performance, and believe it will become one of the most unforgettable programs in the upcoming season. He attempted three quads, but didn't land them well on that day. He landed his other jumps cleanly. We also enjoyed other techniques, wonderful skating skills, spins, steps and edgework a lot.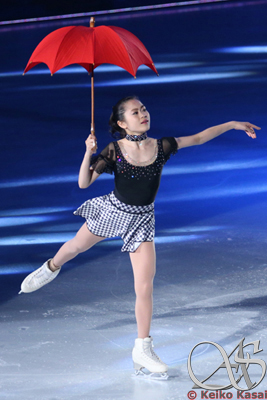 Guest skaters
There were 4 World (and Olympic) medallist invited as guests to inspire young Japanese skaters. Yuko Kawaguchi/Alexander Smirnov performed first. They were so beautiful, serious, and gorgeous to the heavy and profound music February, and I was about to reach the conclusion that they were unparalleled if they skated to such kind of music. Yuko's positions in the pair spins and lifts were just so beautiful, and I hoped their performance would never end. Elizaveta Tuktamysheva took the ice with a hat and a stick, and skated to Get Low. Her performance reminded me of Liza Minnelli's Cabaret, but after she dropped the hat and let her hair down, she suddenly looked like the vivacious, young, modern lady that she really is. She danced through the program and got the audience involved in her performance.
On the contrary, Meagan Duhamel/Eric Radford spread a sweet and tender world on the ice to the music Say Something. You could almost hear their conversation, so full of love. Not only did it soften the audience's heart, but it opened the crowd's eyes to their superior technique as well. The whole venue was caught up in the excitement when they welcomed the super-mega star, Evgeni Plushenko. He skated to Carmina Burana and breathed new life and power into this often used music. Evgeny needs no long preparation for his jumps; he just takes off and then lands with ease and flow. How long can he be so strong? Nobody knows. But I say we are lucky we have already been able to watch him compete and perform as long as he has.
The show ended on a successful note. Most of the shows were sold out, and people who wanted unclaimed tickets to the 12 o'clock show on the last day, started lining up at 5 o'clock in the morning. The crowds seemed satisfied with the exhibition when they left the venue. So the prosperity of Japanese figure skating could last a bit longer, but it all depends on the success of the skaters. Of course I wish the skaters who participated in Dreams On Ice to have good results next season, but at the same time I hope those who were unable to perform here will come back big in the near future.