The Japanese Junior Nationals 2015
December 19, 2015
By Atsuko Kuryu
Photos © Keiko Kasai
This competition happened November 21 - 23 in Ibaraki, Japan. No less than 29 boys, 30 girls and 4 ice dance teams competed there. As predicted, Sota Yamamoto won by a big margin in men's single, while Higuchi Wakaba, coming out of her slump, topped the ladies. And for the first time in the 21st century, Japan had 4 ice dance couples competing in the Junior Nationals. Rikako Fukase/Aru Tateno won this discipline.
Men
Sota Yamamoto easily won the title; however, he was not totally satisfied with his performances. In the short program he fell on the triple Lutz, and made several mistakes in the free skate as well. But in spite of this, his base value of elements and basic skills stood out to the point that he left Kazuki Tomono, the runner-up, more than 30 points behind. Sota earned 70.42 in the short program and 142.98 for his free program, which was far from enough for him. He said he definitely wanted to win the Junior Nationals, and had been working very hard for it. He was, of course, really happy about his win, but at the same time frustrated because of the many mistakes in his programs. He also admitted that he felt a sting of jealousy of Kazuki because of his audience popularity. They enjoyed Kazuki's performance more than his, and he swore he will involve the crowd better next time by working hard to improve his expressiveness.
Kazuki landed a quad Salchow and 3 triple Axels in total, and claimed the silver with the overall score of 183.19. His short program, Japanese Doll, was indeed in a very Japanese style, and very impressive as well, featuring his gorgeous step sequence. He also delivered an exciting free skate. Kazuki is an excellent entertainer. He is also still young and keeps adding to his talent; his technique has improved greatly. He was quite satisfied with second place, but felt unhappy about the big gap between Sota's points and his own. Kazuki is now able to land triple Axels quite easily, and the quad Salchow more than 30% of the time in practice. He intends to include a quad toe in the near future. He felt he needs to improve his skating skills and also his stamina for the Senior Nationals, and possibly even the World Junior Championships. He was obviously tired during the latter part of his free program.
Daichi Miyata showed a touching short program, and power and matureness in his free skate to finish 3rd. He scored 178.38 overall. He regretted that his attempted triple flip only became a single, but other than that he was pleased with his performances, although he thought he could have done better in the short program. His goal was to qualify for Junior Worlds, and he is still in the running because of this result. He needs to perform well at Senior Nationals, and he will include a quad there.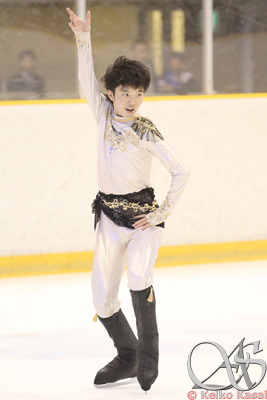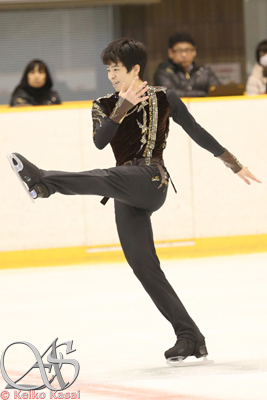 I don't have words to explain just how charming Koshiro Shimada was in his free skate. This 14-year old skated to Modern Times and captured the heart of the audience. Not only was his interpretation fabulous, but he also nailed all the elements flawlessly, except for an edge error on the triple flip. He placed second in the free skate with 122.39 points, and finished 4th overall. What he most of all wanted to do was to enjoy himself and make the audience smile. He said he was very satisfied with his free skate because he knew that most of the audience supported him.
Although second after a charming short program, Shu Nakamura delivered a sloppy free skate to become 5th overall. Still, watching him perform is always fun because of his wonderful movements to the music. He still has the chance to go to Junior Worlds because he qualified for the Senior Nationals, where the final selection will take place.
Mitsuki Sumoto skated two solid programs and stayed 6th overall with 169.87 points. His jumps are already very consistent, and he now wants to improve his expressiveness. Contrary to Shu, Taichiro Yamakuma delivered an elegant and beautiful free skate, but only ranked 7th overall because of the poor short program. The champion of the east sectionals, Hidetsugu Kamata, unfortunately didn't make Senior Nationals, which meant he also lost the chance for Junior Worlds. His short program was solid and he placed 4th, but had a couple of serious mistakes in his free. He said that at the beginning of this competition he had had a strong determination to go to Junior Worlds, but after his short program, where he didn't manage to score as much as he had intended, his spirit weaken some. But he declared he will move forward towards the senior stage.
Ladies
Because of injury, Wakaba Higuchi had been performing under capacity this season, until now! Delivering two almost flawless programs (except for a hand-down on her triple flip in the free), she claimed the title scoring 189.23 overall. She had tremendous speed and went for all her big jumps without hesitation. Her short program, Mambo, was very vivacious, and the long program to The Mask of Zorro suited her very well because of her power and energy. She showed off her ability to all in the rink. She said Junior Nationals were the most important event for her, so she had prepared to be in the best condition for it. After winning last year's Junior Nationals and being third at Senior Nationals, so much fuss was made over her it became quite stressful. But now she was very happy because she overcame the mental pressure. She was still concerned about her injured lower back, and has to be careful not to hurt it again. This adds to the stress as she aims for Senior Nationals.
A new and upcoming rival for Wakaba, Yuna Shiraiwa, placed second, only about 5 points behind her (184.16 overall). She skated so smoothly and gracefully on the ice. She has good musicality and consistent technique. She always looked calm and didn't seem to care about what was going on around her, even when the venue heated up in excitement over the close competition between Wakaba and her. Yuna didn't make the free skate last year because she was upset about her starting order, but she stayed calm this year when she started first in the short program and skated last in the free skating. She included two kinds of triple-triple combinations in her program (triple Lutz-triple toe and triple Salchow-triple loop) and was very happy that she landed both. She was sure she could make it because she had worked so hard.
Yuhana Yokoi said she was very happy with her points and place (177.40, third). Because there are so many strong skaters in Japan now, Yuhana felt there was no difference between international and national competitions. Her present issues are under-rotation and edgework, and she wants to improve her skating skills to be in the very top.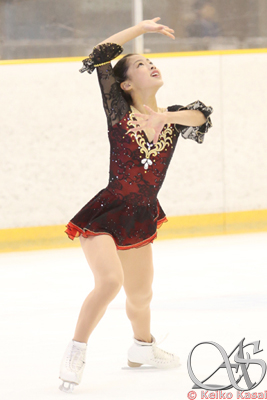 Rin Nitaya nailed her brilliant short program to Concierto de Aranjuez/Red Violin, but received two calls on her triple Lutz. Somehow she got nervous and lost power, and couldn't get enough PCS. She stayed in third place. Her maturity in the short program and powerful but refined moves were very notable improvements, and we are looking forward to seeing her at Senior Nationals, where she must be full of fight to qualify for Junior Worlds.
Kaori Sakamoto is also a strong contender. She said she felt a little anxious since the injury had prevented her from competing for some time. But she skated remarkably fast and had good ice coverage. The audience felt like her program ended too soon, because her performance was so nice and beautiful. She has been getting better and better second marks lately. Her score here was 170.72 overall.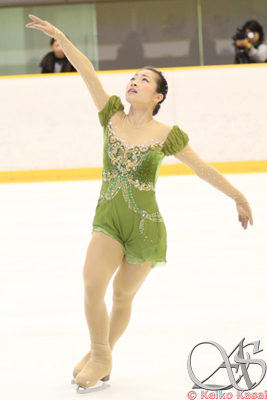 Marin Honda grabbed the last spot for Senior Nationals with 168.88. This also gave her the opportunity to skate at Junior Worlds. Marin made one mistake in both the short and the free. Her performance was no longer juvenile, even though it was her first Junior Nationals skating as a junior. Yuna Aoki had a breakthrough last season, but is having a tough time this season. She finished a disappointing 7th with 162.47 points. She moves beautifully and gracefully on the ice and she has great musicality. Her issue is jump consistency. To our surprise, the Grand Prix finalist, Mai Mihara, didn't qualify for Senior Nationals since she only finished 8th, mainly because of a serious mistake in the short program. Mai under-rotated her opening triple Lutz and missed the combination. The Japanese federation said nothing about it, and she would still be qualified for Junior Worlds, if she wins the Grand Prix Final.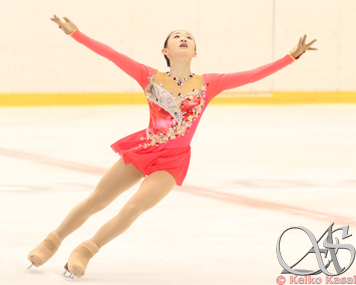 Ice Dance
One year definitely makes a difference, and Rikako Fukase/Aru Tateno have improved remarkably. They skated two beautiful programs and won the title with 120.01 points overall, which was 34.97 higher than last year. They moved smoothly on the ice and their unity was wonderful. They were really good at creating a cinematic atmosphere on the ice, we felt like watching a French movie; chic and smart. They received two level 4s in the short dance and three in the free dance. Their home base is in Montreal with their famous ice dance coaches (R. Haguenauer, P. Lauzon, P. Denis, M. Dubreuil). Fortunately they train with Gabriella Papadakis/Guillaume Cizeron in the same rink, and it has inspired them a lot. Their goal this year was to qualify for Junior Worlds 2016, and they have already cleared the minimum score both in the short and the free dance. The federation had not made a decision about it yet, but Rikako/Aru were really hopeful about it. Aru appreciate Rikako for her acceptance and learning so fast, while Rikako said Aru is so clever that he quickly understands what the coaches say and is able to move as he is told. Aru looks up Meryl Davis/Charlie White and wanted to be just like them, but now he sees a bigger picture and wants to move forward, step by step, with Rikako, for a better performance as themselves. Rikako completely agrees with him. Their goal is being ranked higher than 15th at Junior Worlds, if they are selected.

Kumiko Maeda/Junya Watanabe finished second with 99.62 points, a little far from the top. They don't have many chances to practice because Kumiko lives in Tokyo and Junya in Osaka. They only practice together at the Chukyo ice rink less than once a week. Still, they performed a cool short dance. But they were disappointed with their free dance as Junya fell during the twizzles, and they got three level 1s. They also got two level 4s though. Junya still competes as a single skater and said he loves it so much he will keep it up a bit longer. Kumiko said she won't skate as a single anymore. Being asked about the rivalry with Rikako/Aru, Junya said he has never considered them rivals. He just thought they were the fellow students who push Japanese ice dance forward; while Kumiko said they motivate them a lot. Kumiko felt like they would be able to stand up to Rikako/Aru if they could train under similar circumstances. Junya admitted that he will have to decide about his career soon. Kiria Hirayama/Kenta Azuma placed third with 79.99 overall. They received level 4s for their synchronized twizzles, although their circular step sequence was eliminated. Ayumi Takanami/Daiki Shimazaki got level 4s for their straight line lifts in the short and free dance, but at the same time received several level 1s. They looked grown-up compared to last year, and got 17.2 points more than then.
At the end of this report, let me introduce some young boys, around 14 years old, because they were really amazing this year. Lots of people already know about Sena Miyake, 13, and of his potential. He has competed in several international events and done very well. Here he made some mistakes and ended up 9th overall. Tatsuya Tsuboi left a special impression for his speed, solid jumps and musicality. Shun Sato, the 2015 Novice champion, included difficult jump elements like a triple Lutz-triple toe and triple flip-triple toe in his program and showed a sample of his genius. Haruya Sasaki is good at interpretations and seems very aware of his expressive side. Shingo Nishiyama delivered a beautiful short program. He said he was over-confident about his performance and focused too much on the jumps. But he couldn't find words for how grateful he was for the support from the audience. He always wants to carry his interpretation of the program to the audience. Unfortunately, Kazuki Hasegara and Yoshimasa Hori didn't make the free skate, but both skated impressive free programs at Sectionals.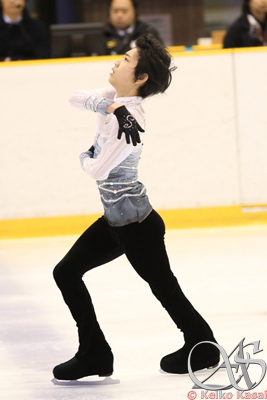 There are also many promising skaters in the ladies field. Mako Yamashita ranked best among these girls. Her movements were elegant for her age, and she displayed her characteristic spins. Rika Kihira is really cute with her big smile, but she is also able to execute a triple Axel, although she didn't try it at this event. Nana Araki skated dynamically and with joy, while Rinka Watanabe's vivacious performances were welcomed by the audience. Rino Kasakake had good speed and good jumps. Sui Takeuchi delivered a seemingly perfect free skate, but had several under-rotations. Rika Sumi is mature for her age. There are more up-and-coming ladies around 14, with very good potential. Let me just name a few: Riko Takino, Moa Iwano, Saya Suzuki, Tomoe Kawabata, Harua Baba, Hinata Oosawa, Mizuho Higuchi, to say nothing of Yuna Shiraisi, Marin Honda and Yuna Aoki. These very young juniors were really amazing.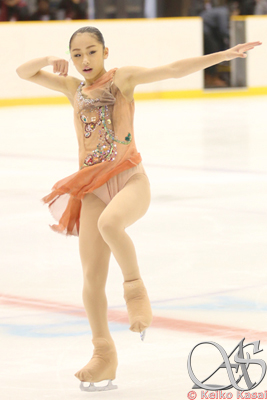 I have raved before about how many promising skaters there are in Japan. But the skating world is changing so quickly, and Japan might someday temporary lose its position of dominance in the men's and ladies' fields. But when I look at all the wonderful young skaters here, I feel like it will last at least for another decade. Hopefully I can share the stories of these skaters' process of growing up and reaching great success with the readers in the future.