NHK Trophy 2015 - Day 1
Nagano, Japan
November 28, 2015
By Atsuko Kuryu
Photos © Keiko Kasai

The 2015 NHK Trophy started at the Big Hat arena in Nagano, Japan, on Nov 27th. Since this is the last event of the Grand Prix series, it will decide which skaters are to compete in the Grand Prix Final in Barcelona, Spain. A heated battle is expected!
Pairs' Short Program
The heavily favored Meagan Duhamel/Eric Radford, Canada, won the short program with a score of 71.04 points. Good, but not that overwhelming since the runners up, Alexa Scimeca/Chris Knierim, USA, and Xiaoyu Yu/Yan Jin, China, fought a good fight. Both pairs delivered brilliant programs and earned 68.43 and 67.00 respectively.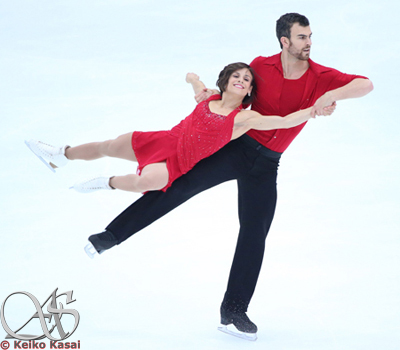 Eric had a hand-down on his triple Lutz, but this was their only big mistake. They showed a powerful and dynamic performance, and time went by too fast for those watching. Eric said: "We had a couple of miscues, but are really proud of ourselves because we stayed calm and still managed to get everything done." And Meagan declared that if they can nail a throw quad Salchow, they will go for a quad Lutz.
Chris also put his hand down on his triple Salchow, but like with Meagan/Eric, this was their only mistake. But Alexa/Chris didn't feel comfortable during their performance. Chris said they left lots of things on the table, and Alexa felt she was helped by her partner to get through the program. So for tomorrow they will focus on being comfortable and perform well.
Xiaoyu/Yan's performance was powerful and beautiful. Their technical score was only 0.34 behind Meagan/Eric and 0.38 more than Alexa/Chris. Xiaoyu said they were not in as good a shape these days, but they were satisfied with their performance, because even in such condition, they could deliver a good performance.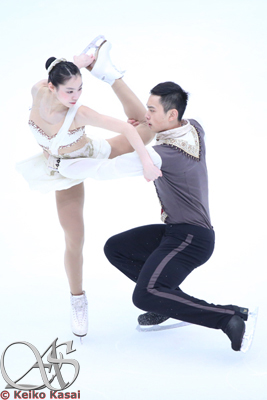 Vera Bazarova/Andrei Deputat, Russia, Lubov Iliushechkina/Dylan Moscovitch, Canada, and Vanessa James/Morgan Cipres, France, all scored over 60 points. But the pairs results can change drastically in the free skate.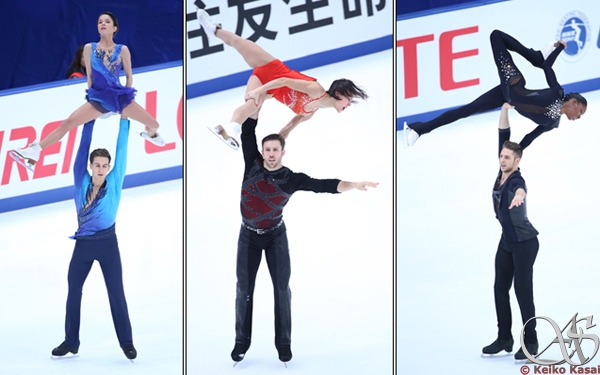 Men's Short Program
Yuzuru Hanyu, Japan, won the short program with the huge score of 106.33. He landed a quad Salchow, and a quad toe in combination, cleanly. Boyang Jin, China, was second. He also landed two quads beautifully, to receive 95.64 points. Japan's Takahito Mura got 88.29 and became third.
The men's competition was very exciting. Ten out of twelve skaters scored over 70 points, and four of them included two quads in their planned programs. Yuzuru seemed a little cautious at the beginning, but after landing the quad Salchow, and the quad toe-triple toe combination, he seemed to accelerate. His step sequence was aggressive and his spins fast. He said he was satisfied with today's performance because he had been working so hard for this competition, and it payed off. Being asked if his coach, Brian Orser, resisted the idea of two quads in short program, Yuzuru said he just insisted "I will do it", and Brian accepted. He believed it was inevitable.
Boyang skated in the first group, and landed gorgeous quads and a triple Axel to stun the Japanese audience. The highest scoring element that day was his quad Lutz-quad toe combination - 19.33 points! He also skated in perfect harmony with the music, and showed how much he had improved expression wise. He said he was happy because he nailed all his jumps, including the quad Lutz successfully.
Takahito delivered landing all his jumps cleanly, including a quad toe. He admitted that he was really frustrated with his performance at Skate America, and has worked very hard since. Today he was really happy with his performance.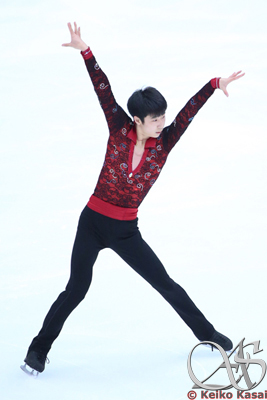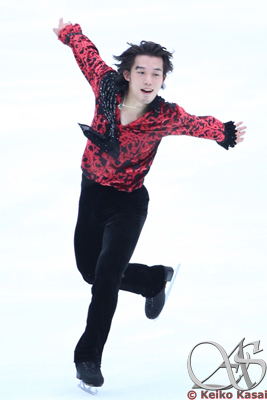 Despite attempting two quads, Maxim Kovtun of Russia finished 4th with only 82.27 because he stepped out of his quad Salchow, and fell on the triple Axel. Michal Brezina, Czech, skated a nice swing program, which suited him very well. He earned 81.64 points and is in 5th place.
Ladies' Short Program
Satoko Miyahara skated flawlessly and won the short program with 69.53 points.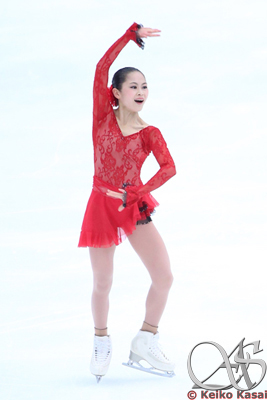 Surprisingly in second place was Courtney Hicks, USA, scoring 65.60, while Ashely Wagner, USA, placed third with 63.71. In this discipline, most skaters failed in many ways, although the impression of each performance was quite amazing.
Satoko received an edge call on her triple flip, but it was the only -GOE she got. She landed an excellent triple Lutz-triple toe and a double Axel, and also piled up level 4 elements to score her season best. She seemed more mature and feminine compared to last season. The sparkle in her eyes and her body movement must have left a strong impression on the judges and the audience. Still, Satoko was not happy with her score because it was less than 70 points. She said she will work harder.
Courtney had a not so clean triple Lutz before the triple toe in combination, which was her only mistake. She landed the other jumps cleanly and earned level 4 for all of her spins and step sequence. She thought it was one of her best performances ever, and was very happy with it. For the free skate, she wants to stay calm and keep this momentum going.
Ashley admitted that this was not her day. She messed up her triple flip and couldn't make the combination. She added a double toe after the triple loop instead, and even if she wasn't satisfied with her performance, her speed and danceable moves entertained the audience. She is working on a three-year plan for the next Olympics, and she has surely improved from last year. If she had failed the opening jump a year ago as she did today, she would have frozen, but now she was able to collect herself and move on.
Japan's star, Mao Asada, placed 4th with only 62.50 points. She fell on the triple Axel, and popped the attempted triple Lutz into a single. She did, however, land a fully rotated and amazing triple loop-triple loop combination, and received all level 4 for other elements. Mirai Nagasu, USA, got a standing ovation from almost all in the audience, nailing a fantastic performance while Zijun Li, China, attracted the audience with her graceful performance. These ladies got 61.10 and 60.78 respectively.