NHK Trophy 2015 - Day 2
Nagano, Japan
November 29, 2015
By Atsuko Kuryu
Photos © Keiko Kasai

Ice Dance, Short Dance
Maia Shibutani/Alex Shibutani, USA, won the short dance with their impressive performance earning 68.08 points, followed by Madison Hubbel/Zachary Donohue, USA, who scored 66.57. Ekaterina Bobrova/Dmitri Soloviev, Russia, are third, just 0.38 behind Madison/Zachary.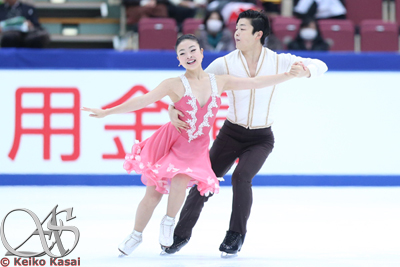 Maia/Alex's Coppelia was so theatrical and enjoyable that the audience loved it and gave them a standing ovation. Maia is quite an actress, as is Alex. They felt they have improved since Skate Canada and believe this performance was more mature and expressive. Maia was really satisfied with their skate and Japanese fans supported them all the way.
Madison/Zachary's performance had both speed and dynamism. Madison said she was very happy with the level 4s for their step sequences. On being asked why they changed coaches, they replied they felt a little tired after two years in the same circumstances. Somehow they wanted a change of scenery, even though they were very grateful for the former coaches. They were happy now with their new start, and already have a new vision.
Ekaterina/Dmitri skated to the music beautifully. As they were in the first group, their speed and gorgeous movements stood out. Dmitri said this was their first trip to Japan for the competition, but the Japanese audience was much more enthusiastic than they had expected and gave them a lot of energy. They believe today's excellent performance was the result of hard training after Skate Canada, and they want to skate cleanly and with emotions in the next competition.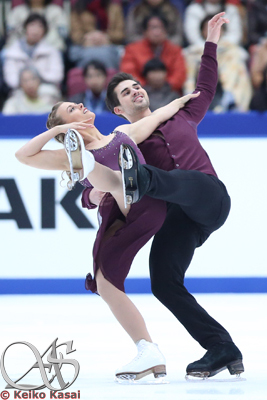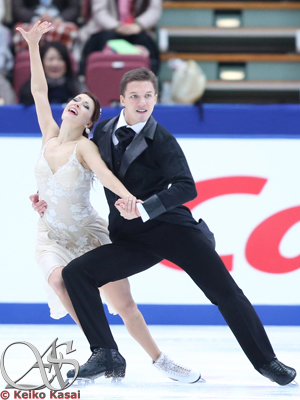 Japan's leading ice dancer, Chris Reed, found a new partner in Kana Muramoto, and they made their international debut. They delivered a graceful performance and earned 53.44 point and are currently in 7th place.
Pairs free skate
Unfortunately, there were lots of mistakes in this discipline. Meagan Duhamel/Eric Radford had several mistakes, but thanks to high base values and second marks, they won the title scoring 202.72.
Xiaoyu Yu/Yan Jin scored 124.02 and claimed the silver with 191.02 overall. They are very graceful. Alexa Scimeca/Chris Knierim were in second place last night, but had to trade places with Xiaoyu/Yan by a mere 0.32 points.
Megan fell on the throw quad Salchow, and barely landed the throw triple Lutz. She also put her hand down on the first triple toe in combination. They didn't look as super-strong as they usually do, however, their planned elements were very high level and they were hard to defeat. Eric said they were not as comfortable with some of the elements today, but as for pair elements like lifts and twists, they felt very strong. Now he wants to rearrange a few things in their program for the Grand Prix Final.
Xiaoyu/Jin wonderfully made the transition to seniors last year, and they seem to look for ways to move towards the top level this year. They are already smooth and mature, but somehow lack in dynamics. Xiaoyu said they were not able to show their ability today. They included a quad throw in their free program, and it didn't quite work out, but expression wise, they believe they have improved from last year, or even from Cup of China.
Although losing to the other two pairs, Alexa/Chris left a great impression on the audience. They skated gorgeously with good speed and beautiful movement, featuring a unique choreographic sequence. Upon finishing, Chris looked very tired. He thought it was because he was quite upset by the mistakes on elements, which they normally don't do. Alexa thought their free skate was better than at Skate America, but she also knew they lost a lot of points in their twists and spins.
Vera Bazarova/Andrei Deputat performed well to a nostalgic Beatles medley and received 117.64 points, 181.70 total, and finished 4th. Lubov Iliushechkina/Dylan Moscovitch skated a beautiful classic program and scored 116.83/180.63.
Men's Free Skate
Yuzuru Hanyu did it! He reached the historical highest score of 216.07 in a free skate, and received 322.40 overall.
His present rival, Chinese youngster Boyang Jin, grabbed the silver with 266.43 overall (170.79 free skate). Each landed two quads and triple Axels. Takahito Mura managed to hang on to the bronze with 242.21 points. Grant Hochstein finished 4th and Japanese rising star, Keiji Tanaka, rose to 5th place after being 9th in the short program.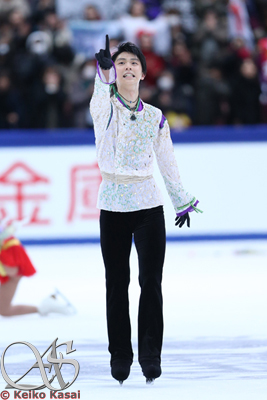 Yuzuru nailed the opening quad Salchow beautifully, and received 13.36 points, and then kept going through the planned jumps, one after another. After the triple Lutz, which was his last jump, the whole venue was excited. As soon as he opened his arms for the ending pose, the audience rose to their feet to applaud his astonishing accomplishment. The excitement climaxed when the high score, which most fans had never imagined possible, was announced. In the press conference following the victory ceremony, Yuzuru said he was still too excited to find words. He was really happy and genuinely grateful to the coaches, fans, and anybody who supported him. He will work even harder, and would like to show more heartfelt performances to the public. It doesn't necessarily mean higher points, but more notable performances.
Boyang's opening quad Lutz was really stunning; however, he stepped out of the quad Salchow, and turned the planned quad toe into a double. His score of 170.79 must have been a disappointment to him. What made the audience happy was his amazing choreo sequence, which was executed with good rhythm and flexible body movements. When he made a ballet jump in front of the judges, it was so high it seemed like he went over the boards and landed on the judges' table. Boyang admitted that his performance was not as good today, but somehow he stayed in second place, which was fine by him. He will aim for better jumps and reduced minor mistakes by the next event. When Yuzuru praised him for his quad Lutz and said he felt like seeing the future of figure skating in him, Boyang smiled and looked very happy.
Takahito had lots of mistakes, still, he scored his season best of 153.92. It might not be a satisfactory one for him, however, getting on the podium here must be a good step towards his next important competition, the Japanese nationals. Takahito said today's performance was far from his goal, but compared to Skate America, it was an improvement because he could attend the press conference along with Yuzuru and Boyang. There are lots of issues for him to deal with, and he wants to solve them one by one.
Michal Brezina and Maxim Kovtun didn't manage to deliver, and finished 7th and 10th respectively. Instead, young skaters Grant Hochstein and Keiji Tanaka moved up to 4th and 5th. It would help both of them to have an increased dose of self-confidence.
Ladies' Free Skate
Satoko Miyahara won the title with a big margin.
Actually there were quite a few mistakes from most skaters in this discipline as well, but not from Satoko. She earned 203.08 points overall, which left Courtney Hicks, who also had a strong performance, 10.62 points behind. Mao Asada worked her way up to 3rd from the disappointing 4th in the short program. Her score was 182.99 overall. Ashley Wagner was pushed off the podium after the free skate, and finished 4th.

Satoko stumbled on the landing of her opening combination, but after that, she executed all the elements calmly and seemed very comfortable. She looked very mature and moved elegantly. The audience was satisfied with her performance and awarded her generous applauses. Satoko said she aimed to keep her momentum going into the free skate, and she was really happy to have managed two strong programs. For the GP final, she decided to work harder, because she wants to enjoy her first final as a senior skater.
Courtney kept her momentum in the free skate as she said yesterday, and stayed second. She stepped out of the opening triple flip-triple toe combination, and took a fall on the triple Lutz, but finally collected herself and got 117.52 points, which put her 3rd in the free skate. She said she was satisfied with today's performance. It wasn't the best performance, but it was the best free skate in the last couple of years.
Mao attempted a triple Axel but it turned into a double. She also under-rotated both triple flips, but was still only 0.13 points behind Cortney overall because of the high second mark.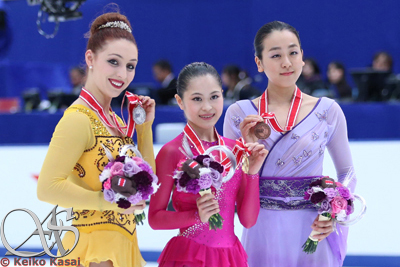 Mao felt she was not able to do what she needed to in either programs. She will take time to review both and her skating, and then go for the next event.
Ashley Wagner got one under-rotation and two down grades, which cost her the bronze. Mirai Nagasu delivered a seemingly flawless performance, but she also got several under-rotations and downgrades. Still, she stayed 5th overall.