NHK Trophy 2015 - Day 3
Nagano, Japan
November 30, 2015
By Atsuko Kuryu
Photos © Keiko Kasai

Ice Dance, Free Dance
Maia Shibutani/Alex Shibutani won this title scoring 106.35 in the free dance, 174.43 overall. Their performance gave them a well-deserved victory.
Ekaterina Bobrova/Dmitri Soloviev delivered a dramatic free dance and finished second, moving up from yesterday's 3rd with a total score of 169.33. Madison Hubbel/Zachary Donohue became a close 3rd, only 1.84 points behind.
Maia/Alex showed their full potential and captured the heart of the crowd with their stunning performance. They started out kind of slow showing their beautiful positions and wonderful skating skill, then, when the rhythm changed, they accelerated and became powerful and dynamic. Their twizzles were eye catching for their speed, unity, and beauty. They said the theme of the free dance was kind of the journey of their career, and wanted to show maturity and a different view of themselves and their skating. And they did just that! Maia said it was such an honor to skate in the NHK Trophy, and that their former winning of a Grand Prix event was also at the NHK Trophy back in 2011. They felt the Japanese fans gave them power and energy. They are very excited about returning to Barcelona, where the Grand Prix Final was held last December. Alex recalled the fans in Barcelona being kind of loud, like the Japanese fans, so they are looking forward to skating their programs there.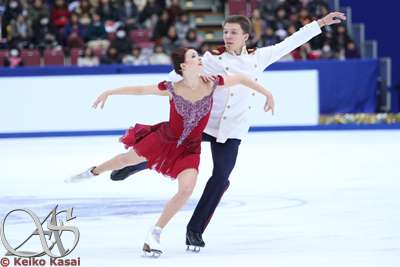 Ekaterina said at the press conference yesterday that they wanted to show more emotions and drama, and they skated the way she had said. The audience got to follow the tragic life of Anna Karenina through Ekaterina/Dmitri's performance, and the last part of the program touched and moved everyone watching. Ekaterina said they were satisfied with today's performance and are now able to feel confident about taking the next step. Being asked how they prepare for the Grand Prix Final, they said they were not sure at first if they were even going. When they were told they made it, Dmitri showed his delight with a big smile.
Unfortunately for Madison/Zachary, they dropped to 3rd. Their program featured a gorgeous curve lift, which was amazing to watch. Madison said they performed their free dance for the first time since last September, so they were a little nervous. But they thought their free dance was very good and said: "See you in Barcelona!", and they will.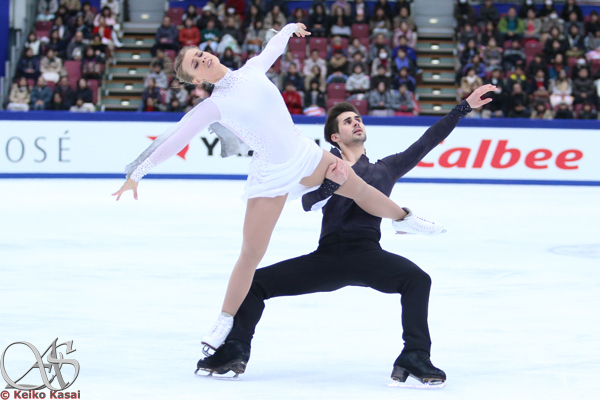 Young Alexandra Stepanova/Ivan Bukin of Russia showed beautiful positions in their elements and finished in 4th overall. In 5th place were Penny Coomes/ Nicholas Buckland of Great Britain, who became audience favorites delivering a dramatic performance to music by Muse.
After a fierce battle here in Nagano, the last finalists had qualified for the Grand Prix Final. From the competitors of the NHK Trophy, the following skaters are going to Barcelona, Spain:
Ladies: Satoko Miyahara, Japan, Mao Asada, Japan, Ashley Wager, USA
Men: Yuzuru Hanyu, Japan, Boyang Jin, China
Pairs: Meagan Dhuhamel/Eric Radford, Canada, Alexa Scimeca/Chris Knierim, Russia, Xiaoyu Yu/Yang Jin, China
Ice Dance Maia Shibutani/Alex Shibutani, USA, Madison Hubbel/Zachary Donohue, USA, Ekaterina Bobrova/Dmitri Soloviev, Russia.