Stars on Ice 2015
May 14, 2015
By Anna Zeitlin
Photos © Anna Zeitlin

Having missed last year's "Stars on Ice", I was more eager than ever to watch this year's show, dubbed "Dancing for Joy". In fact, I think I even did my own version of a little joyful dance when I found out that "Stars on Ice" will be coming to Seattle again and saw the great skaters' line up. And here I am again, at the already familiar Key Arena, impatiently waiting for the show to start.
And the show started - by showing the names of the cast members on big screens, emerging from scrambled letters hopping around - a very nice touch. Then the music of the first group number started - Rhapsody in Blue by George Gershwin. First out on the ice was Patrick Chan, wearing a grey costume and a matching hat. After doing a few smooth moves and playing with his hat, Patrick was gradually joined by his fellow skaters, all dressed in similar outfits (but no hats) and doing different moves all over the ice.
As always in group numbers, I was having a hard time deciding where to look. Eventually everyone converged in the center for the final pose of the opening number and then left the ice, leaving only one couple there - Sinead and John Kerr, who skated the first solo of the evening.
Sinead and John skated to Zombie by Jay Brannan. Their smooth movements matched the solemn melody and voice perfectly, creating a mesmerizing effect. They showed some creative lifts and very heartfelt skating, and overall this number was a perfect opening to the solos of the night. It's the third time the Kerrs take part in Stars on Ice and I really hope the tradition will continue in the years to come.
Next number was performed by Kimmie Meissner, completing her first year as a Stars on Ice full time cast member. She looked really nice in her pale pink dress, skating to the rhythmic Chandelier by Sia. Kimmie didn't jump much - she fell on a double Axel and then did a 2T, but she moved smartly across the ice (a bit slowly, though) and showed a nice spiral as well.
Like with Sinead and John, this year marks the third time Ryan Bradley tours with Stars on Ice. His first number in this year's show was to I Lived by OneRepublic. It's a pretty simple number, without complicated choreography, and I felt it was a bit disorganized - I didn't feel that Ryan's movements matched the music well enough. But I still enjoyed watching Ryan, in his blue-shirt-blue-jeans, especially when he did two good triples and two almost consecutive backflips, which are his trademark (and the audience is always ecstatic about these).
When I learned that this year's Stars on Ice is headlined by the fresh Olympic Champions Meryl Davis and Charlie White, I became ever more eager to finally get to the day of the show. I had the good fortune to see them skate competitively at Skate America 2012 and since then really wanted to have another chance to see them skate live. And my wish has finally come true. Their performance to Say Something by A Great Big World & Christina Aguilera started and ended with them sitting on a pair of chairs at the center of the rink, and in between had spellbinding lifts, perfect skating and profound emotions shown by Meryl and Charlie. They looked amazing; and may I add that Meryl was simply stunning in her glittery beige dress, which was showed off even more by the contrast with Charlie's maroon shirt.
Joannie Rochette was as energetic as ever skating to Addicted to You by Avicii. This style suits her perfectly and she delivered a lively performance with two triples and a double Axel. Joannie is a great entertainer and I always enjoy watching her. I didn't like her black-and-fuchsia costume much though - I felt that this one was not as interesting as Joannie's costumes usually are.
Next on the ice was a couple I really wanted to finally see - Tanith Belbin and Ben Agosto. They showed a hilarious number to Boogie Shoes by KC and the Sunshine Band, wearing flamboyant matching costumes - bright yellow shirts, red suspenders, teal pants and purple sneakers over their skates. Their performance was so entertaining and they clearly enjoyed it a lot themselves. It's been a lot of fun to watch their playful moves and interesting lifts and I wanted the number to go on and on and on, and couldn't stop smiling throughout it.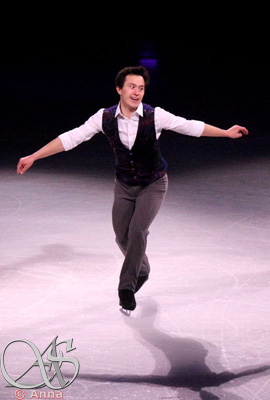 Patrick Chan's number to Dear Prudence/Blackbird by Beatles, choreographed by Pasquale Camerlengo, was really good. Patrick moved very smoothly and swiftly, expressing the melancholic melody so effortlessly, it almost seemed like he is just drifting, caught up by the music streaming past. I especially liked Patrick's hand movements at the beginning of the program and then at the start of the Blackbird section, where he was imitating wings with his hands. Great choreography and great presentation.
After Patrick left the ice, a trio of skaters emerged - Meryl Davis, John Kerr and Ben Agosto. They glided in unison to the sounds of some classical music, and after a short while Ekaterina Gordeeva came out. The trio retired backstage, leaving Katia standing still in the spotlight and only then her music, I Dreamed a Dream by Susan Boyle, started to play. This number was very soft, gentle and flowing. I loved how Katia moved her hands to express the music, and her footwork was good too. She did a triple and two doubles (one of these an Axel), and had an excellent spin at the very end of her program. Katia is a great performer and I am always very happy to see her on the ice.
Closing the solo performances of the first act was Evan Lysacek, whom I wanted to see the most, as he was one of my favourite skaters when he was competing and I never saw him live before. For his number to Take Me to Church by Hozier Evan wore a tank shirt and jeans, both black of course, as this is usually his preferred colour, judging by his many costumes I've seen through the years. He looked very macho in these indeed. This routine is choreographed with a lot of long strokes and stretches of arms and legs, and these suit Evan very well. He did two triple jumps (with a hand down on the first) and had good spins, but I felt he was a bit slow on the ice - probably the music, which was a bit monotonous, helped this feeling. Nevertheless, Evan looked great and I was very excited to finally see him skate with my own eyes.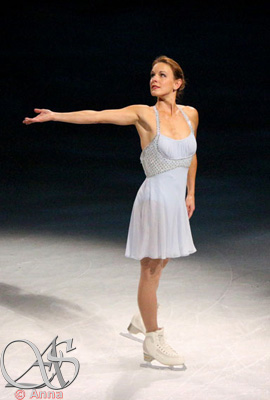 Last number of the first act was performed by three couples - Tanith & Ben, Meryl & Charlie and a surprising fresh pair Katia & Patrick. The number started with Tanith in a black dress, sitting on a chair in the middle of the arena and striking poses with a red fan, while Meryl and Katia, sporting similar dresses and fans, sat on chairs a bit farther out. After a few seconds of poses Ben approached Tanith and they started dancing, joined in after a short while by the two other couples. They all did some dance moves, sometimes skating differently and sometimes in unison, circling the central chair, and ended the number when all the three ladies were back on their chairs. This was an engaging dance, very sensual, and it was a pleasant surprise to see Katia and Patrick skate as an ice dance couple.
The group number opening of the second act, to the sounds of Stompa by Serena Ryder, continued the "chair" theme of the first act. It started with all the ladies sitting on red chairs, wearing gorgeous glittery black dresses with white collars and cuffs. After doing a few moves on the chairs, the ladies got up, picked black hats lying under each chair and threw them to the approaching men. The men caught the hats and left the center, letting the ladies to do some more moves on and with the chairs, and then joined back in for the rest of the number. I enjoyed this performance immensely - the number is very cleverly choreographed, using the chairs throughout, with skaters sitting on them, gliding them on the ice and on one occasion having a moving construct of three chairs, five men and Meryl being lifted above the ice and then carefully placed on two of the three chairs. The action on the ice was complemented by photos of all the ladies in the cast on the screens, shown in red-black hazy hues. I think this is one of my all-time favourite Stars on Ice group numbers so far.
Kimmie Meissner started the solos of the second act, skating to Experience by Ludovico Einaudi - a beautiful piece of music, which Kimmie expressed gracefully, skating in her celestial blue dress. She made two double Axels and a triple toe loop, and showed a nice flow and poise throughout the performance.
Next performance started when Tanith, hand in hand with Charlie and Ryan, skated out to the arena. She was wearing a pale blue dress, while both men were dressed in grey pants, white shirts and grey sleeveless jackets, and Charlie also wore big black-rimmed glasses and a bow tie. They performed an amusing number where Tanith could not decide who she should choose out of the two men. She skated with one, the other, then with both of them. In the end it seemed as though she fixed her mind on Ryan, but in the last second changed her mind and left the ice together with her real-life fianc├ę (and now husband) Charlie, leaving Ryan alone and in frustration.
This delightful transition served as a great build up to Ryan Bradley's performance to Mister Cellophane by John C. Rilley. Ryan was excellent, and the number was a lot of fun to watch. He is a great performer and this comic style really suits him. Ryan was also strong technically, delivering two triples and a backflip. After the music stopped, he timidly stood at the edge of a circle of light, eventually stepping inside and looking up - a great final touch.
Sinead and John Kerr skated next, to I Will Wait by Mumford & Sons. It's a great song and Sinead and John's performance lived up to it. Their skate was energetic and fun and had great footwork and splendid lifts, including their trademark Sinead-lifts-John one. I also really liked Sinead's black dress with a floral pattern and John's vest. Sinead and John are such great performers, and the audience loves them for that. And you can just see how they enjoy skating and give that love back.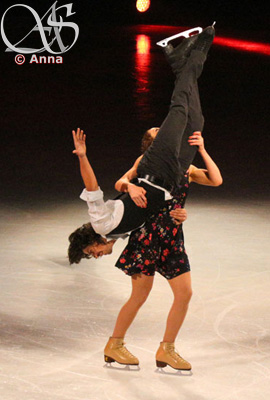 Ekaterina Gordeeva's second solo of the night was to Sentimientos by Andres Linetzky - a sensual, rhythmic tango tune. Katia looked stunning in her burgundy dress and her performance was spot on - soft arm movements, sharp turns, sheer elegance throughout the performance, a triple and a strong double Axel.
Tanith Belbin and Ben Agosto looked very romantic skating to A Thousand Years by Christina Perri; they expressed a completely different character from their first dance. This performance was very classy and graceful, with Tanith and Ben ceaselessly flowing to the music. They skated with good speed and performed a few interesting lifts. I really hope I will be able to see more of them in the future - they are awesome performers and have a great presence on the ice.
Evan Lysacek was very dramatic skating to Black Swan by Clint Mansell. He did two beautiful triples, and the whole performance looked great, with impressive poses and powerful arm strokes. I felt at times that Evan's skating was a bit slow, but I still enjoyed this number very much and I just hope that I will be able to see more of Evan performing in the coming years.
Joannie Rochette was exquisite skating to La Vie en Rose by Ute Lemper. Looking beautiful in her elegant black dress, she effortlessly moved across the ice, expressing the music with her whole body. Joannie was strong technically, as usual, performing two triples and a double Axel and doing a few impressive spins, but I appreciated the most the charming style and sophistication she conveyed in her skating. Somehow I usually like best her performances to francophone music, and this stunning performance was a great example of that.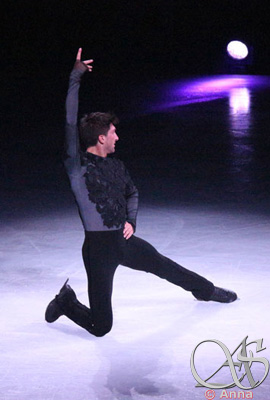 When Joannie finished skating, Patrick Chan came to the ice wearing an elegant white shirt with black buttons and classy black pants. He did a few dance moves with Joannie to the tune of La Vie en Rose, and then Joannie bid farewell to Patrick and he positioned himself on the ice to the last notes of music. His own musical accompaniment - Steppin' Out by Tony Bennett - commenced after that almost without any pause. And it was a wonderful jazzy performance - full of little jumps, transitions and intricate movements, also including two triples and a double Axel. Patrick's footwork is always to die for, and this number's choreography beautifully showcased his amazing skating ability.
If the first act's solo performances were rounded up by an Olympic Champion of Vancouver, then of course the only possible match for the last solo number of the night could come from Sochi Olympic Champions, Meryl Davis and Charlie White. They skated to Sleeping Beauty by Peter Tchaikovsky, starting out with Meryl lying asleep on a bench and Charlie circling around her and finally bending over Meryl's hand, lifting her up and putting down to dance with him. The performance consisted of two waltzes, the first classical and the second one to the lyrics of Disney's Once Upon a Dream from the Sleeping Beauty animated movie. The dances were beautiful and Meryl and Charlie looked amazing in their "royal" costumes, moving elegantly and gracefully across the ice. Their lifts were breathtaking and this dance was a magnificent conclusion of the show's solos.
The night as a whole was then concluded with the entire cast performing to Shut Up and Dance by Walk the Moon. The skaters started dancing in pairs, and about half way through the number they all skated together in unison, finishing the number by standing in one line and doing a "wave" with their skates. The number was very energetic and I liked the glittery fuchsia-black outfits that added to the joyous mood of the performance, although this mood was tainted with a bit of sorrow, as that was the last performance of the evening.
Dancing for Joy was a great show, and only when I got to the venue I realized how much I missed seeing these skaters of the highest caliber performing. Apart from the skaters' solos, I really liked the opening/closing numbers and the few little transitions between the solos that were scattered throughout the show - all these were choreographed by Jeffrey Buttle, who is doing a very fine job as the show's choreographer. I also liked all the group costumes, designed for the show by Jef Billings, as usual. A recurring "chairs" theme was a nice touch too - I counted four chair numbers - two by the cast and two by Meryl and Charlie (if we consider their bench a "chair" too - were they the chair trendsetters here?). All in all, the title conveyed perfectly the show's essence - skaters dancing for joy and the spectators enjoying these dances. And I, as one of those spectators, will forever be grateful for the opportunities this excellent show grants me and my fellow figure skating fans - to see some of the world's greatest skaters perform in front of our very eyes.