Dreams on Ice 2016
July 21, 2016
By Atsuko Kuryu
Photos © Akira Sawamoto

The Dreams On Ice shows were held at Ao-re Nagaoka in Niigata, July 1 - 3, and as always, it was a showcase of Japanese top skaters. Unfortunately, favorites Yuzuru Hanyu, Mao Asada, and Shoma Uno didn't participate, but still, the show was full of fun and excitement. Some gorgeous guests from Russia had also come to perform: World gold medalist Evgenia Medvedeva and young gifted skaters Elizaveta Nugumanova and Petr Gumennik. We had a chance to report on this fabulous show, so it's now my pleasure to tell you about the first show.
ACT I
Shun Sato, National novice champion during three consecutive years, performed first. He looked a little nervous, but at the same time very motivated to do his first Dreams On Ice show. He bravely challenged the triple Axel as the opening jump. Unfortunately he fell, but landed lots of other triple jumps and delivered beautiful spins.
Rika Kihira, reigning National novice champion, moved freely and easily. She has a high success rate landing triple Axels in practice, but didn't include that difficult jump in the show. Still, she landed two consistent triple jumps. She also has beautiful spins and good expression for her age.
The cutie youngster Koshiro Shimada debuted his new free program for the upcoming season: Romeo and Juliet. He tried to be powerful and dynamic even in this romantic program. He followed the music very well and effectively expressed Romeo's anguish.

Kaori Sakamoto, the girl with such high physical ability, but who suffered from repeated injuries last season, has bounced back to the Japanese high level skating scene. She chose music with tempo from the movie The artist, and it suited her character well. She looked very powerful and showed she will be able to compete at the top level.
Daichi Miyata, who went to Junior worlds in his last season as a junior, was elegant in his Pearl Harbor program. He said he wanted to show the grandeur of this music. Maybe because of the nerves for his first Dreams On Ice show, he failed most of jumps in the latter part, however, his performance was delivered with wonderful flow and so much charm!
Skating to music from Burlesque, choreographed by Akiko Suzuki (free program this past season), Yuhana Yokoi looked mature and flamboyant. She failed some jumps, but the step sequence was fiery and energetic. If she lands all her jumps and gets herself into the performance more, it will impress the judges and the audience.
Kazuki Tomono skated to Beethoven's Symphony No.5. Some people might think of his performance as a novice where he used the same music, but it was a different arrangement. Even though that performance made him a very popular skater then, today's performance proved how much he has improved since then. His dynamic program included a triple Axel and two more triple jumps, and a gorgeous step sequence.
Shu Nakamura's piece was cool and smart. He put on a hat and used it well. He is a good dancer and appeals to the audience following in Daisuke Takahashi's footsteps (Daisuke and Shu were taught by the same coach, Utako Nagamitsu).
Yuna Shiraiwa, who got her big breakthrough last season, showed lovely and joyful skating to I Got Rhythm. She suffered a serious injury and just started practicing again a few weeks ago. Consequently she only tried double jumps, but her natural movements brightened the hearts of the audience and gave them hope for the upcoming season.
Team Jingu Ice Messengers certainly show their improvement every year, and this year it was significant. They finished 14th at the ISU World Synchronized Skating Championships 2016, competing against many strong teams from Europe and North America. They showed lots of complicated formations while retaining good speed. In addition to the technical difficulties, their movements went beautifully along with the music Beauty and the Beast. It was very eye-pleasing for Japanese fans.
Two remarkable Russian youngsters also performed among the young Japanese skaters.
Elizaveta Nugumanova is only 13, but already famous to figure skating fans. She didn't disappoint, but showed the crowd in the venue just how promising she is. Her speed, fast and beautiful spins, consistent jumps, and danceable ability was all outstanding. To watch her layback spin at the end of the program meant being totally captured by her.
Petr Gumennik (same age as Elizaveta), not only looked very cute, he also landed several triple jumps including two Tanos, and delivered good spins. But his most charming attribute was his sense of rhythm, especially during the step sequence, which Misha Ge had choreographed and taught Petr. It was especially joyful and appealing.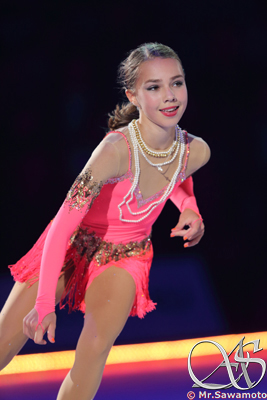 ACT II
Junior world bronze medalist, Wakaba Higuchi, took on a totally different genre of music this year. To the music from the Japanese movie Byakuyakou, she showed elegance and femininity in her performance. She will compete as a senior this season so she is surely aiming to increase the maturity of her program. Adding that to her already solid jumps and dynamism will make her stronger and even more attractive.
Sota Yamamoto had to withdraw from Junior worlds earlier this year because of injury, but now he was back on the ice showing his new free program. He attempted only double jumps because he wasn't allowed to do triples until recently. He said he had only tried triple Salchows and toes even in practice so far, but he will work on getting all of his jumps back.
He also expressed his joy over the federation giving him two spots in the senior Grand Prix series (Trophée Bompard and NHK). He is a proud member of team Japan and wants to achieve further results.
Marin Honda's new short program Smile, choreographed by Marina Zueva, is an excellent blend of elegance and enjoyment. Her opening spin was stunning and she moved very lightly, especially in her step sequence. She said she has had a very useful off-season joining the cast of many shows. It might help her improve expressiveness.
Finishing 5th in the NHK trophy 2015, Keiji Tanaka has leaped since last season. The exhibition version of his free program looked very promising. Especially his step sequence was so brilliant and enjoyable that it would be able to turn any audience over on his side at a competition.
Emi Hirai / Marien De La Asuncion used two pieces of music: I Just Want to Make Love To You and Putting on the Ritz. They looked cautious at the beginning, but after the music changed they gained tempo and in their non-touch step sequence they displayed wonderful harmony.
Takahito Mura's short program was as fabulous as last season, a Flamenco choreographed by Massimo Scali. Takahito moved so dynamically and passionately that the rink looked much smaller than it actually was. At first it looked like a typical Flamenco program, but in the second half, where it featured a stunning step sequence to percussions, he made it his own. It was an excellent performance and the crowds gave him a standing ovation.
Japan's new top pair, Sumire Suto / Francis Boudreau Audet skated to Japanese pop music Sakura. Their soft movement like petals on cherry blossoms falling was charming and went well with the music. They included a throw triple twist and throw triple jumps and it was done with such ease.

Dynamism is the most attractive feature of Rika Hongo who again showed an inspiring new short program, this time to very common skating music: Carmina Burana. Rika is powerful and enthusiastic and has good speed, and this new collaboration with choreographer Shae-Lynn Bourne creates great expectations for Rika's success in the up-coming season.
Kana Muramoto / Chris Reed spent a wonderful season as a rookie ice dance couple. They were good at clowning in their performance, and were able to fully play out their characters here. Their program All I Need Is the Girl was comical and somehow reminded us of their successful free program of last season. They looked happy and at ease with each other, so naturally we were very happy too.
Satoko Miyahara looked very mature and feminine all through her Hernando's Hideaway program, choreographed by Stéphane Lambiel. She elegantly took on the urban, glamorous woman on the ice. She looked natural and confident with the dignity of a queen.
Just before Satoko, Evgenia Medvedeva skated her lovely exhibition program, Sailor Moon, a world-famous animated character. She wore a costume and the same hairstyle, and she really looked like the heroine, Usagi Tsukino. Evgenia is known to be a big fan of the animated TV series and seemed to enjoy performing. She included some actions which Usagi did in the story, which made it easy to relate. The audience was totally excited and praised her with a warm standing ovation.
In spite of the absence of top names, the show was very enjoyable. It's off-season and even though the skaters were not in top condition, the strong performance of the veterans and fresh vigor of the youngsters was really something to watch. The mix of the experienced and upcoming skaters was well-balanced, and showed the current high status of Japanese figure skating.
The only thing we are worried about is injuries. There were quite a few last season, especially among younger skaters; however they have mostly already recovered or are on their way to do so. We wish every skater to remain healthy and successful in the upcoming season.