The Japanese Junior Nationals 2016/17
December 21, 2016
By Atsuko Kuryu
Photos © Keiko Kasai

This competition was held at the Tsukisamu Arena in Sapporo, Hokkaido, in northern Japan.. The 6 ice dance couples, 29 boys and 30 girls participating had all made it through the fierce sectional eliminations. Let me report on this heated contest and introduce you to some impressive young skaters.
Ice Dance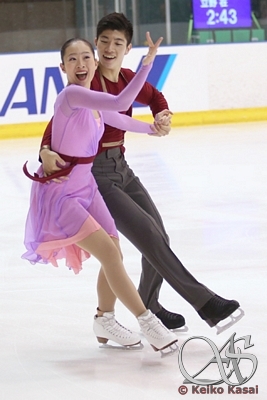 Who would have predicted that 6 couples would compete here this year!
Rikako Fukase / Aru Tateno dominated this field with an overall score of 130.84 points. They were first out at this event and showed how much they have improved from last year. They have good harmony and moved freely, but in unison. Their short dance started carefully but gradually gained dynamism. The free dance to The King and I was fantastic because they looked very comfortable and enjoyed their performance. They got no minus GOE for their elements. Their twizzles and rotation lifts were amazing. They couldn't get the highest level for their steps, but they looked brilliant all the same. Aru said they were satisfied with their score and it felt good for them to skate two programs without major mistakes. After experiencing 2 Junior Grand Prixs, they felt they had made certain improvements. They were not ready for the first event, but felt much better prepared for the second one. And even in this competition they had better performances and it should be a good sign for Junior Worlds. They didn't actually get a spot for Junior Worlds yet, but they are already motivated. Rikako said she still wanted to brush up every element before then. If they are assigned to it, they will set their goal to be ranked 15th, and score higher than ever.
Even though it was the first national competition for the runners up, Yuka Orihara (last season Kito) / Kanata Mori, they nailed their gorgeous short dance and decent free dance to earn 103.54 points. They, both of who were ice dance beginners, paired up this season and have improved quickly. They delivered perfect twizzles and a fast rotation lift. To their dismay, they failed the combination spin and Yuka fell during the diagonal steps in the free skate. Being asked how they could make such quick improvements, Kanata said it's because they had a chance to train in the same rink as Aru and Rikako for a while. They are both still competing as singles as well, and are going to juggle singles and ice dance next season, but have not decided about the future yet.
Nevertheless Kanata furtively admitted he kind of imagined his life as an ice dancer after he graduates from college. Prince Kanata and the beauty Yuka, so to say, would be the perfect couple for ice dance and hopefully continue in ice dance as long as they can.
Daiki Shimazaki found a new partner in Haruno Yajima. They are of similar age and both of them seem to enjoy their friendly relationship. Haruno was the partner of veteran ice dancer Kokoro Mizutani, who retired at the end of last season. Daiki and Haruno seemed nervous during the short dance, but displayed a beautiful harmony in the free dance. Although they stumbled on their twizzles, the straight line lift was very good, both in the short and in the free. They earned 90.04 points. They might need more time to get to know each other, but they are training with Akiyuki Kido and Nozomi Watanabe, who used to lead Japan's ice dance, so we can expect them to become even better. Both Haruno and Daiki admitted that they enjoy their partnership and have a lot of fun ice dancing. They paired up only a few months ago and quickly became good friends who could tell each other anything. They now want to brush up their skating skills with their mentor Kido and aim for international competitions.
To our surprise the novice couple, Utana Yoshida / Takumi Sugiyama, finished third with their fabulous free dance and got a standing ovation from the whole venue. They were only 6th after the short dance because they didn't manage the curve lift, however, the free dance to Carmen surprised the audience because of the, for novice level, high quality expressiveness and technique. This team got 52.48 points and ranked second in the free dance. Their total score was 86.70 and only 4th overall, but remember their names for the future!
Mai and Yuhi Kashino (below left), the brother / sister team presented a very solid performance. They earned 74.74 points and finished 5th. They were not flamboyant but classy, and their ballroom dance style performance reminded me of the Shibutanis. I wish someday Mai and Yuhi will be equally famous, as the Japanese Kashiwanos.
Unfortunately Yu Iwasaki / Yoshimitu Ikeda (above right) finished only 6th, but it didn't necessarily mean they were inferior. They did well in the short dance where they showed their potential, but in the free dance they somehow pulled in different directions expression-wise. I only guess they need more time to get to know each other.
Men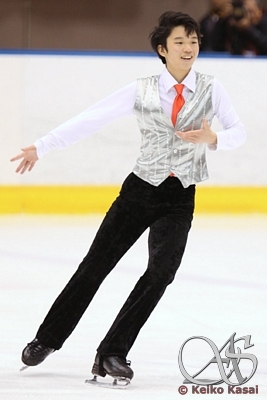 Kazuki Tomono finally won the title of Junior national champion. He first appeared at Junior nationals 7 years ago when he was in elementary school. The little tyke of that event grew up and became the champion! He said, "I was not comparable to top skaters at all, but stepped up year by year and finally grabbed the title. I am very happy and proud of it." Landing 4 triples including nice and high triple Axels, Kazuki led the short program with a safe margin to Koshiro Shimada. In the free program he created a chic atmosphere to An American in Paris and moved freely on the ice. Even after some mistakes, he kept himself strong and didn't collapse, which is a very important quality for top skaters. He might need to polish up his performance and as he said at the press interview after he won, he also needs to improve his spins and step sequences because he only got 3 level 4s among 8 of these elements (2 step sequences and 6 spins). He ranked first in both programs and got 207.85 points overall. Through the interview he was humble, but quietly radiated self-confidence, which made us believe in his success in future, too.
Koshiro Shimada (below left) had amazing speed and wonderful expressiveness. He didn't seem to be in top condition with some minor mistakes on his spins, and he got an edge call on his flip. Still, his performance enchanted the audience and they gave him a huge standing ovation. Somehow his performances always capture the audience' heart. His overall score was 198.20 points. He said he has been getting taller, grew almost 20 cm since he started junior high school 3 years ago. He said he keeps triple Axels and quads in his height perspective so he can modify his jumps as he grows. If that succeeds, he could be a world-wide star figure skater.
Mitsuki Sumoto (above right) also delivered 2 nice performances worth 191.81 points. He usually rarely makes mistakes on his jumps, but this time he had trouble with the triple loop in the short program and got -1.4 GOE for 2 jumps in the free. But he got level 4 for all of his spins! He used his body more effectively and beautifully compared to last year, but he was not satisfied with his performance. He told the press that he had struggled with injury and contemplated withdrawing. He felt like he couldn't nail his jumps, so he wanted to adjust to Senior nationals. What he aimed for was mostly gaining more speed and getting ahead of 2 others in the near future.
About 10 point behind Mitsuki, Yuto Kishina (below left) was 4th with 181.25 points overall. He competed in the JGP in Yokohama this past autumn and finished 7th there. What caught the eye was his outstanding skating skills. In the short program, he fell on the first jump of the planned combination (triple flip-triple toe) and failed to add the triple toe. However, thanks to his high PCS, he still placed 5th in the short program. In the free he presented a beautiful performance to a violin concert by Petr Tchaikovski, and included a stunning step sequence.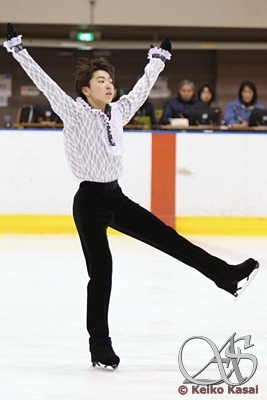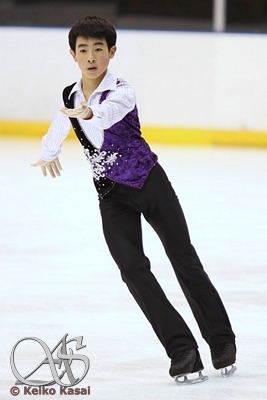 I remembered a charming little novice boy from this event last year, he was Tatsuya Tsuboi (above right) who has now moved up to juniors. And he has improved a lot! He was dynamic and enjoyed his Mambo medley. He has good speed and consistent jumps and is definitely a new hope for Japan.
Sena Miyake (below left) fell twice in the short program, but bounced back to 6th in the free. He tried a triple Axel but failed it in short program, tried again and barely landed it in the free. He moved fast, smoothly, and even dynamically on the ice.
Let me introduce some skaters who impressed me although they didn't make the top. First Kazuki Hasegawa (above right). He didn't make the free skate last year, but finished 7th this year. He was 4th in the short, and skated perfectly in the first half of the free. Unfortunately he fell thrice in the later part. Seventh is a good result, but he was not satisfied as he had set his goal to top 6 to qualify for Senior nationals. Kazuki is the perfect package. Adding to wonderful skating skills, spins, jumps (no triple Axels and quads yet), he also has expressiveness and musicality. In the free he did manage top 6, but only by PCS. I hope he will be included in team Japan next season so you can watch him in international events soon.
Taichiro Yamakuma is also a potential skater. He made two big mistakes in the short program but placed 8th overall. His technique is solid including skating skills, and he really is an entertainer. Most of the audience enjoyed his dramatic performance in spite of the mistakes.
Shingo Nishiyama had prepared 2 fascinating programs for this season, but he was also plagued with mistakes and finished 16th. His skating is smooth and easy and his performance was very graceful. I have been mentioning him in my Junior nationals reports for the past 3 years, but he has placed 14th at best. You might figure I evaluated his talent too highly, but I actually didn't. He definitely has the potential to become a top level skater and is already very famous among Japanese figure skating fans, even with the current results. I think it just shows it's not his time yet. Oce he gains consistent jumping skills, you will know what I meant.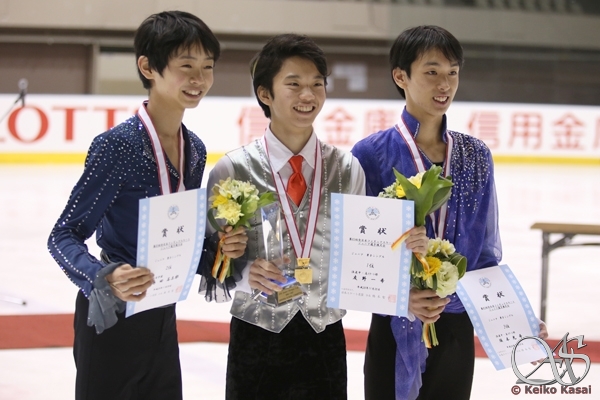 I have two more boys to introduce: Yuma Kageyama, whose father was a two time Olympian representing Japan in 1992 and 1994. Yuma was a rookie for Junior nationals. Yuma did not stand out until last year when he somehow stepped up which made all the differences. Shun Sato from Sendai has been the constant Novice national champion for the past 4 years. He already has a triple Axel and all 5 triple jumps. He used his small body fully and displayed an excellent step sequence. He has already experienced international events and been on the podium.
Ladies
Kaori Sakamoto conquered the ladies' title. After being second in the Junior nationals 2 years ago, she struggled with a serious injury, but came back to win. She landed the opening triple flip-triple toe combination impressively. During her speedy free program, she only stumbled at the landing of the double Axel-triple toe combination, which she regretted even after winning. She earned 191.97 points overall. She said she was more fired up than ever and felt very happy to win. Kaori is strong in every way, but her jumping skills are outstanding and she has full confidence. Her jumps are not only high and long but also quite consistent. Watching her opening combination was a "wow!"-experience. She also has amazing speed and she is getting more polished and expressive. Kaori set her goal this season to get on the podium at the Grand Prix Final (which she did, she got bronze!) and World Junior Championship.
Yuna Shiraiwa (below left) was third in the short program, but after nailing her very strong and graceful free program and getting a standing ovation, she moved up to silver. Her total was 185.13 points. Yuna's charming features are her natural grace and effortless jumps. She has also struggled with injuries and had to get through a tough period of rehabilitation, but said it made her stronger. She didn't notice it herself, but the coach and her family said she has improved using her body more efficiently after the injury.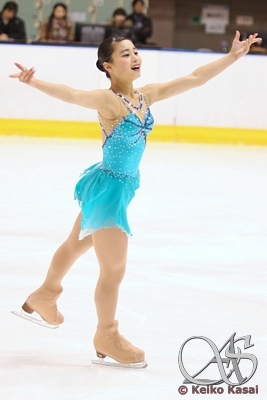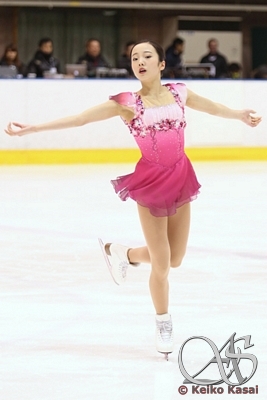 Being second, with only 3 point less than Kaori after the short program, Marin Honda (above right) tried not to be too concerned with the title. She wanted to gain control over herself, but it was difficult. After failing the first 2 jumps, which she said she has rarely experienced, she got too preoccupied trying to recover the rest of the program. She piled up the mistakes and finished 6th in the free. In spite of everything her expression was good, and Romeo and Juliet is a beautiful program, although somewhat monotonous this time. Marin looked very frustrated afterwards, but soon collected herself and said, "I feel positive now. Because of today's mistake, I learned just how important getting well and recovering is, even in practice". She got the bronze medal overall.
The skaters ranking third and fourth were kind of unexpected, and are coincidently both in 9th grade. Rino Kasakake (below left) finished 4th, and almost reached the podium. The margin to Marin was only 2.26 points, and one jump might have turned the event into an even bigger surprise. Rino was 12th at Sectionals with 140.50 points but added 36 more here. She has excellent speed and solid jumps. Her performance was quick and as refreshing as though the wind came rushing through the ice.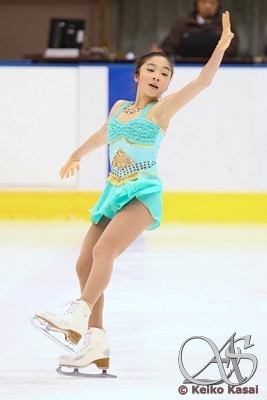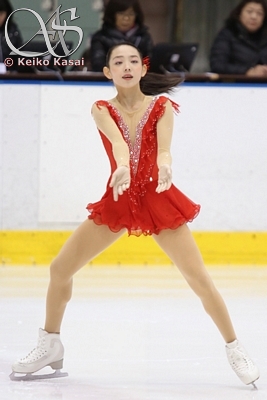 Saya Suzuki (above right) placed 5th with 2 flawless programs. Her jump quality was very high, especially the loop was fantastic. Skating to West side Story, choreographed by Akiko Suzuki, she used her body beautifully and looked very fresh and dazzling.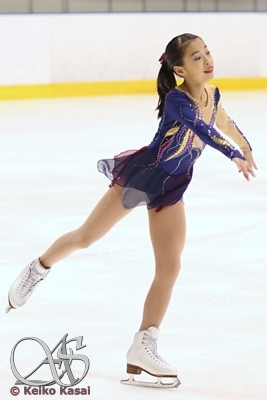 Riko Takino also delivered 2 flawless programs and ranked 6th. She brilliantly nailed the free program set to Les Miserables. She uses the flexibility of her body fully and her spin positions are very beautiful. Her step sequence was so elegant and dynamic that the audience got involved in her performance.
In contrast to the newcomers, some famous names were left behind in this competition. Rika Kihira, who was a finalist in the JGP finished only 11th. She said she was too nervous and struggled to land each jump. Mako Yamashita, who was third in both the Tallinn and the Yokohama JGP delivered a disastrous short program and finished in an unbelievable 16th place.Yuhana Yokoi and Yuna Aoki are already well known on the international stage, however, they couldn't show their full potential. They are very charming and charismatic skaters and lots of fans are awaiting their strong comeback.
Akari Matsubara, the champion of Eastern sectionals, couldn't reach the rank she had aimed for. She has everything you need in a top skater: speed, skating skills, jumps and spins. This year she came to qualify for Senior nationals.
She needed to place 6th to qualify, but only made it to 7th. She was short 2.5 points. Fortunately I had a chance to briefly talk to her on the way home. She said she had been working hard to qualify for Senior nationals after missing the free skate last year; and she felt very frustrated. But she swore to make the Senior nationals next season, as well as the JGP. She looks up to Akiko Suzuki. She doesn't set a specific goal for the future, but does her best to step up.
I noticed a few significant tendencies in this event. First of all we now have many ice dancers. Recently ice dance teams and pairs started springing up like mushrooms in Japan because the JSF (Japanese federation) is cultivating them for the team event at the Olympics. I'm quite sure a pairs category will be added at the Junior nationals soon. Second, there has been a lowering of the age limit. Two thirds of the girls and half of the boys competing are now under 15. What I somehow worry about is that some skaters peak around 14 when the body is light and flexible. Then some will have to endure periods of struggling as the body changes, and maybe deal with injuries, and some may not come back. Of course athletes have to be prepared for difficulties but hopefully not this young. I guess coaches, the federation and the skaters' families should try to learn and make a sort of manual on how to handle these kinds of situations.
Certainly there's a happy side of this for the long time skating fans: You will find several familiar names of favorites who are now coaches (Cathy Reed, Nobunari Oda, Aki Sawada, Akiyuki Kido, Nozomi Watanabe) and choreographers (Akiko Suzuki, Fumie Suguri, Nana Takeda). If you go to Sectionals or Regionals, you may find more. We can expect to see them in the Kiss and Cry at international competitions soon.

With lots of delight and some despair, and full of expectations for the future, the Japanese Junior Nationals ended. I hope many names in this report will be found in the spotlight soon…