Japan Open 2016
XXX, 2016
By Atsuko Kuryu
Photos © Keiko Kasai

Japan Open is a team competition between skaters from North America, Europe and Japan. The competition took place at the Saitama Super Arena on October 1. The ladies teams consisted of Ashley Wagner and Gracie Gold for North America, Evgenia Medvedeva and Anna Pogorilaya for Europe, and Satoko Miyahara and Wakaba Higuchi for Japan. Five of these ladies are in the world top 6 of the current ISU ranking. The men's teams: Adam Rippon and Jeremy Abbott for North America, Javier Fernandez and Florent Amodio for Europe and Shoma Uno and Nobunari Oda for Japan. It was suggested to include one professional skater in each team, but some teams had only eligible skaters.
Men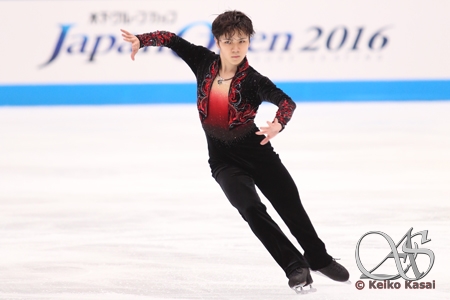 Team Japan was in the lead after the men's competition was over. Shoma Uno scored an amazing 198.55 points and Nobunri Oda 178.72. The opening part of Shoma's music was Buenos Aires Hora Cero by Astor Piazzolla with a touch of mystique. He then landed a quad flip and went on to nail two more quadruples and gorgeous triple Axels. He landed other jumps cleanly as well to earn 109.55 for technical elements. His movements were elegant and matched the music, but somehow he didn't appear to have captured the total image of the program yet. So I can't wait to see how this program improves as the season progresses. Still, the crowd was moved by his wonderful free program, and gave him the biggest standing ovation of the day.

Delivering as strong a program as the eligible skaters, Nobunari Oda renewed his personal best. After landing the opening quadruple toe-triple toe combination perfectly, he kept nailing one planned jump after another. His graceful performance to Liebestraum was very spirited and enchanted the audience in the venue. Nobi too got a standing ovation. The applause started quietly during the choreo step sequence and then burst into an explosion during the combination spin at the end.
Team North America was in second place with two close scores: Jeremy at 166.99 and Adam at 166.84. Jeremy's beautiful body movement and fluid skating filled the hearts of the audience with joy. He turned two of his second jumps in combinations into singles, but other than that delivered a flawless program. Two judges even gave him a perfect 10.00 for his interpretation of the music. The audience cheered and must have recognized how fortunate they were having this chance to watch him performing live. Adam Rippon was really good at fully expressing the spirit of the music with his skating, lots of emotions! Even though he failed the quad Lutz and popped the double toe, he landed all other jumps solidly and showed how strong he can be this season.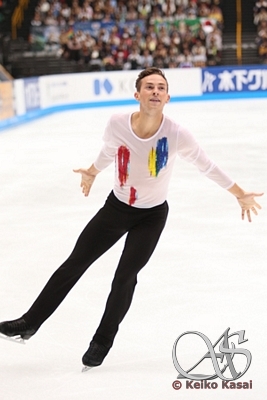 Team Europe was third, however, both skaters showed very distinctive performances. Javier landed three quadruples, including in combination and almost all of his other triples to become second (192.20 points). But he popped one of triple Axels and had a shaky landing on the triple loop, so he fell almost ten points behind Shoma in the technical score. His Elvis-medley was very entertaining and suited his character. First out at the event was Florent Amodio, who seemed to try hard to be consistent and not take any risks. He got +GOE for almost all of his elements except the triple Axel, which he stepped out of. He only collected 124.35 points, but he's really an entertainer and the program was so enjoyable and cool that the Japanese fans were very happy about his performance anyway.
After the men's event the ranks were as follows:
1. Team Japan 377.27
2. Team North America 333.84
3. Team Europe 316.55
Ladies
In Team Europe Evgenia Medvedeva delivered a stunning performance where she had no minus GOE on the score detail sheet. She landed all the jumps including two triple-triple combinations flawlessly. She executed all the elements with ease and had wonderful flow. This program has a special story, which we were not quite aware of at that time. (This is explained in the press conference quotes at the end of the report) At the end of the program she got a phone call and turned very sad. Impressive acting! We will surely all be charmed by her during this season.
Anna Pogorilaya's jump take offs were very light and she landed with good flow. She used her body fully and efficiently. The high point in her program was the choreo step sequence. Too bad she made some minor mistakes and only got 132.04 points. That, however, was high enough to put team Europe at the top in the ladies discipline.
In Team Japan Satoko Miyahara also received positive GOE for every element. Not only was her speed amazing, her flow was as well. And she nailed all the jumps seemingly without effort. She had beautiful positions everywhere in her program, which added flair and elegance. Her score was her personal best, 143.39.

Participating in her first senior competition, Wakaba Higuchi gave a solid performance and got 116.99 points. Though she turned the planned triple Lutz-triple toe combination into only a single Lutz, she calmly restored the lost points by adding a double toe after a triple flip. She proved she is ready to compete with the seniors. Last season she was so energetic and full of power, now we recognized a potential season of femininity and grace.
Team North America. Ashley Wagner was so attractive and spread the charm of a mature woman. She looked strong and independent. She does not hesitate to show off her personality it her free program Exogenesis Symphony Part 3. Her skating skills are gorgeous and she glided fast and with ease across the ice, but gracefully at the same time. Japanese fans gave her enthusiastic applause. The impression of the program was much better than its score; a meager 132.12.
Although Gracie Gold started her program to narrow the gap to Japan, unfortunately she made many mistakes on her jumps, and placed sixth with 108.24 points. However, her Daphnis et Chloe was a beautiful program. With her fabulous skating skills, the choreo step sequence at the very beginning of the program drew the audience into her performance.
The result of the ladies' teams:
1. Team Japan 637.65
2. Team North America 595.66
3. Team Europe 574.20
The competition ended with victory for team Japan. Besides being fun, it was a valuable event for the skaters and audience because it was held at the beginning of the competitive season. The skaters got to show off their programs and get some feedback. We got to watch those programs and preview how strong the skaters can become in the upcoming season. In my opinion all the programs, with no exceptions, are very attractive. I wish all of the skaters to do well and stay healthy throughout the season.
Some quotes from the press conference after the competition:
Shoma Uno:"I felt relieved rather than happy after landing the quad flip. I will do my best to land it more consistently. It was very good for me to deliver such performance at the second competition of the season."
Being asked what he thought when he heard Hanyu had landed a quad loop for the first time ever in history, he replied:
"I respect Yuzuru very much, but I hope I will outdo him someday. But for now, Yuzuru leads Japan's figure skating, so I want to follow him. As for a quadruple loop, I want to challenge myself to include it in my program, once the quad flip and quad toe are solid enough."
And how did he feel about today's performance?
"I did just as in practice; neither good nor bad. I will learn from today's mistakes. My problem was that I focused too much on the jumps and left the expression behind. I also failed to do good transitions; my next step is to improve them."
Satoko Miyahara:
"I think I did better than at the free skating at the U.S. International, but my second triple Lutz was not satisfactory, so I want to practice more. My favorite part was the step sequence where the program presents a strong woman; I think I managed to do that. I was happy with today's performance except my Lutzes. In the competition I was nervous and did not perform as well as I did in practice. That is my challenge; to be able to skate like I do in practice."
Javier Fernandez:
"Considering that it was just five week since I started practice on the ice again, today's performance was fine. It was a really good start and I got really good points. Now we have to see how people will respond to the program, how much they like it and if we have to make any changes."
Javier was asked if he now wanted to include a quad loop or quad flip in his program, after seeing the success of Yuzuru and Shoma.
"I answered this question a couple of times already. Skaters like Yuzuru, Shoma, or Boyang Jin have personal goals to create new jumps to add to their programs, like more quads. In my opinion, for now we will keep the same jumps as last season. I think three quads and two triple Axels in a free program is good for me. I don't want to spend more time working on new quads when I can spend that time on something I need more. It can be presentation or speed, GOE, many things!"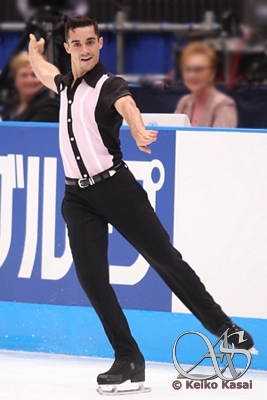 Do you have a message for Yuzuru, who landed a quad loop in competition for the first time in history?
"I've been watching him training hard, and I'm glad that he can set personal goals to add a new quad to his programs and then actually do it in competition. That was his main goal, that's what he wanted to do. And I think it's impressive that he did it already. He has to keep doing it because he is really good at quad loops. When he does it, it looks like a double instead of the quad; it looks so easy I feel like I can do it myself. I'm very happy for him."
About the PyeongChang Olympics:
"This is definitely a very important season for us because this is the season before the Olympic season. We have to try to improve as much as we can and be as strong as possible for next year. So at least personally I'm trying to gain as much experience as I can, mentally and physically, for the upcoming Olympics. But we mustn't forget about the big competitions coming up now: the Grand Prix, Europeans, WorldsÂ… I have two titles to defend! I want to keep improving my programs, but the most important thing is for people to enjoy my program. I want people to be excited about my performances."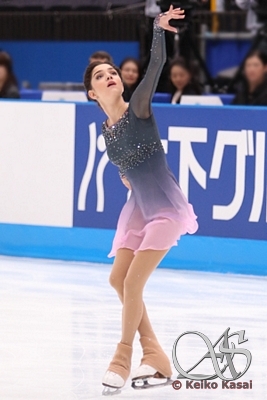 Evgenia Medvedeva:
"I'm very happy with my performance today, I did very well. I'm glad I could come to Japan and compete. I got a good experience as a start of the season. I want to perfect this program as the season goes on."
About the story of the program she said:
"Anything can happen to the people who are really important to us. The main theme of this program is how important these people are to us. At the beginning, I say goodbye to a person in the morning, but he/she doesn't come home. So I become very anxious. I try to watch the news, but can't. Finally there is a phone call with news of a tragedy. This is the end of the program. The choreographer gave me the advice to be as emotional and expressive as I could be, but I have to work on it some more." [The music for this program is by Alexandre Desplat, ed]
How will she prepare for the Olympic Games in PyeongChang?
"I don't think about the Olympics yet, because there is plenty of time until the Games. I don't like to think that far into the future yet, so it's too early for me to talk about it. I want to be calm this season and try to achieve my best at every competition, just like last season."