The 2016 Junior Grand Prix in Yokahama, Japan
October 21, 2016
By Atsuko Kuryu
Photos © Keiko Kasai

This Junior Grand Prix event was held September 9 - 11. It started with the Ladies short program in the crowded Shin-Yokohama Skating Center.
There were 24 girls, 22 boys, and 11 ice dance couples assigned to compete. The Japanese ladies swept the podium, while the top 5 skaters in the men's event and 5 of the top 6 in ice dance came from different countries.
Ladies
Short program
Unfortunately, Rafaela Rahardja of India withdrew because of a foot problem. Japan's Kaori Sakamoto won the short program with 65.66 points, her season best. She landed all the jumps cleanly and her performance was full of energy, power and amazing speed. The runner-up was Mako Yamashita. She showed a flawless performance earning 64.86 points. Looking mature for her age, 13-year-old Mako moved gracefully and elegantly. These Japanese ladies were followed by 2 Russian skaters: Alisa Fedichkina, whose lovely program featured a speedy step sequence to fast music (she got 61.13 points) and Sofia Samodurova, who got 60.76 points for her solid performance to Send In the Clowns by Susan Boyle. The reigning Junior world champion, Marin Honda, fell on her opening triple flip and consequently couldn't complete the combination. She ended up only 5th with 55.47 points. Ye Lin Kim of Korea had a cleverly choreographed program, very original indeed. She was 6th with 52.34 points. Gabrielle Noullet from the US failed her combination as well to finish 7th with 51.44 points.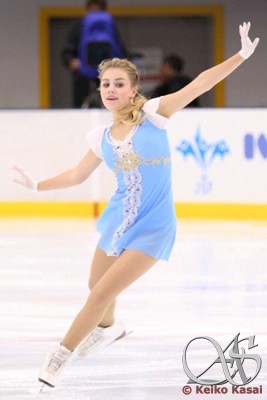 Free skating
Kaori topped the ladies field with two solid performances and an overall score of 187.81 points. Although she was only second in the free skating (because of stepping out of the triple loop), she has improved her already great jumping skills.
The opening triple flip-triple toe combination was really high, and most other jumps were consistent throughout the event. After the competition, she explained how happy she was with winning since she had been 2nd in several events since the Junior Nationals last year. Moving up from 5th in the short program, Marin Honda won the free skating and finished 2nd overall with 184.11 points. She turned the attempted double Axel in the combination into a single, but that was her only mistake. Her Romeo and Juliet program, choreographed by Jeffrey Buttle, was inspirational and she performed it very nicely. But she expressed frustration and dissatisfaction with the result because she had enough practice for this event and should have done better. But her coach, Ms Hamada, admitted Marin had been too busy doing shows in the off-season to focus on basic practice. Both of them promised concentrated efforts for the next event and the JGPF. Mako showed a fabulous performance and reached the podium. At the beginning she looked a little nervous, but after the step sequence, where her cuteness fully showed, she seemed free from her nerves. She smiled after landing her last jump and ended her program with a lovely combination spin. Her total score was 182.43. The 2 Russian girls, Sofia and Alisa, were left behind by the Japanese podium trio. Sofia landed one beautiful jump after another and delivered lovely spins, and won over her team mate Alisa. Alisa somehow lost her momentum in the free program. She earned only 104.12 for her free program and ranked 6th with 165.25 points overall. Ye Lim Kim barely overtook Alisa with a solid performance and half a point.
Ice Dance
Short dance
Rachel Parsons/Michael Parsons, USA, won the short dance with a fast and unison performance and was awarded 66.76 points! They moved vivaciously and the hip-hop part was very enjoyable.
Russia's Anastasia Shpilevaya/Grigory Smirnov and Angelique Abachkina/Louis Thauron of France had very close scores. Anastasia/Grigory scored 60.88 for their mature performance to Ella Fitzgerald. They moved elegantly; especially their twizzles were wonderfully synchronized. Angelique/Louis, only 0.2 points behind, showed very nice edge work; their stroking was simply beautiful. Marjorie Lajoie/Zachary Lagha of Canada, who received generous applause from Japanese fans, finished 4th with 57.02. They were fast and lively but somehow lacked a bit in coordination. Another Russian couple, Polina Ivanenko/ Daniil Karpov, placed 5th with 51.12 points. Their program was an exciting performance to rock music, part of it was Little Richard. Japan's Rikako Fukase/Aru Tateno piled up some tiny mistakes and finished 6th with 48.68 points.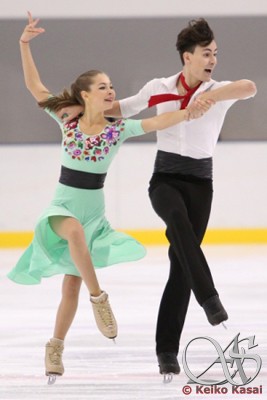 Free dance
The Parsons skated last to win the title. They had good speed and were beautifully unison again in the free dance. After the impressive opening, they skated fast and smoothly with 2 gorgeous lifts.
They scored 160.42 overall. Their program Singing in the Rain was very unique, which you might not think hearing the title. They said they started out with the original music score from the classic movie, but while making the program found it wasn't working for them. So they found another version and aimed to be different. I thought it worked very well! After the competition, they told us their goal this year was to improve their skating in every aspect, to step up and show that they are ready to compete as seniors. They also said their goal for the future is to represent their country in the Olympic Games. The Russian couple's program was very playful and enjoyable as they got the audience involved in it. Their 2 lifts and the choreographic dance lift were all really nice. Anastasia/Grigory received 151.50 points overall and secured the silver. Angelique/Louis's twizzles, which were very fast and unison, got the audience going. The movements went along with the gypsy music and created a special atmosphere, for which this French team was awarded a total of 148.76 points and a bronze medal. Marjorie/Zachary skated with good speed and delivered wonderful twizzles, and scored 137.14 points, while Polina/Daniil (Russia) displayed a fantastic circular step sequence and got 124.52 points. These teams ranked 4th and 5th respectively. Japan's Rikako/Aru earned 113.36 points and renewed their personal best to show how much they have improved from last season.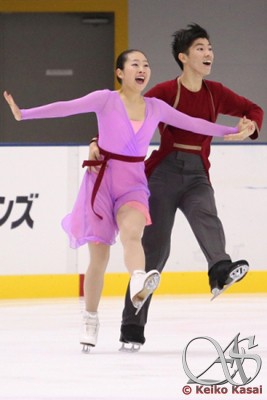 Men
Short program
Vincent Zhou, USA, won the short program with a stunning performance. He landed all the planned jumps with ease (triple Axel, triple Lutz-triple toe, triple loop), and used his body fully to express both elegance and power. He scored 80.53; the only skater to get over 80 points. Korea's hope, Jun Hwan Cha, gave a wonderful performance with speed and musicality. He finished just 1.09 points behind Zhou, and raised expectations of a first win at a JGP event.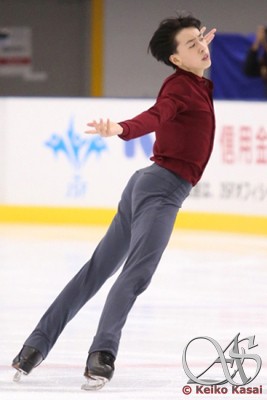 Alexey Erokhov from Russia showed 3 beautiful jumps and a fantastic step sequence. He was in 3rd place, and his teammate Artem Kovalev, who performed a smooth program to Misere, was 4th. Artem's movements were impressive because they fit the music so well. Their scores were 74.90 and 70.19 respectively. Roman Sadovsky from Canada skated first. He displayed fantastic spins and amazing skating skill and was 5th, even though he turned his attempted triple Axel into a single. He got 67.94 points. Japan's Kazuki Tomono skated last. He had a shaky landing on his triple Axel and was in 6th place with 66.47 points. Yuki Kishina, also Japan, showed a clean short program to Frank Sinatra's I Get a Kick Out of You, and left a wonderful impression of his skating skills. He finished 7th.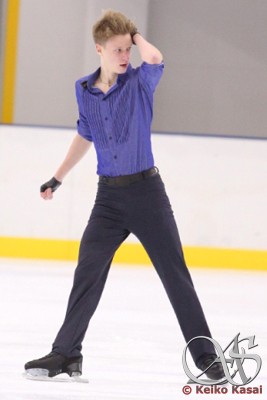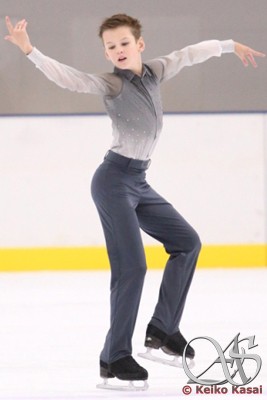 Free Skating
The last man out was Jun Hwan Cha, who won the title with 239.47 points overall. His performance was stunning with consistent jumps. He landed a quad Salchow, 2 triple Axels and 5 other triples cleanly. His performance was soft and elegant set to the tender music from Il Postino.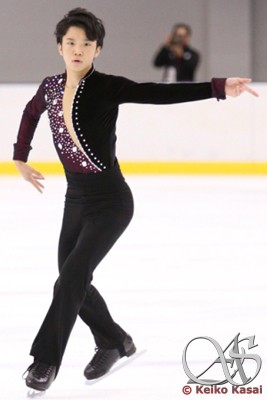 Jun has been mentored by Brian Orser from last year, and admitted that he has improved a lot since then. He said he and Orser liked each other the first time they met. Jun is the big hope for Korea for the Pyeongchang Olympics in 2018. Vincent skated a seemingly clean program, however, the judges' scores showed some minor mistakes, mainly on his jumps. He was very concentrated on technical matters, but somehow looked a bit flat expression-wise. His got 226.39 points overall. He said he was totally happy with his rank here and enjoyed performing in Japan. Alexey perfectly portrayed Romeo in his free program. He looked gorgeous but unfortunately fell twice and ranked only 5th in the free skating and 3rd overall. But he felt satisfied with the result and the bronze. Kazuki had an amazing free skate (An American in Paris) and was energetically cheered on by the Japanese fans. He had some trouble with the opening quad Salchow and following triple Axel, but landed all other jumps cleanly. He was 3rd in the free skate but missed the podium by 4.87 points. Both of Roman's programs were very graceful. Whenever I watch him perform, I feel like I'm experiencing high quality art work. Roman landed the quad Salchow beautifully, but unfortunately failed the triple Axel and got 211.55 points. Without any quads or even a triple Axel, Artem still earned 209.01 points and finished 6th overall. His performance was amazingly delivered with all the jumps cleanly landed. His step sequence was fast and lyrical and all other movements were fun to watch. With a charming Chaplin medley, Daniel Grassl from Italy won the audience over, and stepped into the limelight all at once. Chih-l Tsao of Taipei and Yuto of Japan placed 8th and 9th respectively and proved what attractive skater they really are.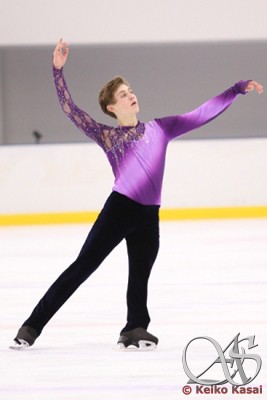 Watching juniors compete is always interesting. Some have amazing skills already and are comparable to senior levels. Others have rarely taken part in any international events. But all of them can have promising futures. We watched 2 skaters from India, both got very low scores: Krishna Sai Rahul Eluri earned 13.09 while Anaya Murthy Thiruvallam received 15.54 points overall. But in spite of these low scores, the fans gave them big cheers and warm applauses and the skaters looked very happy. With this wonderful experience I hope they can make some contributions to the sport in their country. Not only India but some other minor figure skating countries as well, mostly Asian, sent skaters to this event. I sincerely hope their actions will expand the figure skating world in the future.