The NHK Trophy 2016
December 3, 2016
By Atsuko Kuryu
Photos © Keiko Kasai

The last of the Grand Prix competitions was held November 25 - 27 at the Makomanai Sekisui House Ice Arena in Sapporo, Japan. It was an especially important event since the outcome decided which skaters were to compete in the Grand Prix Final in Marseille, in France.
Day 1
Pairs
Chen Peng / Yang Jin of China won the short program with 73.33 points. Their comical program My drag captured the audience from the beginning. They landed wonderful pair jumps and a throw triple toe, and then nailed all their excellently planned elements, one after another, and beat Meagan / Eric.
Yang said they were satisfied with their performance because they didn't leave anything on the table and wanted to perfect every detail of the elements. Canadians Meagan Duhamel / Eric Radford seemed to somehow lack their usual power. Meagan failed the throw triple Axel but it was their only big mistake. They earned 72.95 points. Meagan said their performance was not the best, nor the worst, but that it was better than what they did in Canada. The other Chinese pair, Xuehan Wang / Lei Wang, ranked third with their speedy skating. They expressed the mood of their witty music, Steppin' Out With My Baby, very well. Their pair jumps were high and the throw triple loop was amazing. Xuehan said the performance felt all right, but the one thing they regretted was getting a minus GOE for their spin and triple toe.
Ladies
Anna Pogorilaya of Russia nailed her short program, except for an under-rotation on the triple toe in combination, and topped the score (71.56). She was beautiful and classy throughout her performance in a chic black costume. She landed all the jumps effortlessly and delivered high quality spins. She was so relaxed and gave the audience a gorgeous smile before the step sequence. She was satisfied with her performance because she did everything she could at this time.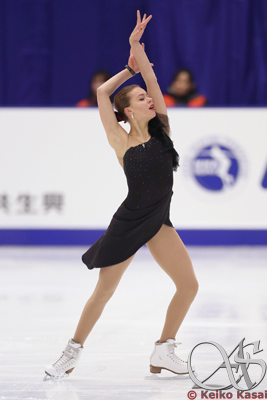 Her teammate, Maria Sotskova, was the runner-up with 69.96 points. Her performance was also flawless and very impressive. All her elements were executed with ease and perfection while she moved smoothly and fluidly. She was also happy with her performance because she had improved since the Grand Prix event in France. Japan's Satoko Miyahara was third with 64.20 points. It was unusual for her, but she took a fall on the triple Lutz. Other than those, she was elegant and brilliant. She said she felt very regretful about her performance today, but still, she was in third and would do her best for tomorrow. She focused on developing quality of her jumps and was very confident in this event. She felt she was too confident today, but would deliver better jumps tomorrow.
Mirai Nagasu slid into fourth place with 63.49 points. Her short program to Chopin's Nocturne No. 20 was very mature and feminine, and featured a beautiful step sequence. She got an attention call for her flip, but highlight points for the triple Loop and double Axel. Wakaba Higuchi was a very close fifth with 62.58 points. She opened with a strong double Axel, but then fell on the triple Lutz in her planned combination, and added a double toe to the triple flip to compensate. She got level 4 and GOE+1.3 for her stunning step sequence. Both Yura Matsuda and Karen Chen were elegant and angelic in their short programs. They were 6th and 7th respectively.
Men
It seemed like Yuzuru Hanyu kicked the other skaters off the top of the Podium already in the short program, leaving the runners-up almost 16 point behind. After he stepped out of the opening quad loop, he landed a quad Salchow – triple toe combo, and later a triple Axel to die for, as well as stunning spins and a fabulous step sequence to reach 103.89 points. He said he was satisfied because he was able to enjoy his performance, and he thought it would lead him to an even better performance in free skating. Being asked how he felt about Nathan, who had done 2 quads that night and planned 5 quads in his free program, Yuzuru first mentioned Boyang Jin. When he saw Boyang's quad Lutz and flip last year at the NHK Trophy, he believed if Boyang could nail them that easily, he would be able to land them too.
And this year, he felt the same with Nathan. If Nathan could include 5 quads in his free program, Yuzuru felt confident about challenging his own free program. The distant second ranked was Nathan Chen, USA, who included the most difficult jump elements of the night: a quad Lutz, a quad flip-triple toe and a triple Axel. Although he fell on the opening quad toe and triple Axel, with his beautiful body movements in balletic style, and wonderful skating skills, he still amused the whole crowd. His score was 87.94 points. He expressed his disappointment over the two big mistakes; but also that he felt happy because he got to sit next to Yuzuru at the press conference. He had been watching Yuzuru on TV for a long time, and now got to watch him live. He also said he was excited about his debut as a senior, and that if he could stay in second place he would make the final and be very satisfied with it. Keiji Tanaka, Japan, did very well. He landed all the jumps, except for the quad Salchow, which he stepped out of. He got plus GOE for all other elements; especially the masculine and powerful step sequence was excellent. Keiji was very happy to be at the competition and be able to appear again the next day. He thought he didn't need to repeat the same mistake he had done at the Cup of Russia and wanted to return with smile.
Mikhail Kolyada, Russia, finished 4th in the absence of quads. He didn't manage to pull off the planned combination of a quad toe-triple toe, and instead added a second double toe to the triple Lutz. He nailed all other elements and got generous applause for his step sequence. He showed lots of variations of movement and collected 78.18 points. Canada's Elladj Balde's short program to the Sound of Silence was really impressive. It sounded very unorthodox and was somehow different from his usual programs. The vocals sung by a "thick voice" that matched Elladj's style of skating. He completed all of his planned elements almost perfectly and got 76.29 points. The last skater out for the day was the other Canadian, Nam Nguyen. He brightened up the venue with his upbeat and enjoyable Love Me or Leave Me. In spite of falling on the triple Lutz, he got the 4th highest technical score (40.04 points) of the men, and earned 75.33 points for his short program. That put him all of 0.2 point ahead of Alexei Bychenko and gave him a spot in the second group for the next day.
The third Japanese man, Ryuju Hino, had a flawless program, and pleased the audience of his home country. He finished 9th with 72.50 points.
Day 2
Ice dance
Tessa Virtue / Scott Moir of Canada won the short dance with 79.47 points. They presented a cool hip hop and modern blues dance, which really showed off their strong presence on the ice. Gabriella Papadakis / Guillaume Cizeron, France, stood still on the ice before their name was called and turned that atmosphere into a part of their performance. Their blues was excellent, and they showed a new performance aspect of swing. This was great, but they somehow lacked their usual wow-factor. They only got 75.60 points and Guillaume had a sour look when he heard the score. Anna Cappellini / Luca Lanotte had chosen blues and boogie woogie and were absolutely lovely. Their step sequence went well along with their style and mood. The audience was excited over their beautiful straight line lift where Luca didn't hold Anna with his arms.
Pairs
The top 3 pairs of the day before finished on the podium, but the order of the first and second was exchanged. Meagan Duhamel / Eric Radford won the title with a decent performance.
They earned 123.54 points for their performance, but that was about 15 points less than at Skate Canada. They had several mistakes during their free skating, and Meagan expressed her disappointment after their performance was over. Still, thanks to Chen/Yan's repeated falls, Maegan and Eric won the title. Eric explained how nice it was that they could also deliver some strong elements and not only mistakes. Asking why they have been so strong at the NHK Trophy (it was their third win there) Meagan answered they had competed a lot before this event, and experience is always a good help. Eric added that it was difficult to keep improving and being challenged, when it's so easy to become lazy. They were working hard, thus they keep strong. Overnight leader Chen Peng / Yang Jin seemed to be very nervous and Chen fell on their opening jump and on the next one. After that she seemed to collect herself and presented a beautiful free program to I Will Wait For You from the movie Les Parapluies de Cherbourg. Their overall score was 196.87 points which was enough for the silver. Consequently they qualified for the Grand Prix Final along with Meagan / Eric. Chen didn't admit that she felt the pressure of leading the short program and just said they lost because they were not that strong. Yu said they would review their performance in this event and correct their shortcomings. That would be their best preparation for the Grand Prix Final. Xuehan Wang / Lei Wang showed an excellent free program and earned 185.32 overall to finish third. Even with 2 mistakes on jumps, their throw jumps were executed with flow, the lifts seemed effortless and Xuehan's positions were beautiful.
Ladies
Teenagers swept the podium in this discipline. Anna Pogorilaya, 18 years old, was very strong throughout her performance. She put a hand down at the landing of double Axel and received an edge call on her triple flip. But she looked very mature and she has a gorgeous free program. Especially during the excellent spiral, the audience got fully involved in her performance. She got 139.30 points for her free program and 210.86 overall.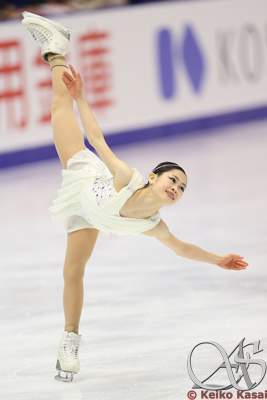 She said she was satisfied with today's performance, even though there were some mistakes. Satoko Miyahara, same age as Anna, looked very strong which was different from her usual style of elegant and feminine. In The Planets by Gustav Hoist, choreographed by Tom Dickson and Lori Nichol, she displayed a new side and it was very impressive and wonderful to watch. I found her performance so attractive it was over all too soon. She had 2 under-rotations which reflected the score of only 133.80, not as high as the audience had expected. However, she got 198 overall and qualified for the Grand Prix Final. Being asked what she thought about the under-rotations, which have become much stricter recently, she said she thought it was what she has to work on the most. She had already put a lot of effort into it, but since it wasn't enough she would have to work even harder at it. Maria Sotskova, 16, looked youthful and like a fairy in her free program, Adagio. She was graceful and beautiful but got two under-rotations and a downgrade. Her free skating score was a disappointing 125.92 points, but that was still enough for a podium spot and a ticket to the Grand Prix Final. Her overall score was 195.88. She said she liked skating in Japan because there were so many people in the venue and it helped her a lot. She wanted to have a clean skate, but made several mistakes, so she needed to practice more.
Wakaba Higuchi had a strong performance too, but she finished fourth and didn't make the Final. Her planned triple loop turned into a double, but it was the only visible mistake. Mirai Nagasu was 5th overall with 180.33 points. Her style is mature and elegant, but she needs fully rotated jumps. Karen Chen used her whole body and moves gracefully on the ice. She really is a brilliant skater! Elizabet Tursynbaeva had wonderful ice coverage. She fell on the landing of the triple flip, and under-rotated the loop, but the other jumps looked clean. Japan's Yura Matsuda had a new and attractive appeal in her free program Spanish Caravan. She is usually a feminine skater, but here she was strong and powerful.
Men
Yuzuru Hanyu won the title with amazing 301.47 points! Although he fell on the second quad Salchow, he went on to be powerful and strong. He added to that strength as he moved through the step sequence to the nostalgic melody of Hope and Legacy. Afterwards he felt relieved rather than happy, because he made the Final. The runner-up, Nathan Chan, planned to include 5 quads at first.
And he actually attempted 4 of them, a quad Lutz, flip, and two toes. Unfortunately he fell on the Lutz, but he was very brave to go for it! From the very first moment of his performance, with his stunning skating skill and musicality, he invited the audience into the balletic world of Prince Igor. Nathan has wonderful jumps and gets high second marks. With that combination he might be the next skater to reach over 300 points, following Yuzuru and Javier Fernandez. Nathan was very pleased because he was able to share the podium with Yuzuru and Keiji. This is his first season as a senior and he was very happy to medal and make the Final. Keiji Tanaka delivered a flawless free program and ranked third. In the men's event there were many mistakes made until Keiji skated. His brilliant step sequence and solid jumps removed the gloomy atmosphere in the venue. His overall score was 248.40 points, which was his season best. He said he was very happy to medal, but looking at the score, he found himself far behind Yuzuru and Nathan. Then he added that he wanted to make this result a spring board to the next step.
Alexei Bychenko also had an impressive performance with a beautiful step sequence and a strong choreo sequence. He landed very nice jumps and ranked 4th with an overall score of 220.17 points. Mikhail Kolyada piled up the mistakes, but thanks to his solid short program, he finished 5th with 225.69 points. From a disappointed 10th place in the short program, Deniss Vasiljevs bounced back to 5th in the free skate. He finished 6th overall and looked very happy. Jason Brown wasn't able to fully show his potential and ended up only in 7th place, which must have been very disappointing to him.
Day 3
Ice Dance
Overnight leader, Tessa Virtue / Scott Moir won the Ice dance with the overall score of 195.84. While they were skating, there was a special atmosphere on the ice. They started with an eye-catching stationary lift and involved the crowds into their world. They then delivered all following elements with a very good flow. They got level 4 for all their lifts and plus GOE for all elements. Tessa said she was satisfied with their score and rank; that the Japanese fans always were so supportive and cheering, and that they were happy to skate in Sapporo. Gabriella Papadakis / Guillaume Cizeron were left about 10 point behind the winners and finished second. They moved fast in the lifts and twizzles as well as in their diagonal step sequence, where they included a variety of movements. They made some tiny mistakes, like Gabriella wobbling during the twizzles, but most of the elements were excellently executed and got plus GOE.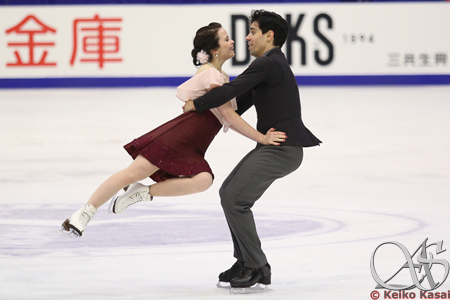 The most impressive moment was the rotation lift where Guillaume drew a beautiful curve on the ice in a low spread eagle. Gabriella said they were not happy because of the mistakes, and that they will work on it some more before the Final. Ranked only third, the high point of the day award went to Anna Cappellini / Luca Lanotte. They nailed their very theatrical Charlie Chaplin Medley at the end of this event. What wonderful actors they are! They moved the heart of the audience, who must have felt like they were watching a wonderful motion picture. Almost the whole crowd burst into cheering and a standing ovation right after the performance. Anna said at the press conference that she kept thinking they used the rink as a theater and would communicate the story of the program to the audience. Their performance worked just like she said. Their score for the free dance, 108.42 points, might have been less than the audience expected; however, they will never forget this performance. Anna said she was very satisfied because they delivered their best program, just as they did in practice. They were especially happy they could share this enjoyable moment with the audience.
Kaitlin Hawayek / Jean-Luc Baker's Liebestraum was gentle and sweet and left an unforgettable impression on the Japanese fans. At the NHK Trophy back in 2014, Kaitlin and Jean-Luc skated to Romeo and Juliet and got Bronze. This was still fresh in the memory of the audience, which was very happy to see them perform even better now. The overall score was 169.75 points and the ranking 4th. Victoria Sinitsina / Nikita Katsalapov finished 5th with 169.62 points, only 0.13 behind Kaitlin / Jean-Luc. Nikita stumbled during the twizzles and they received two level 2s for their step sequences.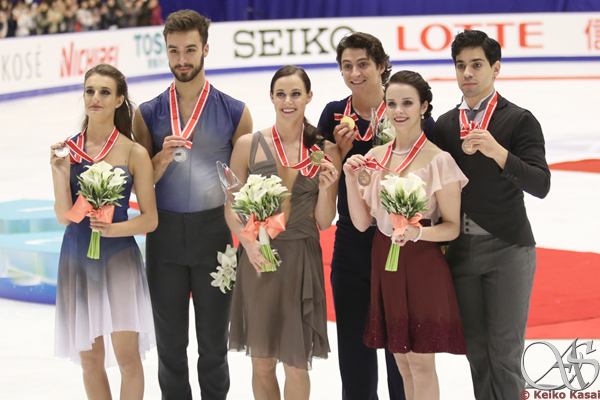 The NHK Trophy closed the Grand Prix competitions for the season. This fact made some of the skaters competing more tense and burdened with pressure to make the Final. They had all experienced many competitions with feedback or review, and had improved their programs. The battles within each discipline were very interesting. The Final will happen in Marseille, France, December 8 - 11. I sincerely wish the best for all the skaters.