Adult skating in Oberstdorf: The funniest competition I ever attended!
Aug 29, 2017
By Eva Maria Jangbro
Photos © Eva Maria Jangbro (EMJO)
Creativity, warmth, fellowship and lots of fun, that's what Adult figure skating is to me after attending the ISU Adult competition in Oberstdorf, Germany.
Honestly, had it not been located in Oberstdorf, I probably wouldn't even have considered going. But I have a very soft spot for Oberstdorf, the dreamy little village in the Bavarian Allgäu Alps, where the Nebelhorn Trophy is hosted every fall (this year it'll serve as an Olympic Qualifier).
After just the first day, I was convinced this was the funniest competition I'd ever attended! The air was full of laughter and joy; everyone and everything was accepted! It's easy to understand why Adult skating is growing and it's growing fast.
With 560 entries this is a large scale competition; skaters from all over the world come every year. Many return, not only for Oberstdorf, but for the great atmosphere in the arena. There is a lot of joy in meeting old and new skating friends. This year the competition celebrated its 13th anniversary.
Something I immediately noticed after a quick look in the program, was how extremely many categories there are in adult skating! Add 560 skaters and it's no wonder the competition lasted 6 days.
The singles are divided up in Artistic and Free skating according to level and age, bronze being the lowest category/skill and Master being the highest. Even former elite skaters may enter the Master Elite category, like Fumie Suguri, who competed in the Master Elite Ladies 1 and Gary Beacom in Master Elite Men II. The same categories go for Ice dance and Pairs. The ice dancers do a Pattern Dance, a Short Dance and a Free dance. For Pairs there is an Artistic program and Free Skating.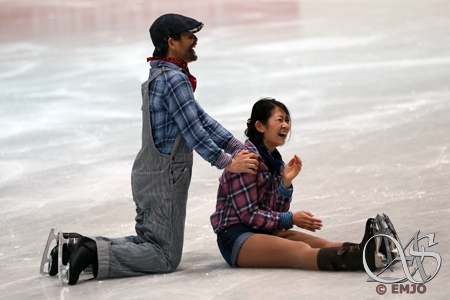 The judges have to work hard. Competitions started at 10 o'clock and ended around 22 every day except Saturday, which 'only' had 7 hours of competition. For some judges this meant very long days, but as with everything else they smiled a lot and looked like they really enjoyed being here. The presentation points given by the judged were high, way higher than at other figure skating elite competitions. I should add that the judges are very popular with the skaters.
Entering the arena some things were familiar, like the banners. They were mostly country flags and some with slogans. The audience was truly enthusiastic, consisting mainly of skaters and coaches cheering and supporting the skaters on the ice. Whenever a "hard" move, like a jump, was successfully executed, there were big cheers from the audience. The same went for Ice dancers and Pairs. Big cheers for every twizzle, lift and just about everything done in unison, and dito for synchro skating too.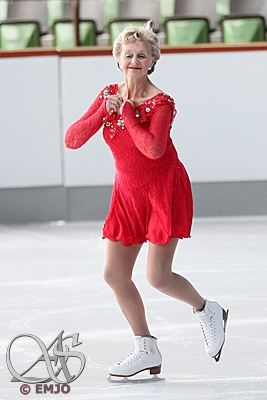 The competition started out with Bronze Ladies V, Artistic skating. These ladies are 66 years old and up. The first skater was a lovely lady dressed in red. I don't remember what she skated to, but the joy in her eyes just to be there on the ice blew me away. These lovely ladies showed great artistry in their Artistic program using not only creative costumes but also makeup. I think many competitive younger skaters lack this creativity, but I guess the older you get the more you dare go all out. I saw an alternative Swan, a cat in a jumpsuit, a few Russian dolls and of course a clown. Higher levels skaters take it a little more seriously, they came for a medal and trophy bucket. But everyone participating in the competition walked the red carpet along with the champions to receive their diploma, and take part in the medal ceremony. The official photographer had his/her work cut out too: 6 days, 560 skaters, 12 hours of competitions per day… Anyone familiar with taking photos at skating events knows what this means.
The men were in no way "less" than the ladies. Here we found the skaters who were the most over the top in the competition. An Italian peacock, the Australian "samuraj ", the Italian lover, a Tom Cruise in Top Gun and yes of course, Bond 007; all on the ice.
Seeing all this, my thoughts go to the discussions about costumes, occurring on different skating forums as soon as the new season begins. Costumes are misunderstood or considered ugly, harshly judged as not suiting the music, fitting the skater's style etc. The attitude is very different in the world of adult skating and competition. The "less is more" definitely does not apply here, rather "more is more" and it's ok with everyone. There is no "What is that???" or "What are they thinking?" It's more like "Oh wow, love what you're wearing, cool!" The more spectacular, the more popular, at least with the audience. Some ladies wear fabulous and far out hats! Of course there are skaters who choose more classic, serious and toned down music and costumes, and that's ok too. Diversity is allowed.
At this competition there were no flower girls. Every team had a captain and he/she was responsible for gathering all the gifts in a basket.
The whole week's worth of fun and excitement was all wrapped up on Saturday evening at the banquet. Oh yes, there was a skating party here too and I heard it was one of the best, of course!
So if you've ever thought about starting skating as an adult, or to take up your skating again, it's never too late, not even to compete again at whatever level. Go for it!
Check out Maria's photo website if you want to see more photos!
Click here