The Japanese Nationals 2016/2017
February 9, 2017
By Atsuko Kuryu
Photos © Keiko Kasai

The showdown between the senior Japanese skaters took place at the Raktub dome in Osaka, December 22 - 25. For the 29 men, 30 ladies, 5 ice dance couples and 4 pairs competing it was a tough few days. Each discipline filled the venue with excitement all through the event. The usual crowd of people unable to get ticket stood around the venue with "need a ticket" sign. I am afraid most of them had to leave without getting one, but for the fortunate audience the competition was both exciting and fun.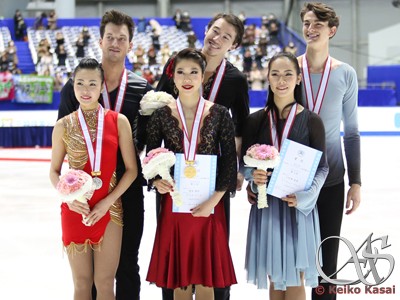 On behalf of Absolute Skating I'm proud to be able to report from this very popular sporting event.
Ice Dance
Kana Muramoto/Chris Reed dominated this discipline with two wonderful performances. They led after the short dance, where they presented deep edges and displayed the comical actions they are so very good at. In the free dance they delivered a passionate program to Poeta and other music. Lots of complicated movements with good speed were seen in several parts of their free dance, and people got involved in their program from the very beginning. Their total score was 158.36 points and the audience gave them a standing ovation. The runners-up, Emi Hirai/Marien De La Asuncion, did well too but didn't quite keep up the speed. But other than that, they moved very nicely to the music. After placing 2nd in the short dance, their free dance was solid, and they got 5 level 4s out of 9 elements. Marien said he was happy about their high technical score because he had been frustrated about it before. They were both satisfied with their free dance in spite of the lost speed at the end of the program. They earned 140.97 points.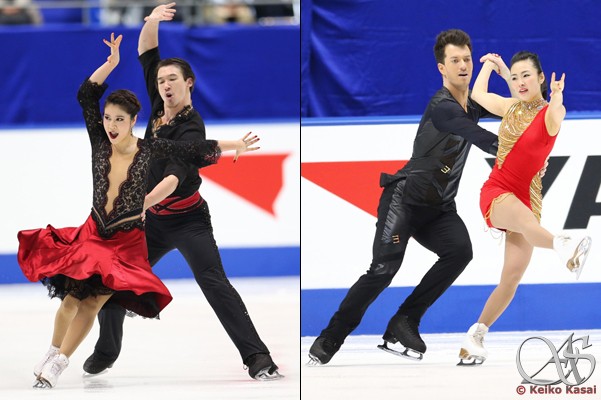 The newcomers, Misato Komatsubara/Timothy Koleto, had an impressive presence both in the short and free dance. They have a mature and smart style and were very graceful throughout their performances. The margin between them and Emi/Marien was big (15.85) but if counting only the second mark they were very close. So what they need to work on was obvious. Misato used to be partners with Taiyo Mizutani and after their split, she went to Italy and skated with Andrea Fabbri for a while, then came back to Japan with Timothy. Because they were such wonderful ice dancers, Japanese fans welcomed them to the Japanese ice dance scene. Ibuki Mori/Kentaro Suzuki skated in a vivacious and speedy way. Especially in their free dance, they involved the audience so much that they got generous applause when the performance was over. They got 122.59 points, just 2.53 behind Misato/Timothy. Another newcomer couple, Nicole Takahashi/Toshihiko Okuda, was very fresh and lovely. We expect them to continue the partnership and return to Nationals next year, a bit more experienced.
Pairs
Sumire Suto/Francis Boudreau Audet stood out among the 4 pairs competing here. They had good speed and showed more high level elements than the others. All of their lifts were beautiful and consistent. Sumire did fall at the landing of the first triple toe in the planned combination, and put her hand down on the throw Salchow,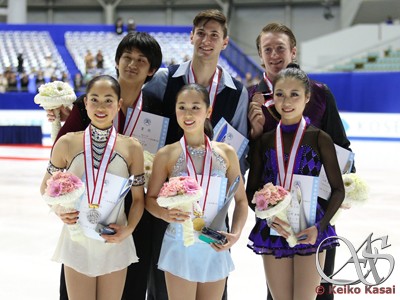 but they still left Miu Suzaki/Ryuichi Kihara almost 15 points behind. Overall they scored 160.25 points. After their second straight victory, they were very motivated. Sumire said they hadn't set a particular goal for the rest of the season, but wanted to practice more to compete on an equal base at the international stage sooner. After finishing the free skate, Ryuichi burst into tears of joy. Instead of being held back by injuries, they completed two decent programs without major mistakes, and got almost 20 points more than last year; 146.25. They nailed two nice side-by-side jumps which, Ryuichi said, could be to their advantage. He said he graded down some elements from triple to double because of the injury, but all the same they got a higher score, which meant they improved in almost every way. Ryuichi said it was the worst year for them because they had been struggling with injuries and bad conditions, so he hoped they would have better luck the rest of the season.
Marin Ono/Wesley Killing presented a dynamic performance and got 136.06 points. Their throw jumps in the free skate were amazing, but their spins were not. Somehow I have a feeling they need to care more about unity and details. Narumi Takahashi/Ryo Shibata debuted at Nationals. They did very well for first year contestants. They need to improve technically, but they do possess grace and are very attractive to watch. Their score was 122.38 points.
The pair category of the Junior Nationals was held here. Shoya Ichihashi/Riku Miura skated for the title and showed a yet youthful performance. Shoya recently announced she will concentrate on pair skating from now on.
Men
Shoma Uno won his first national title with an overall score of 280.41 points. In the short program he stepped out of the opening quad flip, fell on the quad toe and didn't make the combination. All this put him second with a disappointing 88.05 points, while Takahito Mura nailed a flawless flamenco and topped the short program with 90.34 points.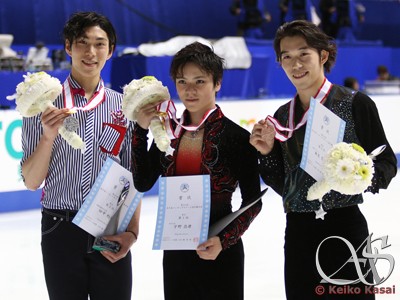 Keiji Tanaka placed third following a near perfect performance.
In the free skate Shoma failed the landings of all his quads and was unable to complete the two planned combinations with them. This was especially frustrating for him, because he had been working very hard on these elements. However, he made up combinations with other triple jumps and displayed two fabulous level 4 spins. He also gained high PCS and easily won the title. Overnight leader Takahito landed all the jumps in the first half, but somehow failed almost all the jumps in the latter half in which is given 10% more points of the base value. His step sequences was gorgeous in both performances, but he got only level 3 for all of his spins while Shoma got 5 of 6 spins and Keiji 4 out of 6. Afterwards Takahito explained that his many mistakes in the free were not mainly because of the pressure of being first. It was more because what he had worried about in practice actually happened in the competition; he had had trouble with the quad and triple Axel combinations. He now scored only 151.77 in the free and finished third, consequently losing the spot to Worlds. He said it was the most frustrating podium in his skating career.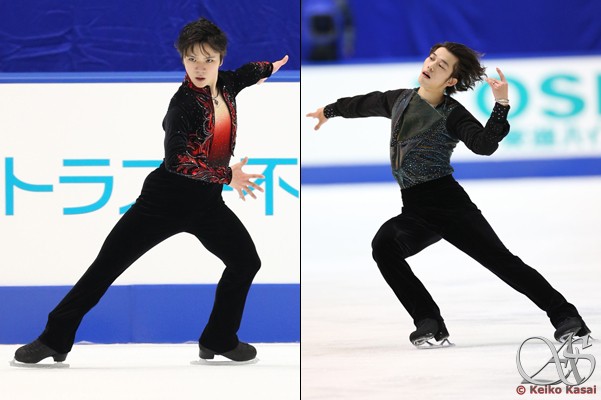 Keiji Tanaka had a shaky start. After landing the opening quad Salchow beautifully, he failed two important jump elements. Nonetheless, he collected himself and delivered the rest of the program in a dynamic and powerful manner. He placed second and made the podium for the first time at Nationals. He admitted he had mixed feelings; half happy and half frustrated. He felt happy about the silver but regretted he wasn't able to show his best.
Ryuju Hino, who is the same age as Yuzuru and Keiji, skated two solid programs and finished 4th (230.31 points). He didn't go for the quad, but aimed for consistency and did it very well. The audience gave him a standing ovation for both programs. He used to skate in a kind of monotonous way, but has changed; he now looked smooth and expressive. He said he'd been motivated by what Yuzuru said to him at the NHK Trophy: "Hurry to come up to the top level!" Hopefully he, Yuzuru and Keiji will compete together at the top international level soon.
Kazuki Tomono, the National junior champion, made a remarkable impression. With a flawless short program and an equally fantastic free skate, he became the hero of that night. In his An American in Paris he showed his own chic style and involved the audience from the first measure. He and Koshiro Shimada, who finished 7th overall, earned the biggest standing ovations of the night. While most senior skaters made some visible mistakes, the champion and the runner-up at Junior Nationals nailed their performances, not only flawlessly but also very charmingly. Koshiro, a 15-year old from Okayama, already have wonderful expressiveness and also strong technique. His total score was 200.18 points, which did not include any triple Axels or quads.
Shu Nakamura's performances had wonderful musicality and pleased the audience. He was 7th in both programs and placed 6th overall with 202.16 points. I want to briefly mention some who didn't make the top 6. Hiroaki Sato has a special talent for expression. He made lots of mistakes in the free skate, but because of high PCS he still finished 8th. I only wish he would land his jumps consistently.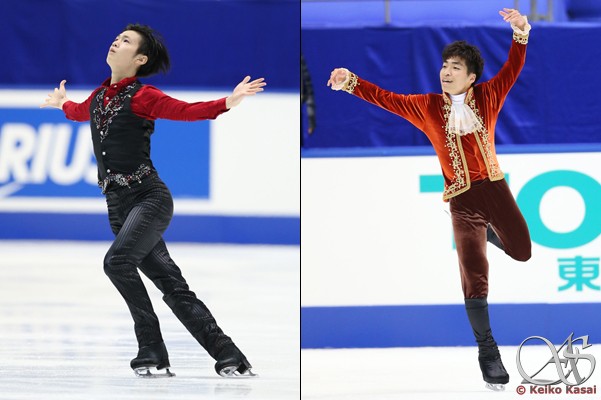 Sena Miyake, who was 6th at Junior Nationals, ranked 9th. He tried two triple Axels and landed one of them beautifully. He also has wonderful speed. Tatsuya Tuboi, the youngest of the men, definitely made his presence known in the free skating where he placed 8th with 127.57 points. He has the whole package! Other juniors who might be disappointed with their results were Mitsuki Sumoto and Yuto Kishina, but they were quite good as seniors. Both of them were noteworthy in different ways. In spite of placing last in the short program, Shion Kamata entertained the audience a lot and received generous applause for his comical and appealing program Lupin III from a famous Japanese cartoon.
It was big news that Yuzuru Hanyu had to withdraw from Nationals because of the flu. Takahito Mura said after the short program that he wanted to take the chance to show his strong presence at Nationals, but that somehow he had a strange feeling because someone who should be there was not. Only about half of the elite skaters competed this year, which made him even more uncomfortable (Sota Yamamoto and Daisuke Murakami were out because of injuries). Keiji said he also felt that Yuzuru's absence was kind of weird. He renewed his resolution to compete with Yuzuru soon. Shoma said he didn't feel pressure competing as a major favorite, but he made several mistakes, and it might prove there was some pressure of winning after all.
Ladies
It was a very tough competition for the ladies. We watched many wonderful performances and the result was not as we had predicted. In the short program, Satoko Miyahara was stunning in her Musetta's Waltz from La Boheme. She seemed so full of confidence she made up her own world on the ice, and was awarded 76.46 points.
The audience was so excited they gave her applause in the middle of her last spin. Rika Hongo placed second with a powerful performance to Carmina Burana. She received +GOE for all of her elements, as did Satoko, and earned 69.20 points while Wakaba Higuchi had an edge error on her triple flip, but was still just 0.46 points behind Rika.
On day 4, when the ladies free skating was held, it must have been very exhausting for the audience. There were so many exciting performances and the ranks changed unexpectedly, there might not have been time to breathe. Satoko was superiorly strong in the already strong ladies field. Her performance was very beautiful, but less powerful than her short program. She stepped out of the second jump in her first combination, and got two under-rotations. Still, her 214.87 points made her win big over runner-up Wakaba Higuchi. Satoko said she was dissatisfied with her free skating and wanted to show a much better performance in Pyeongchang and in Helsinki. Wakaba stepped out of her triple Salchow, which was down-graded. Other than that she was pretty consistent and expressive. She is no longer a junior skaters in name or performance, and she declared: "I want to practice more and show everything I have at Worlds".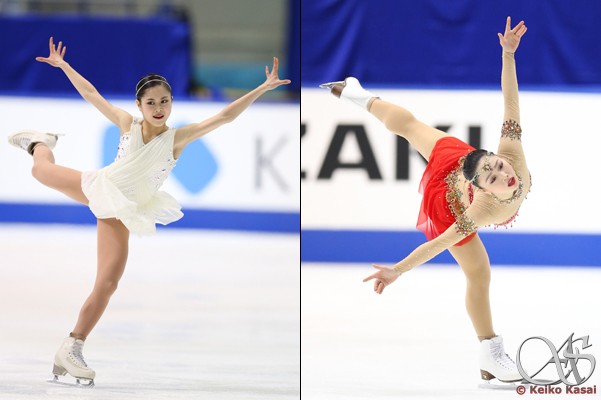 Mai Mihara was in a surprising third place. During last year's Nationals she was out because of juvenile arthritis. Having learned to control her disease, she could finally take part here. She delivered two wonderful programs; especially her free skating was fantastic. Her speed is amazing and she showed beautiful spins and consistent jumps. She admitted her bronze was a surprise but declared that as long as she was selected a member of the Worlds team, she would try to do her best there.
Marin Honda did very well in her short program and became 4th, only 1.68 point behind 2nd place. But in the free she turned the triple flip into a single and stayed 4th overall with 196.11 points. She failed some planned combination jumps but cleverly made up almost all of them. She had regrets about the recovery of failed combinations after a disappointing third place at Junior Nationals last month, so she quickly applied the lesson she learned. She said it gave her experience she'll need for Junior Worlds, because she's learned to collect herself even after several mistakes.
The overnight runner-up Rika Hongo did very well, although she got an under-rotation and popped a planned triple loop. This made her only 5th in the free as well as overall. She is a gorgeous and strong skater, but unfortunately lost the spot on the team for two major championships later this season. I dare say that if Rika wanted to skate in the very world top, or even in the Japanese top, she needs another breakthrough like she had four year ago. Yuna Shiraiwa turned her double Axel into a single in the short program, and then had to stop in the middle of the last spin because her glove got caught in the edge of her skate. Consequently she placed only 17th, but bounced back and delivered a stunning free program which put her third with 131.07 points. Yuna finished 6th overall with 185.37 points.
Mao Asada took on the challenge of a triple Axel in both programs, but couldn't land them cleanly. She placed 12th with 174.42 points, a clear disappointment. She was outstandingly classy and elegant and will be competitive if only she'll rotate her jumps fully after she recovers from her injury. She claimed she will continue as eligible until the Olympics 2018 in Pyeongchang. Kanako Murakami had a bad short program, but with a very impressive and passionate free program she managed to stay 7th. It was reported that she hinted about retiring after this season, but no official statement has been made.
Yura Matsuda delivered a graceful and tender short program, while Rin Nitaya performed her romantic Romeo and Juliet solidly. Both Saya Suzuki and Riko Takino, selected from the juniors, were vivacious and left strong impressions. Saya had a fantastic free skate while Riko stood out in the short program where the whole venue joined in a standing ovation. For internationally known Haruka Imai and Yuka Nagai, day 3 and 4 were not their days to shine. But both are charming skaters and will hopefully get a new chance soon.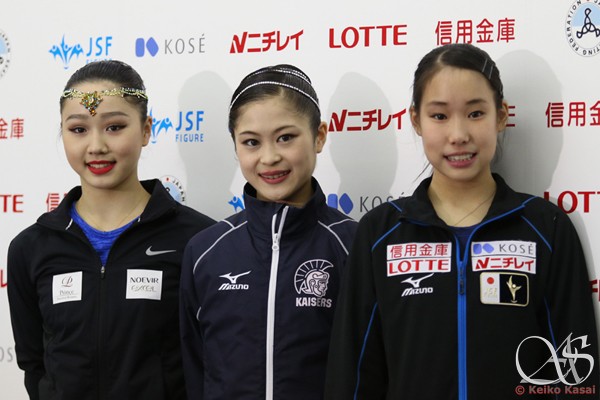 At the end of the 4-day competition, the Japanese federation decided the members of the team for the 2 major championships listed below. I hope all of them will reach what they aim for and let the fans all over the world enjoy their performances since Japanese figure skating definitely is flourishing right now.

The Japanese team for the World Championships in Helsinki and Four Continents in Pyeongchang:
Men: Shoma Uno, Yuzuru Hanyu, Keiji Tanaka
Ladies: Satoko Miyahara, Wakaba Higuchi, Mai Mihara (unfortunately, Satoko had to withdraw from Four Continents because of an injury. Rika Hongo will take her place - edit.)
Pairs: Sumire Suto/Francis Buodreau Audet, Miu Suzaki/Ryuichi Kihara
Ice Dance: Kana Muramoto/Chris Reed, Emi Hirai, Marien De La Asuncion

World Junior Figure Skating Championships in Taipei:
Men: Kazuki Tomono, Koshiro Shimadada
Ladies: Kaori Sakamoto, Marin Honda, Yuna Shiraiwa
Ice Dance: Rikako Fukase/Aru Tateno