Friends On Ice rehearsal: Dear Friends
December 24, 2018
By Atsuko Kuryu
Photos* © Keiko Kasai
*Please do not share any of these photos on social media!
After the World Championships, Japanese figure skating turns into show season. And there are many fantastic figure skating shows between seasons; "Stars On Ice", "Prince Ice World", "Fantasy On Ice", "The Ice" and others. Among them is also "Friends On Ice", which took place the weekend of August 24 - 26 at the Shin-Yokohama Skating Center in Kanagawa. It was brilliant, not least because of the intimate atmosphere. As lots of skaters said and Shizuka Arakawa recognized at the press conference, that the show has the character of a "family rally", which makes it very cozy not only for the skaters but also for the audience. We couldn't cover the show itself, however, we had the opportunity to report on the final rehearsal, which was called "Dear Friends". It was also shared with some fans that had already purchased show tickets. All the tickets sold out very quickly.
The show consisted of mostly professional skaters, but two eligible skaters were also supposed to join: Shoma Uno and Daisuke Takahashi. Unfortunately, Daisuke didn't skate because of an injury; but he appeared on the ice several times and talked to the fans.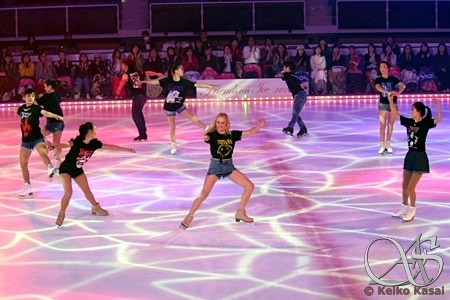 The show started with the ringing of a bell. All the skaters came in together wearing black T-shirts and danced to The Phoenix, and one by one showed off their specialty such as jumps, spirals, eagles or spins. Then they all opened their arms to welcome the show initiator Shizuka Arakawa. This was the first time she skated in front of an audience after the delivery of her second baby, a boy. She took position to start her program One Day I'll Fly Away, and showed that she is already back, only 3 months after giving birth. Her Ina Bauer was still stunning, but I felt like she was skating with a feeling of mourning over the big loss the figure skating world suffered during the summer in the death of Denis Ten.
Before Takahito Mura performed The Phantom of the Opera, he sent hearty cheers to Shoma and Daisuke for the up-coming season and dedicated his program to them. He included an exquisite triple Lutz and triple Axel and some other difficult jumps. It was a very enthusiastic program and Shoma and Daisuke must have been fueled up.
Kanako Murakami showed a Tango to Yo soy Maria which was a very hot program filled with her passion. The simple red dress with a line of black flower to the left of the body rather enhanced her passion. She was the only skater to show two solo performances. In the second half, she skated to Burlesque which she had choreographed herself. As she was very busy with a TV show, it must be difficult to find enough time to skate. She didn't include many jumps in her performance, but she compensated adequately with her expressiveness and enthusiasm.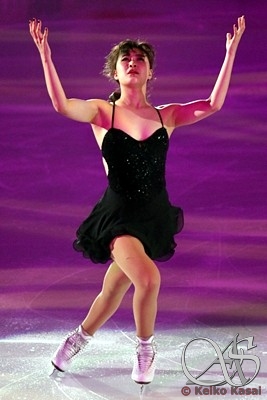 One of the top veteran skaters of Japanese figure skating, Takeshi Honda, said he had appeared 13 consecutive times in this show. He masterly displayed a performance including a stunning eagle and wonderful skating skills to Jealous. Then we enjoyed a beautiful and familiar skater, who competed in the same era as Shizuka and Takeshi, Irina Slutskaya of Russia. Her program was Faded, and she was as powerful and beautiful as ever.

Another veteran, Jeremy Abbott, skated to Latch which he said was his favorite program. It was very impressive because of the difference between the graceful movements in the beginning and the up-to-date expression with the tempo to the beat in the latter parts. He was followed by another well-known expressive skater, Akiko Suzuki. She skated to Kaze no Kami no Uta (The song of the God of Wind). It was kind of spiritual music and Akiko was always really good at these type of programs. She was inspiring, I would even say divine. She looked as if she was communicating with the invisible during her performance.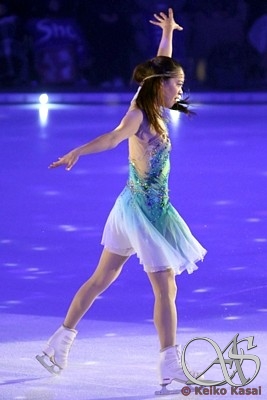 At the opening of the second half, Shizuka, Takeshi, Miki Ando, Takahito, Shae-Lynn Bourne, Irina, Qing Pang/ Jian Tong and Charlie White performed. All these skaters have had brilliant careers, and are still great performers. So, with all of them appearing on the ice at the same time, we were perplexed about who to focus on! A very young Japanese skater, Kaon Sanehisa joined them. She is around 10 years old and she and the great champions skated together made me feel the crossover from the past to the future. Shizuka announced before they started that this program was presented by the skaters who have families of their own, and that they would be happy if they could remind the people in the audience of someone they loved. And with this very young skater, they would like to show the hope for the future.
The 1994 World champion, Yuka Sato, skated to Bitter, which represented the sorrow and mourning through her beautiful performance. It was sad but still there certainly was the light of regeneration. Yamato Tamura is 39 years old and came back after a break. As a coach in high demand, he must be very busy and we were grateful he took the time to come; he sure is a great entertainer. He had cleverly prepared some breaks during his performance as part of the choreography, and easily made up for the decline of difficult jumps and shortage of physical energy. He totally enchanted the audience!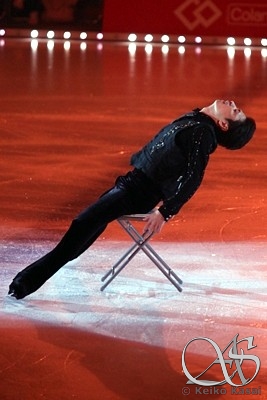 The most impressive and stunning performance of the night was from Shae-Lynn. She skated to Near Light where she expressed her condolences. She started with anger which turned into sadness and mourning, and we could see her love and appreciation for Denis. We shared this journey of pain and sorrow with all in the venue through this performance, and somehow it soothed our broken hearts. To change the sad mood in the venue, Miki Ando skated to Ac-Cent-Tchu-Ate the Positive which she skated to when she was a teenager. With this cheerful performance, she said she wished to lift people's spirits, and she surely did.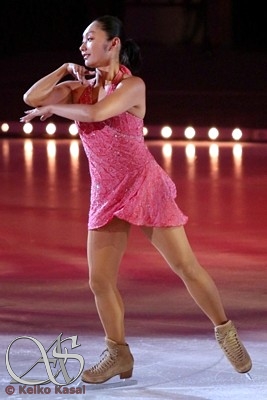 Qing and Jian again payed their respect for Denis and skated to Il Nostro Incontro. Their performance was breathtakingly beautiful and explained their thought with this program; to feel the pain and sorrow of youth and the desire for something that was lost and never came back.
Shoma Uno presented his new short program for the season, Stairway to Heaven. He said he wanted to show the new Shoma in his own way. He took a fall on the triple Axel landing but was otherwise near flawless. He expressed the atmosphere of Flamenco well, but I was mostly impressed with his gorgeous step sequence. He definitely looked like himself, but maybe an upgraded version.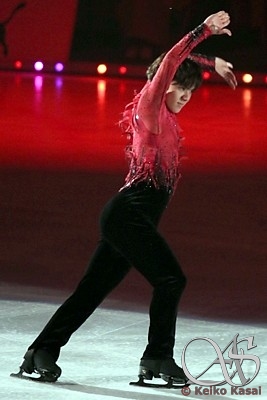 Meryl Davis and Charlie White said they wanted to show something unusual. They used a long cloth effectively and portrayed the change of distance between two people through Elastic Heart. Sometimes they got very close and at other times they drifted apart. We could imagine people's transitions in their lives, maybe various vicissitudes with a little pleasure and some glorious moments.

Stéphane Lambiel then came on the ice and skated to Slave to the Music. He requested beforehand that the audience dance along to his performance. He is usually called "the artist on ice" but that evening I wanted to call him "a dancer on ice". He was very cool and hot. He made the crowd very excited and drew them into his performance.
All these solo programs were amazing, but the feature of the show was the various collaborations. In the first half, Meryl and Yuka performed together to Somewhere over the rainbow. Two mature women with wonderful skating skills and elegance skated to this sweet music, which made the program special. It was not the usual fairy-tale atmosphere, but rather a pure and sophisticated one. Only the butterfly kite at the end added a little magical taste of a fairy tale.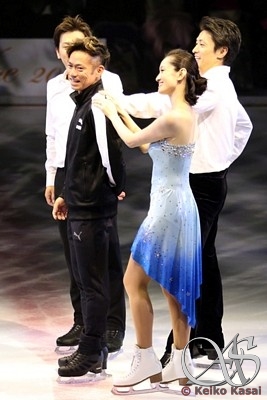 Shizuka, Takeshi and Yamato, who are almost the same age and lead Japanese figure skating at one time, showed a very heart-warming performance to You'll be ok. We could see their care and support for Daisuke Takahashi, who recently announced his comeback to the competitive stage, but then got injured. We felt like this kind of attention was the spirit of the show. At the end of this program, Daisuke said he was very happy and appreciative of these three skaters who cheered him up in this way. He looked up to them and was very proud of having skated with them. He added that he will nurse his injury properly to be ready for his first competition in October.
At the end of the first half, we could also watch a stunning collaboration from Shoma and Stéphane. Both of them have used Vivaldi's Four seasons: Stéphane as his free program 2006-07 and Shoma as his short program 2017-18. Both were marvelous, but here they skated to this grand music together and the result was divine. Both of them are superb at expressions and have amazing technique, so naturally this collaboration was an out of this world experience. The audience went wild and they gave these two gorgeous skaters a standing ovation.
One more group number including Shizuka, Yamato, Daisuke and Shoma was planned, but because of Daisuke's injury, we lost the chance to watch it. Big disappointment and I hope we'll be able to see it somewhere else in the future.
For this show, some very young skaters were chosen by lottery, called Dear Kids. In the early part of the first half, Kaon Sanehisa skated to Hercules. We didn't get any information about her. Even though she was very young, her performance was well-polished. She didn't hesitate to perform in front of the big audience and skated very freely and vividly. As I mentioned about her skating with the veterans, she also showed some fresh movement, and had no qualms about sharing the ice with such big names. Another Dear Kids winner was a little boy named Mitsuru Soutome. He was really adorable, and his costume very much resembled Daisuke's La Strada one. He, of course, also skated to La Strada and imitated parts of Daisuke's program. This little boy was obviously filled with respect for Daisuke, and the fans were really excited and had a lot of fun during this act.
A local skater is also always chosen, one with a high it-factor, to skate in this production. This year the lucky one was Yurika Uechi who lives in the southern part of the province of Okinawa, which consists of many tropical islands.
She has had trouble finding an ice rink to practice in, and has to travel far by ferry to skate. Still, she hasn't given up on figure skating! She performed to Okinawa's folk tune Sanshin, and did it brilliantly. Throughout her performance, we could feel the characteristics of the Okinawa region.
All the skaters gathered on the ice for the finale and skated to an 80's medley. All looked very relaxed and enjoyed the time with their fellow skaters, many who have known each other for years. It seemed more like a party than the finale of a show. At the end they saluted the audience and skated around the rink. The skaters and the audience had shared the intimate atmosphere of the show in the best way, which I believe is the very essence of Friends On Ice.
After the rehearsal there was a press conference and the skaters talked about the purpose of this show:
Shizuka: I really want for the audience to enjoy the world various skaters can create on the ice, especially together.
Shoma: I want everyone to enjoy my number with Stéphane. I am very happy to skate with him and I want to skate brilliantly so I won't pale in comparison.
Kanako: It is the second time for me to join this show and I really enjoy the friendships among all skaters. All I want is for the audience to feel that sense of closeness too.
This show marked the end of the Japanese show season, and the eligible skaters returned to their main occupation: competing! I can't wait to watch the results of their hard work; programs performed by all skaters at any level. Bring it on!
*
Please do not share any of these photos on social media!