The first ever Japanese National Junior Championships in Fukuoka
December 15, 2018
By Atsuko Kuryu
Photos © Keiko Kasai
For the first time, the Japanese National Junior Championships took place at Fukuoka in Kyushu, the most southwesterly of Japan's four main islands. The event was set from Nov. 23 to 26, and 30 men and women participated, as well as two ice dance teams. Unfortunately, the pair that was supposed to join, Riku Miura and Shoya Ichihashi, withdrew because of an injury. The stakes were high, as the champions in singles are sent to Junior Worlds, and the top six finishers will skate at the senior nationals. At the start of the men's and ladies' singles, there were no strong favorites to win, which made the competition very heated and extremely interesting to watch.
Ice Dance
The ice dancers kicked off the competition. The fight was between 2 couples; Ayumi Takanami /Yoshimitsu Ikeda and Mai Kashino /Yuhi Kashino. Ayumi and Yoshimitsu managed to win their first national title. Their scores were 118.18 overall (rhythm dance 48.21; free dance 69.97) and 97.00 (37.07 and 59.93) respectively.
Ayumi and Yoshimitsu showed a lot of improvement in their skating since the last junior nationals. Yoshimitsu has developed good posture while holding Ayumi, and Ayumi looked more feminine and moved dynamically. They stated that they especially felt they had improved their unison. Ayumi said they are getting along with each other very well, because they talk a lot about everything. Their programs were choreographed by Anjelika Krylova and Igor Shpilband, and by Krylova and Pasquele Camerlengo. When they were asked about being taught by such big names, they said it was a wonderful experience. Yoshimitsu confessed that they might have performed at most 30 % of what the choreographers had intended, so they must work hard to meet the expectations of their mentors. Their next goal is to qualify to compete in international competition.
Both Yuhi and Mai said they have improved a lot from last year, but they were too nervous to show that improvement. They have gotten much taller than they were last year and showed nicer posture. When asked if they had any trouble with growing taller in such a short time, they said no. They were disappointed with their performance because of the pressure they felt in competition.


Unfortunately, most of the medalists of the last three years all split up since then or have retired with the exception of Ayumi/ Takamitsu, who were third in 2017. So, the future of Japanese ice dance rests on the shoulders of these couples. We wish them good luck!
Men
Tatsuya Tsuboi (15) delivered two flawless programs (including three triple Axels, a jump he finally got this autumn) and won his first junior national title. He was followed by Shun Sato (14) who nailed two quads and three triple Axels in his two programs. Koshiro Shimada (17) won the short program, and came in third overall. He skated last in the men's event, which was a career-first for him.
It was a close fight for gold, and Tatsuya's total score of 222.79 points narrowly beat Shun's 222.30. Tatsuya had solid jumps, and his step sequences were finely tuned to the music. He skated very smoothly and kept his amazing speed to the end of the programs. Tatsuya said he failed to get any spots in the junior grand prix this season because most of his jumps were off during the summer. Putting aside that disappointment, he practiced very hard. He believes that the reason he won this event was that he managed to acquire the triple Axel. Though it was not easy and it took a lot of time for him to learn, since he first landed it, it has gotten easier and now it is a normal jump for him.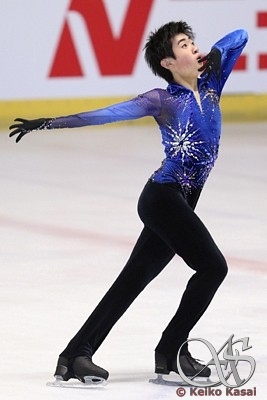 Shun was the winner of the free skate with an amazingly high score of 156.26, but because of his lower short program score, he lost by only 0.49 points. He is a natural jumper, who had already landed the triple Axel when he was in the novice level. In his free skate, he landed all the jumps cleanly and received high positive grades of execution. His technical score 87.89 could be in the top 10 of senior skaters at international events. (for example, it would have been the second-best technical score at the senior Grand Prix in Grenoble, held in the same weekend – ed)
Koshiro is coached by Stephane Lambiel, and he is a very attractive skater. His short program performance was just stunning, very mature and polished. His score of 82.35 here was higher than the top men's short program score on the junior grand prix! (earned by Camden Pulkinen from the U.S. at the Czech JGP) However, his free skate was not as good as his short. He fell on the landing of his opening quad toe and popped two planned triple Axels into a single and a double. He was 5th in the free skate and managed to stay third overall with a score of 210.03.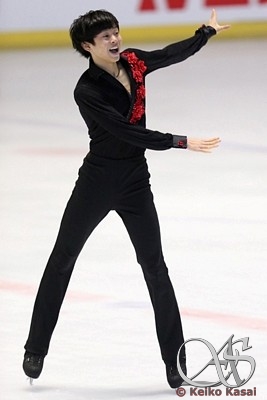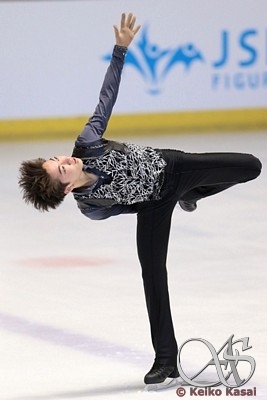 Fourth place went to Yuto Kishina. Yuto has amazing skating skills and moved elegantly on the ice. He was technically very good in the short program and very expressive in the free skate. Set to the music of The Untouchables, his program has a very mysterious atmosphere, especially during his step sequence. This was very nice choreography, and Yuto executed it well. He was fourth in the short program and sixth in the free skate, with a score of 198.84.
Yuma Kagiyama had a brilliant free skate, only marred by a fall at the last jump of his jump combinationbounced back to 5th from a disappointing 10th place in the short program. His triple Axel seemed effortless and he landed all the jumps cleanly and softly, except the last jump of his combination. After his performance, there were lots of cheers in the venue.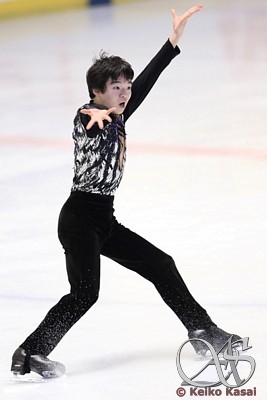 Sena Miyake followed him by 0.58 points. Although he was 4th in the short program and 7th in the free, the free program seemed very polished and fit him more than his short.
Defending junior national champion Mitsuki Sumoto injured his leg just before the competition started. He avoided the triple Axel in the short program but had to include it in the free skate. Unfortunately he fell. Nonetheless, his soft and elegant moves were very attractive. Coming in 7th place, he lost the spot for the senior nationals, so he said he would focus on the next national event, early next year, after taking enough time off to heal his injury. He definitely needs a rest, because he admitted his foot was aching even when he walked on it.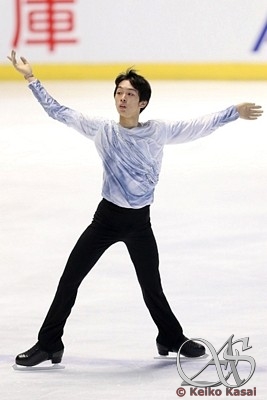 The youngest skater in the top ten, Kao Miura landed an excellent quadruple toe loop in the free skate and a triple Axel in the short program. He ended 8th overall. He is a wonderful jumper, but maybe needs some more polish for his component scores to go up.
Even though Lucas Tsuyoshi Honda and Takeru Kataise don't have triple Axels yet, they finished 9th and 10th respectively. Lucas Tsuyoshi has big jumps and delivered strong technical elements, while Takeru showed fantastic skating skills and was very expressive.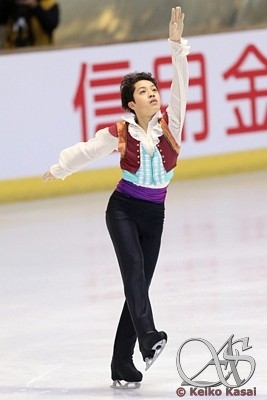 Ladies
Yuhana Yokoi (18) dominated the ladies' field with two intense and convincing performances. She won the title easily with an overall score of 181.84. Nana Araki (16) followed her with two lovely and strong programs, earning 170.90 points. From a disappointing 12th place in the short program, Tomoe Kawabata (16) bounced back to earn bronze.
Yuhana was very confident and classy. She looked powerful in the short program to the Circle of Life and Emerald Tiger, and dramatic in her free to The Phantom of the Opera. Her level of expression was so impressive that judges rewarded her with very high PCS. The highlight of her performances were two enthusiastic step sequences. She said she was satisfied with the title, and happy about delivering two flawless performances for the first time this season. She was very happy to get the ticket to Junior Worlds, just like her teammate Tatsuya, even though she's already aiming to compete at the senior level as well. She also said she wanted to raise her skill and expressiveness, because she felt she lacked that a bit compared to the senior skaters of her age.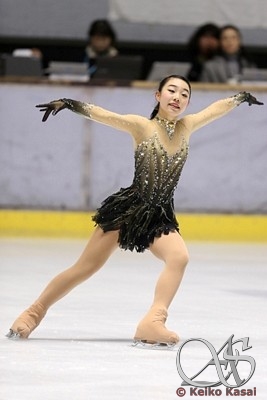 Nana has solid technique and fantastic speed. She was really cute in her short program to Bei Mir Bist Du Schon and very dynamic in her free to Once Upon a Dream. The choreography of these two programs fits her very well. She had some mixed feelings about the competition. Even though she wanted to win, she was all right being the runner up, because it means she'll go up in the rankings compared to last season. She declared that she would work hard at senior nationals to earn a place at the junior world championships.
Tomoe has gorgeous jumps and is very elegant in her own way, with light and airy movements. After falling on the triple flip in the short program, and on the triple loop in the free, she still ranked third overall, with a score of 158.16, due to her high PCS and consistency in the other elements. She said she was very happy about her placement because she felt with this result she could give back to the people who have been supporting her. However, she was frustrated because she felt that she could not accomplish what she aimed for in this competition.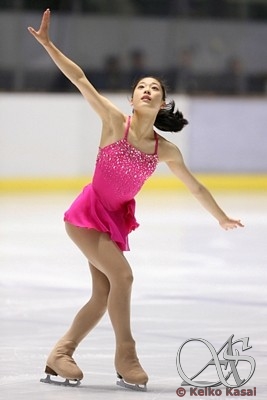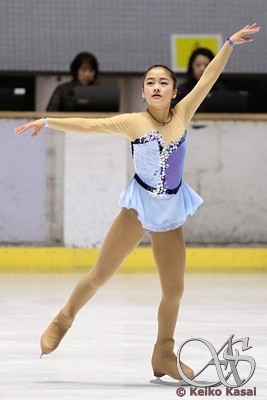 Rinka Watanabe showed two seemingly flawless programs, however, some under-rotations kept her in 4th overall with a score of 157.70, which was just 0.46 points behind Tomoe. Her jumps and spins were very consistent, and she showed a dynamic step sequence to the music, earning her loud applause after her performance.
Yuna Aoki looked mature and graceful. Her way of movement and expression are above the junior level. After being injured and missing almost a whole season she finally came back and showed her potential here. Her overall score was 157.34, very close to Tomoe and Rinka.
Wakana Naganawa made a major leap just like Tomoe. She was 15th after the short program, but ended up 6th because of her brilliant free skate. She has wonderful speed and amazingly strong technique. It was great to see Wakana nailing jumps one after the other. With 6th place, she was able to get the desired ticket to the senior nationals.
As a matter of fact, the level of junior ladies is very close and the margin between 3rd and 9th was less than 10 points. Moa Iwano was 3rd after the short program but finished 7th overall because most of her jumps were underrotated or downgraded. But her graceful movements and beautiful spins are certainly worthy of special mention.
Rino Matsuike had good speed and strong jumps. She only started skating when she was 9, so to be at this level at age 14, she must be a really gifted skater. It will be interesting to see what she does next.
Rion Sumiyoshi, who earned the bronze medal at the Junior Grand Prix in Richmond, Canada, was off during this event, and with her 9th place finish, will not reach the senior nationals. Nonetheless, she showed wonderful talent, and we can expect her to bounce back strong next year.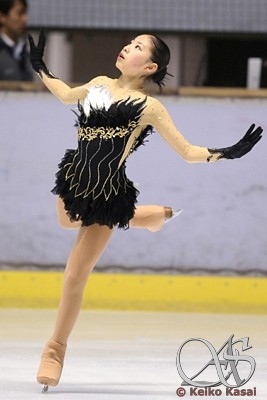 The champion of the Novice A nationals, Rika Tejima, was 10th with an overall score of 147.57. The rank and points may be lower than what she aimed for, but she is young and moved very flexibly. We can expect a lot from her in the future.
Finally, I should mention something about the younger sisters of Marin Honda (the 2016 World Junior champion), who are very famous in Japan. Miyu Honda, who is also a child actress, finished 12th and showed a very persuasive performance both in short and free programs. Sara Honda, who is the 2018 novice A silver medalist, stayed in 17th place, with performances taking full advantage of her sweetness. Of course, they were also strong technically. What a talented family!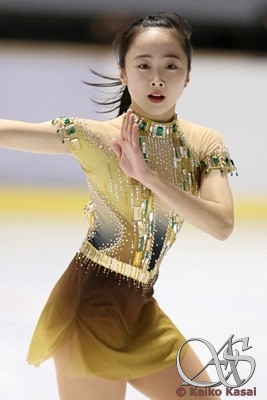 The top six skaters of the men and ladies will go on to skate in the senior national championships, December 20-24. I hope all of them reach their goals there, and at the same time, I am wishing good luck to the skaters who did not have a satisfactory result here. May they regain their confidence and determination to be stronger the next time, as I am sure they will be!