Japan Open 2018: the competition which seems a festival
January 3, 2019
By Atsuko Kuryu
Photo © Keiko Kasai
This competition was held on October 6, 2018. Open means it's an invitational event. Two male and female skaters from Japan, North America, and Europe formed teams consisting of four skaters performing their free skates. Unfortunately, Carolina Kostner and Gabrielle Daleman had to withdraw for health reasons. As Mariah Bell replaced Gabrielle, team North America turned into team USA. The reigning World champion Nathan Chen, Olympic and World silver Medalist Shoma Uno, Olympic bronze medalist Javier Fernandez, Olympic Gold Medalist Alina Zagitova, World bronze medalist Satoko Miyahara and other marvelous skaters partook in this event. Adding to the eligible list, beloved professional skaters Jeremy Abbott and Nobunari Oda were icing on the cake.


Men
The competition started off with the men. As in other competitions held at the beginning of the season, most of the skaters were struggling with their jumps. Deniss Vasiljevs of team Europe, who was first out, was no exception. He was the youngest skater of the men's event and the most charming. He skated to Japanese music: The last Samurai and Zatoichi. Interesting to note that Nobunari Oda used to skate to both of these. Deniss' performance looked more elegant; different from Nobu's powerful performance, maybe because it was choreographed by Stéphane Lambiel, known for his ballet style on the ice. Deniss' jumps were off, but other elements and his movement to the music were excellent. He received +3 or 4 GOE for his level 3 step sequence. His total score was 129.32.
Jeremy Abbott from team USA was next. His jumps were off too, but the most important thing for professional skaters is not the jumps but to present their world and enchant the audience, which he was wonderfully successful at. The way he used his body to the music along with his fantastic edge work was excellent enough to convince the people in the venue. He scored 124.06. He was definitely the hero of the day.
Nobunari Oda skated to a medley of 80's music including Y.M.C.A., and showed a perfect performance. He landed a stunning quad toe-triple toe at the beginning, and followed with a three jump combination: triple Axel–Euler-triple Salchow. The score for those two combinations alone was 31.93! All of his other jumps and elements were executed excellently as well. His joyful and enjoyable performance involved the audience and made them happy. He totally enhanced the feeling of togetherness in the venue. When his performance was finished, most of the audience from the premium first row to the very top gallery seats gave him a standing ovation. His score was 176.95, which was the third highest free skating score of the season that far. I was really surprised at this retired skater's performance and couldn't help asking myself how a 31-year-old skater could be not only so strong, but also so cute and adorable. Because of his high score Japan had a big lead after the three first skaters had finished.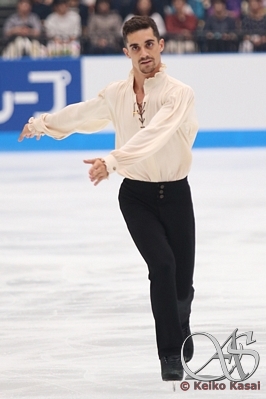 After giving Nobu a big hug, Javier Fernandez skated one of the most popular programs of last season, Don Quixote. He landed a beautiful quad toe at the opening but the following quad Salchow became only a triple. He also singled an Axel, but still, the music and the rich expression satisfied the spectators more than enough. His score was the third best of the men's, 157.86.
Nathan Chen skated to Land of All from the movie No Escape, and once said it would be nice if people have some concern about immigrants through his performance. To upbeat music, he showed very danceable choreographic steps and a stunning step sequence. But he had three falls and got four deductions. He also seemed to be struggling with his jumps. At the press conference he explained that his circumstances have changed a lot since he entered Yale University on the East Coast and had to move there. His coach, Rafael Arutunian, still lives on the West Coast, so Nathan must think about the best way to solve the training situation (at the moment he studies at Yale and is being coached by Rafael via Skype - ed). His score was 144.96.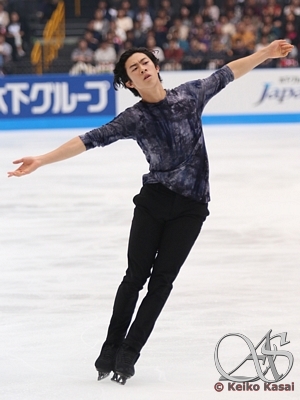 Shoma Uno, who had already won the Lombardia Trophy, was completely ready for this competition. But after hearing that Nobu's score exceeded his own free skating score at Lombarida, he was afraid, he said, that he would lose his face if he couldn't overtake him. No worries! His score was the highest of all men, 186.69 points! Maybe it still wasn't good enough for him because of the two under-rotated quads, but he did get +GOEs for all his elements (except those two quads) and his deep expressiveness touched the heart of the audience. At the end of the men's performance, Team Japan was easily in first place.
The scores of the teams were:

Team Japan 363.64
Team Europe 287.18
Team USA 269.02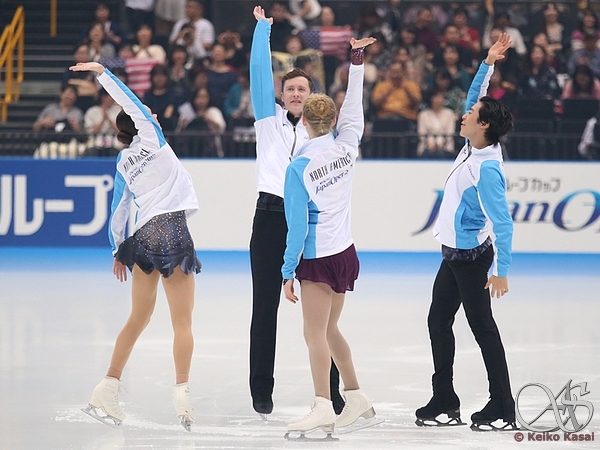 Ladies
Mariah Bell popped her two double Axels and fell on the triple flip-triple toe combination. But other than that, she was very speedy and moved elegantly through her program. She looked very pretty while she was skating. Her spins were so excellent that she got level 4 for all of them and GOE+2 to 4. She scored 120.57 points.
Japan's Kaori Sakamoto was very solid. Her jumps were high and consistent, and she skated with amazing speed. The step sequence in the middle was very elegant. Kaori said she was not happy with her performances at the last two competitions, but that she thought she could skate much better now and that she hoped she could raise her fitness level between now and the Grand Prix series. She received 130.28 points.
Maria Sotskova wore a black costume and showed her mature appearance in her free skate to Summer Time. She's gotten taller since last year and that must be why she had trouble with her jumps. She got -GOE for her 5 jumps (1 fall), so it was inevitable that she got a lower score, 111.78 points.
Bradie Tennell portrayed a powerful Juliet in her free skate Romeo and Juliet. Her jumps were high and long, her skating very speedy, and her spins were fast and beautiful. Bradie finished only 1.13 points behind Satoko Miyahara, who somehow seemed unsure of her jumps. She said she was trying to make her jumps bigger and she might need some time to fix that. Instead, her beautiful movements and grace were way ahead of other young skaters. She collected 126.86 points.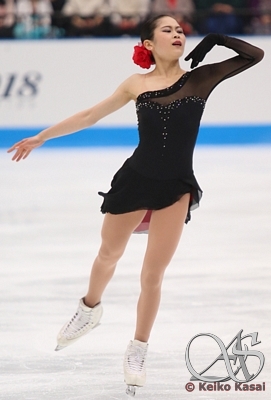 The last skater of this competition was Alina Zagitova, who showed yet another fabulous performance, like at the Nebelhorn Trophy. She skated with amazing speed and landed all her jumps cleanly. Her technical score of 84.95 points was the third highest of all skaters competing, including the men. We were all stunned over her overwhelming performance. Her total score was 159.18 points.
The final score and prize money of each team was as follows:
Team Japan 621.91 US$800.00
Team Europe 558.14 US$600.00
Team USA 516.45 US$400.00
Japan Open was a very enjoyable event! It was a competition but at the same time seemed like a festival. The skaters and audience shared the uplifting moments together, and after the competition every skater praised the event.
Additional performances
Some special guest skaters, who were not part of the competition, were invited to perform during the intermission. This year we could watch the very awesome Maia and Alex Shibutani, Stéphane Lambiel, and Tatsuki Machida.
Maia and Alex combined two famous pieces: Fix You and Paradiso, with which they got a medal at the 2016 Worlds and 2018 PyeongChang Olympic Games. Wearing red costumes they skated very elegantly and at the same time powerfully. Whatever music they choose, they have their own style and class. They had already announced they wouldn't compete at the Grand Prix. We truly missed them!
Stéphane Lambiel chose Ne Me Quitte Pas to honor and mourn Denis Ten. The crowd thought of Denis and the huge loss his early passing was. There was kindness, mourning and sorrow in the air. And Stéphane – he was just the true man of expression.
As the last of the guest skaters, Tatsuki, who had announced his retirement from show skating earlier, appeared. After participating in the 2014 Olympic Games and winning bronze at Worlds the same year, he suddenly retired at the 2014 Nationals. Then, while studying as a graduate student, he performed in many shows as a professional skater and won many fans with his unique style. Among them his Don Quixote program, which with its nine minutes remained in the memory of many people. He said he would be devoted to his studies from now on. At Japan Open, he skated two programs back-to-back: Moments Musicaux, and Salut d'amour, then in Carnival On Ice, the Japan Open exhibition, he showed an about 12 minutes long performance to Gustav Mahler's Symphony No.5, Adagietto. It was so impressive that the audience gave him a standing ovation and massive applause.