NHK Trophy, day one: Exciting with lots of wonderful performances
November 10, 2018 By Atsuko Kuryu
Photos © Keiko Kasai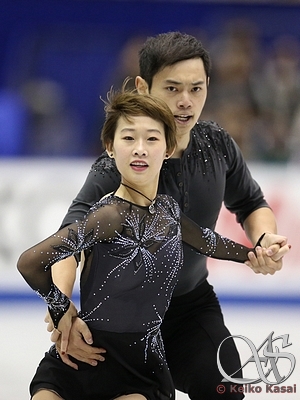 This weekend's Grand Prix event is happening in Hiroshima, Japan. Hiroshima is a special place since it was one of two cities attacked by atomic bombs in 1945, at the end of World War II. The NHK Trophy is now celebrating its 40th anniversary in this special city. As usual it's a full event with 4 categories and 24 single skaters, 8 pairs and 8 ice dance teams competing. Lots of banners and flags are waving, and the venue vibrated with anticipation even before the competition started.
Pairs
The most notable performances happened in the second warm-up group. As the first pair out; Cheng Peng /Yang Jin of China totaled 70.66 points and ranked 2nd. Skating to Ophelia, all of their elements were solid and looked effortless.
The winners of the short program were Natalia Zabiiako /Alexander Enbert of Russia (pictured in the collage below, like all other named skaters - ed). They skated to heavy music from the movie Alexander Nevski and produced a dynamic performance. Their ice coverage was the most outstanding by any pair.
Kirsten Moore-Towers /Michael Marinaro of Canada made some minor mistakes and became 3rd with 67.70 points. Their The First Time Ever I Saw Your Face program was both elegant and tender.
Natalia and Alexander said they were satisfied with today's performance, while Cheng /Yang were not, although they did better than at Skate Canada. Both pairs said they want to show more emotional performances in tomorrow's free skate.
Ladies
After landing a gorgeous triple Axel, Russian Elizaveta Tuktamysheva won the short program with 76.17 points. She did everything with high quality and passion, especially during the step sequence.
Two Japanese ladies are in 2nd and 3rd. Satoko Miyahara tailed Elizaveta with the very small margin of 0.09. She looked beautiful and mature in her Song for the Little Sparrow program, but also determined and strong. Mai Mihara is elegant and graceful and appeared to be floating on the ice. Her jumps and other elements were very airy and light. She placed only 3rd with 70.36 because of an under-rotation on her second jump in the combination.
Korean Eunsoo Lim showed a much more grown-up performance than last season, and finished 4th with 69.78, while Rika Kihira of Japan fell at the landing of her triple Axel and ranked 5th with 69.59.
Alena Leonova of Russia is currently 6th with 68.22 points after skating a very solid program as a first performer of this category.
Elizaveta said she was nervous because she didn't get enough sleep and was very tired; but aims to show a better performance tomorrow.Satoko was asked about the small margin between her and Elizaveta, and answered that she won't care about points, but focus on delivering her best performance. Mai said she wants to follow her teammate, Kaori Sakamoto, who has been on the podium in the past two Grand Prix events.  
Men
This was the game with a lot of mistakes by most skaters, except Sergei Voronov who was last out. His near flawless performance to Prelude No. 5 in G minor received loud applause and a standing ovation, and he was awarded 91.37 points. But tonight's winner was Shoma Uno although he didn't complete the planned quad toe-triple toe combination because of a fall. Despite this mistake he collected high GOE+ for his other elements and scored 92.46 to be in the lead.
Russia's Dmitri Aliev fell on his under-rotated triple Axel after landing a perfect quad toe at the opening. He later said he was too excited for a successful quad toe. Instead he showed a fantastic step sequence using his wonderful skating skills to earn 81.16 points and a 3rd place.
Matteo Rizzo of Italy made mistakes on his jumps too, but his consistent performance was recognized highly enough for him to become 4th with 77.00 points.
Vincent Zhou, USA, didn't fully rotate his quad Lutz or triple Axel. Consequently his score was not as high as he had expected (75.90) and he is in 5th place.
Japan's Sota Yamamoto was supposed to compete at NHK in 2016, but had to withdraw because of injury. It's taken him two years to return because of continued injury. Sota may not be happy with his condition yet, but he managed to place 6th with 74.98 points. The crowd in the venue was of one mind to celebrate his comeback and gave him a very warm applause. Shoma said his performance was not good because he leaned forward too much at take-off. He wants to adjust that and show a better program tomorrow. Sergei admitted that it was difficult to skate last, but he was happy since he did very well. Dmitri felt like his performance was strong emotionally even if the jump was not perfect.
This first day was very exciting with lots of wonderful performances. Tomorrow will be a busy day because there is the short dance and three free skating competitions, all in one day. I'm hoping we can watch lots of inspiring performance tomorrow as well.
Click image for larger image