NHK Trophy, day three: Level 4 twizzles, blues and disco, not to mention legends
November 12, 2018
By Atsuko Kuryu
Photos © Keiko Kasai
Only one category was left for today and we watched the come-up-from-behind team win the drama in the free dance. After the competition was over, the fun wasn't, as legends on ice entertained and brought back sweet memories from the past.
Free Dance
Kaitlin Hawayek /Jean-Luc Baker delivered a brilliant free dance which included level 4 twizzles. They made great use of their grace, earned 113.92 points and stepped up to win the title with an overall score of 184.63 points. Jean-Luc said they were very satisfied with the result and revealed that they have started their four-year plan and felt like this was quite a good start of it.
The leaders after the short program, Tiffani Zagorski /Jonathan Guerreiro (pictured in collage below, like all other named skaters -ed), had two mistakes and placed only 4th in the free dance, but won silver overall. Their Blues for Klook program expressed the atmosphere of blues well, although their execution wasn't the best. But Tiffani was still happy about what they accomplished on the ice as the program included many difficult movements. Their score for the free dance was 107.56 and 183.05 overall.
Rachel Parsons /Michael Parsons were amazing in their textbook traditional ice dance. This team has wonderful skating skills and moved elegantly on the ice with high speed. Their score was the third highest in the rhythm dance as well as in the free dance. The couple admitted they were happy about the result, although they have to improve in many part from now on.
Lilah Fear /Lewis Gibson of Great Britain also had a great performance and threw the whole venue into feverish disco excitement. Their dance had dynamism, passion and good speed. This program earned them 113.29 points, which was the second highest and moved them up to 4th overall (from 7th).


Legends On Ice
Before the usual Gala exhibition the organisation had a special treat for the audience, to celebrate the NHK Trophy's 40th anniversary. This special exhibition was called Legends on Ice. The Legends consisted of 7 Japanese skating stars who have won the NHK Trophy before and thus become part of Japanese figure skating history. Mature skating fans recall memories just by reading these skater's names and titles. Takeshi Honda, two time Worlds bronze medalist showed his famous program, Concierto de Aranjuez, which he also skated at the 2002 Olympics in Salt Lake City. Yuko Kawaguchi, who represented Russia as a pair skater, skated to Swan. She was alone at the beginning, then Takeshi appeared and joined in some pair movements, like a double throw jump.
Nobunari Oda delivered his 2005-06 program, Le barbier de Sévillie, even in the same costume he used then and with almost the same elements.Nobu was 2nd after the short program at the 2006 World Championships, but finished 4th after a less than stellar free. Akiko Suzuki's Hymne a l'amour was her short program in the 2013-14 season, which became her last as a competitive skater. Daisuke Takahashi, who returned to eligibility this season, nailed a stunning Sheltering Sky, his short program of this season. He even showed a part of his legendary program Mambo as an encore to the excited venue.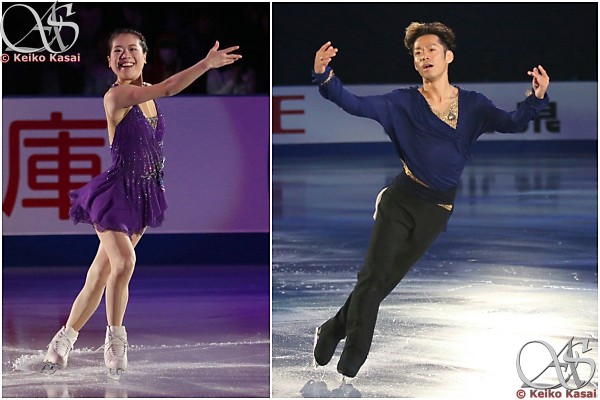 The gold medalist from the 2006 Torino Olympic Games, Shizuka Arakawa, skated part of her Turandot winning program. She seemed to still be as beautiful and in as good a shape as she was then. At the very lend of the show, the legend of legends, Midori Ito, appeared on the ice. We could see her huge triple Axels on the screen and recognize how special she was. She skated part of her Scheherazade which she used for the free program in 1989-90. She even challenged the Axel in her program now and received loud cheers from the audience.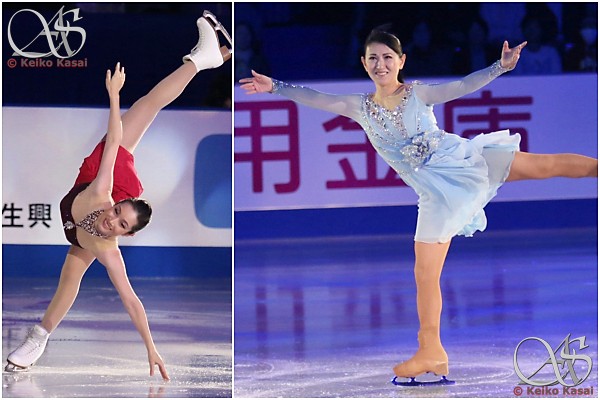 Of course this edition of the NHK Trophy concluded with an exhibition of the current champions. And with that the whole caravan packs up and moves to Russia, for the next competition in this Grand Prix series. See you all there!
Click image for larger image