Skate Canada 2018, day one: Triumphs and surprising mistakes from podium favorites
October 27, 2018
By Anna Kellar
Photos © Anna Kellar
The first day of Skate Canada was full of triumphs and disappointments, as deep fields and strong performances over all were contrasted by some surprising mistakes from podium favorites.
Pairs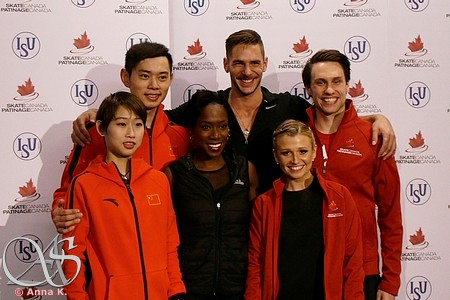 It was an incredibly strong pairs competition, as noted by leader after the short program Morgan Cipres: "It's still early in the season, but everyone is skating so well." The top three teams all had clean, emotion-filled performances. Vanessa and Morgan were not totally happy with their performance, noting places that were tight or shaky, but overall, their skating continues to advance leaps and bounds. They look like a world medalists team, confident, powerful, and perfectly in sync.
In second place were Cheng Peng and Yan Jin, with solid jumps and twist, and a stunning throw loop . Their Ophelia short program brings out a different side of the pair, and highlights their spunky and fun character. It's a great vehicle for them, which can only grow in performance as the season progresses.
Kirsten Moore-Towers and Michael Marinaro rounded out the top three, with a clean program including a well-executed throw on the swell of the music, which brought the home crowd in behind them.
All the top three teams noted in the press conference that the plus 5 GOE* system means that they take fewer risks and focus on doing elements well, and on being creative. There is more likelihood of getting a minus 5 than a plus 5, so the French have taken out their quad throw, and all the teams are trying new lifts and entries.
A special shout-out to the first-year seniors, Aleksandra Boikova and Dmitri Kozlovskii, who sit in 4th. Their program was incredibly fun, and they carried it off with sass and enthusiasm. A beautiful, light, throw triple salchow didn't hurt either. They are a team to watch.
Men
An unexpected result, most would say, as a resurgent Keegan Messing took the lead over Shoma Uno. Shoma's frustration following the short was evident - after landing a strong quad flip, he struggled with the second part of his combination, and then a hard fall on his triple Axel brought gasps around the arena as he slid into the boards. He made the press laugh, when he answered a question about why, when given the rules changes, he was continuing to use 2 quads in the short program by saying, "I have to use quads. I can't do triples".
Keegan, on the other hand, was riding high on his success, as well as his recent engagement. As he put it "I was already on a cloud, and now I'm even higher." His solid 4 toe loop-3 toe loop and his quad, received GOE of +2 to +4, and his 3 Axel and 3 Lutz each garnered +5s. Keegan is a testament to the kind of skating the new rules are intended to encourage - every element done securely and with high quality.
Keegan also credited the strong skate by teammate Nam Nguyen that preceded him as an inspiration. Nam was thrilled to land his quad Salchow for the first time in quite a few competitions, and wasn't too upset by the under rotation call on the following 3 toe loop, which dropped his score down and put him in 7th. His enthusiastic performance to That's Life was a highlight of the men's event and garnered a standing ovation.
Jun Hwan Cha rounded out the top three, standing just .01 points behind Shoma. Jun's Cinderella program shows the range of grace and intensity in his skating, and his triple Lutz-triple loop combination was a standout moment. Only a level 2 spin kept him from second place.
Finally, a highlight was Kevin Aymoz. The French skater put out an acrobatic, emotional skate that stood out for its energy and creative choreography. Kevin often struggles with the jumps, but did fairly well today, under-rotating a confident 4 toe loop and turning out of his 3 Axel landing. Kevin has an unique presence on the ice, and could easily climb in the standings if he could get consistent technical scores.
Dance
If the Canadian men gave the home crowd something to celebrate, dance was another story. Piper Gilles and Paul Poirier, one of the favorites entering the event, stand in 7th after a fall from Piper. The team blamed the mistake on skating in an NHL-sized rink. They'd been preparing for the smaller rink by putting pylons on the ice at their home Olympic-sized rink, explained Paul, but in the adrenaline of competition, they accidentally skated a little too big.
It isn't a surprise, though, to see Madison Hubbell and Zachary Donoghue comfortably in the lead. The team come off a win at Skate America, and look even stronger here. They were pleased with the growth in performance, and although they, like all the top teams, got low levels in the tango, Madison wasn't too worried. "I'll see what Patrice (coach Patrice Lauzon - ed) tells me to fix next week."
Viktoria Sinitsina and Nikita Katsalopov took second, improving on their performance at the Ondrej Nepela Trophy, and cementing their comeback as a team to watch.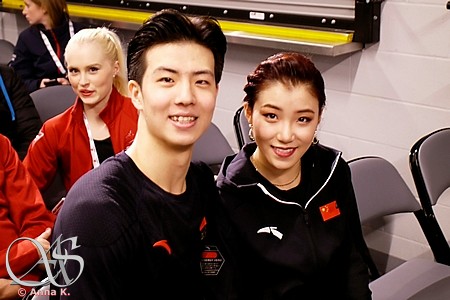 In third, Olivia Smart and Adrian Diaz are in medal-contention for the first time at a Grand Prix event. Their tango includes dynamic and unusual sliding movements, which match the tempo changes in their program, and make the team stand out.
Honorary mentions also go to Marie-Jade Lauriault/ Romain Le Gac and Shiyue Wang/ Xinyu Liu. The 4th and 5th place, both teams went outside the box of traditional tango, the French performing a story to music from Chicago, and the Chinese making a switch mid-program to music from Pirates of the Caribbean - an unexpected, but crowd-pleasing choice.
Ladies
Ladies was another shocker, as favorite Evgenia Medvedeva made a serious mistake, popping and stepping out of her triple flip. Without a combo, the element was invalid, causing Evgenia to fall to 7th place. She was visibly upset coming off the ice, but already thinking about how she would learn from this mistake, promising to 'never forget this', and use the memory of it as an example of what happens if you lose concentration. With that determination, which was visible in practices all week, she will undoubtedly fight hard in the free skate.
Also stunning - but in the best of ways - was Elizaveta Tuktamysheva, who landed a clean triple Axel to start her short program, and holds a commanding lead.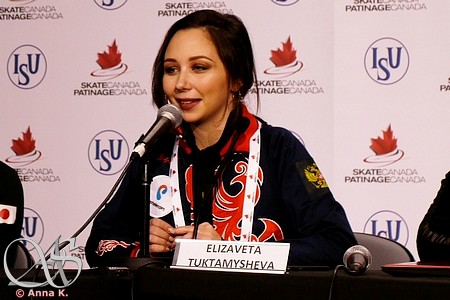 She says she is determined to bring all her experience (she won Skate Canada in 2011) and show younger skaters what she is capable of.
Wakaba Higuchi surprised herself with how well she did, taking each element to the best of her ability 'instead of trying to be perfect'. She currently stands in 2nd, while a clean and energetic skate from Mako Yamashita puts her in 3rd.
Other standout performances include Starr Andrews and Mariah Bell. Starr has a strong ability to project to the audience, and all of her elements were seamlessly incorporated into the flowing quality of the program to Summertime. Mariah, on the other hand, embraces the drama in her program to Celine Dion's To Love You More. Some clever choreography by Adam Rippon makes the most of the great moment in a skater's program when all the jumps are landed, and its just the skater, the music and the audience. Mariah's solid triple flip today let her sell the program to the utmost.
All in all, it was an exciting day in Laval and tomorrow's free skates are sure to bring more excitement, as humbled favorites try to regain their podium places, and some new faces try to hold on to their medal position.
*GOE = Grade Of Execution
Don't miss our social media updates (containing text updates and fun pics) on Twitter and Facebook.