Skate Canada 2018, day two: A story of many comebacks
October 27, 2018
By Anna Kellar
Photos © Anna Kellar
The Free Skates at Skate Canada were a story of many comebacks. The exception was Vanessa James and Morgan Cipres, who had the distinction of being the only skaters to win both the short and the free, and whose victory in pairs kicked off the second day at Skate Canada.
Pairs
Above all else, today was a triumph a long time coming for Vanessa James and Morgan Cipres. The French team put together a flawless performance, with a free skate that brought the house down. They showed none of the stiffness they pushed past in the short program. From the moment the music began, it was impossible to take your eyes off them, and by the time they came down into the final lift, the crowd could barely contain itself. "It was our best skate ever," said Vanessa. "I'm actually scared. I don't know how we are going to top it... The end was just magic for us."
It was a hard-fought battle for second and third place. With doubled side by side jumps, the Chinese pair of Chen Peng and Yan Jin lacked the sparkle and flow they had in their short. However, there are some beautiful, romantic, moments in their Edith Piaf medley, that in a clean skate would really come alive.
Kirsten Moore-Towers and Michael Marinaro were disappointed in their placement, narrowly missing the silver despite a relatively clean skate - it came down to a missing level in the final death spiral. Their Pink Floyd free skate has developed significantly and grown in coherence since Autumn Classic. "This was the first time Mike and I had a bigger say in our music... this year, Julie (Marcotte, choreographer) wasn't sure about Pink Floyd but we were pretty sure about it," said Kirsten.
Coming second on in the free skate, the young Russian team of Aleksandra Boikova and Dmitri Kozlovskii continues to impress. Their program to The Nutcracker had all the hallmarks of traditional Russian pairs excellence. The choreography was clever, putting the triple twist in the middle of the program, and ending on a dramatic death spiral. While they did not make the podium they did get a shout out from the winners. "They are not here, but honestly, they did amazing, and its good for the future," said Morgan.
Men
Though it wasn't his best skate, Shoma Uno was able to put together the elements to take gold. He started his Moonlight Sonata program with four solid quads; however, it was once again his triples that let him down. He fell twice, on the triple flip and triple toe in his combinations. He later blamed a lack of stamina for the mistakes toward the end of the program. It's also clear that keeping up with the demanding music in the step sequence is a challenge, and when anything goes less than perfectly, is difficult to execute. However, the choreographic sequence, with its expansive spread eagle, got deservedly high marks.
Keegan Messing came close to seizing the moment to take his first Grand Prix gold, but fell on a quad toe, and tripled a planned quad lutz. It was still a strong program, appreciated by the home crowd.
Jun Hwan Cha had a solid skate, except for a fall on his opening quad toe, and held on to the bronze. His Romeo and Juliet free is a lot of fun, while his technical content and strong basic skating will put him in contention for many more podiums in the future.
Once again, the other highlight of the evening was Kevin Aymoz, whose emotional and heartfelt performance was backed up by solid technique. Kevin's artistry and dance movement, and the deep commitment to every motion and feeling, made him very memorable.
Dance
Gold in the dance went to Madison Hubbell and Zach Donohue, who have now become the first skaters to qualify for the Grand Prix Final. Maddie and Zach are amazingly talented skaters, and they fully commit to their Romeo and Juliet program. The choice of music nonetheless raises some questions, since it is music and a story line that has often been associated with younger skaters. Zach said they felt tight going into the free skate, and that is has been a long two weeks of competition. After a rest, they will go back to work, first on technical skills, and then on the performance quality. "We've put in so much work from Salt Lake City to here to build the layout, but there is so much to explore in the characters," said Maddie.
Coming first in the free, and second over all, were Victoria Sinitsina and Nikita Katsalapov. The Russians brought delicate detail and a large serving of drama, to their Bach program. Their music choice also stood out in the field, showing that it's possible to add a lot of color to something classical.
A resurgent, and glorious, performance to Starry Night from Piper Gilles and Paul Poirier took the bronze. "Cautious abandon," was how Paul described their approach. The team's commitment to building characters came through strongly, from the costume, to the music, to every detail of the choreography, it all told a story -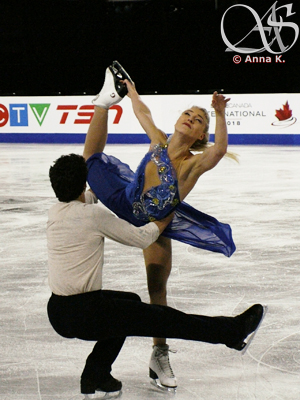 or painted a picture.
Smart and Diaz had a disappointing skate to fall to fourth, and noted that the pressure had gotten to them a bit. They still sold their Beatles program well, including a really cool moment to "your asking me will my love grow" jump and then twizzles in opposite directions. Could use music that lets them pop and project and too much of the Beatles is slow.
Other highlights included the star power of Shiyue Wang in the Chinese team's beautiful lifts, and the sheer crowd-pleasing energy of Marie-Jade Lauriault and Romain Le Gac's Uptown Funk mix.
Ladies
Evgenia Medvedeva skated a fierce program to rise from seventh to third over all, and first on the free skate. She had determination written all over her face, and it paid off technically, with only an edge call standing between her and a clean free skate. The expression is still lacking in her Libertango program, but she is clearly determined to learn and improve, so that performance quality will surely develop with time.
Second on the free, and overall, perhaps the standout performance of the night was Mako Yamashita. She took the opportunity of skating last to deliver a clean, difficult skate, with two solid triple Lutz-triple toe combinations. In her Grand Prix debut, Mako skated to the best of her ability, and was justifiably proud.
Feeling the pressure of the lead, Gold medalist Elizaveta Tuktamysheva looked a little slow and hesitant in her free skate, and didn't have quite her usual fire. She said yesterday that the opening triple Axel and triple Lutz-triple toe combination would make the program work - and she fell on the Axel and doubled the toe. But her fantastic short program and high base value kept her in the lead, nonetheless. Asked whether why she thrived in post-Olympic seasons, Liza reflected that she wasn't so much motivated by missing the Olympic team,
as by the fresh start of a new quad, with new faces, and new rules, which inspires her.
Wakaba Higuchi fell to fifth, as she struggled with jump landings, and popped her opening triple salchow. Her Four Seasons program, choreographed by Shae Lynn Bourne, is a strong vehicle for her. The moment in the opening "winter" section when she runs across the ice, and her spiral in the choreographic sequence, are lovely elements, and will be even better when Wakaba is fully healthy and able to skate to her best.
A final note on the beautiful program from Mariah Bell, who came fourth overall. Though she had a fall, her spins and spiral are some of the best in the ladies field, and she has a timeless quality to her skating.
Don't miss our social media updates (containing text updates and fun pics) on Twitter and Facebook.