A review of Dreams On Ice 2019
Juli 24, 2019
By Atsuko Kuryu
Photos © Keiko Kasai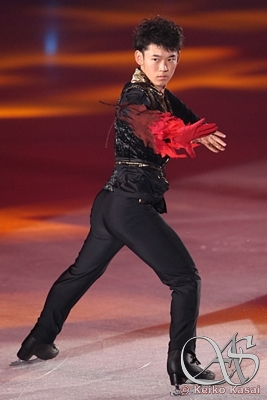 This year's shows took place June 28 – 30 at the Shin-Yokohama Skating Center as it has in previous years. It is not only a showcase of Japanese elite skaters, but also serves as a kind of kick-off event for the up-coming season, since so many skaters premiere their new programs. It will be my pleasure, through this report, to introduce each charming Japanese skater.
Act I
Rika Teshima (National champion, Novice-A), Don't Stop Believin' looked adorable in a dotted black dress. Her jumps were very good; high and solid. In my opinion she has excellent skills for a novice; she features softness and energy. As she is moving up to junior level this year, I look forward to seeing how much power she can demonstrate among the juniors.
Sora Tarumi (National champion, Novice-A), Buzoku.It was my first time watching him skate and it was very impressive. He moved very fast and fluidly on the ice and showed wonderful expressiveness. He skated to Japanese music where he played a Ninja. He tried to be strong and powerful, and did it very well. He said he will try to get a triple Axel this season, and if he does he will be a real threat to most of the junior boys.
Nana Araki (Junior national silver medalist), Destino (The Princess' Man). She again chose music from the Korean drama, which I really love. I know the whole story and she described the essence of it to this very emotional music. Nana said she tried to show "love" through her performance for the first time in her career. I'm not sure she did it completely, but I felt that she was pursuing "love" through this program. In addition to her wonderful technique, expressing more emotions will lead to a successful season for her.
Shun Sato (Junior national silver medalist), Arrivée des Camionneurs. Shun is, from my point of view, one of the skaters from last year's Dreams On Ice, who has improved the most. He grew out of being a child, and got into decent shape physically. His skating skill got better and better throughout last season, and his expressiveness has improved a lot. He showed us his new short program, which was kind of light and stylish and very attractive. As he already has two quads, he must have a strong presence among the junior men.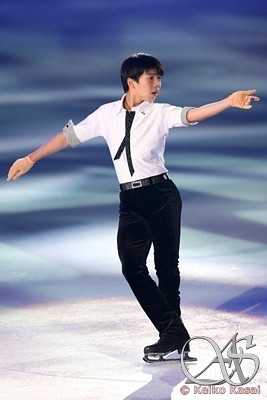 Tomoe Kawabata (Junior national bronze medalist and 12th at Junior Worlds), An der schönen, blauen Donau. She had a breakthrough last season as she debuted in the Junior Grand Prix and finished 5th in both events; she competed and reached the podium for the first time at Junior nationals; and then competed at Junior Worlds. She showed her short program for the up-coming season, which can be very important for her career. The program was choreographed by Stephane Lambiel, and Tomoe presented Stephane's work and style very well. The step sequences had the most wonderful rhythm and I couldn't help but swaying along a little (not too much because of the other people sitting by me). Now, I have a question; what does she intend to express through this program? The graceful Waltz at the ballroom, or the flow of the majestic beauty of the Danube river? Either way, if Tomoe can make full use of her potential, she will have a successful season.
Yuhana Yokoi (Junior national champion, 9th Junior Worlds), Kuroi Junin no Onna (Ten Women in Black). With many ups and downs last year, Yuhana said she would like to have good results this up-coming season, especially as she moves up to seniors. She was very powerful and dynamic, and her speed and energy as a young skater will be her strength. Frankly speaking, it was a bit difficult to get the femme fatale feeling she said she was aiming to portray, but she was so enthusiastic and attractive that I'm quite sure that she will become her own femme fatale and gain popularity on the international stage.
Riku Miura / Shoya Ichihashi (National pair champions, 10th at Junior Worlds), Cry Me a River. Since Ryuichi Kihara / Miu Suzaki announced their break-up, Riku / Shoya became the one and only pair in Japan. Japanese fans, including me, wish them success from the bottom of our hearts. "We will compete at the senior level this season, so we want to make this a year of challenges", Riku said. They skated their short program of last season here. Their elements were not so difficult yet, but the unison between them was much improved from last year. I felt like they were moving forward together, looking in the same direction - a very promising attitude.
Jingu Ice Messengers (Synchronized skating national champions, 11th at Synchronized Worlds), Buzoku, performaned to Japanese music and were very strong and dynamic. Their movements went along with a powerful and rhythmic Japanese drum sound; their movements were fast and had good musicality; their intersection was very smooth. They said that their goal for the up-coming season is to be in the top 10 at Worlds, which I think is a realistic goal for them!
Guest Skaters;
Alena Kostornaya, Twilight
Alexandra Trusova, Kill Bill soundtrack
Anna Shcherbakova, A Comme Amour
These three skaters from Russia are all outstanding; they have fantastic speed and wonderful spins, their skating skills are great, their positions are beautiful and they are excellently in tune with the music. Junior girls from all over the world will face a tough fight against them. Alena was very elegant, but also vivacious with danceable movements as the tempo of the music changed. As for Alexandra, the easiness of the jumps seemed to be the best of these three. In addition to her sharp moves, her core was very strong. No matter how many difficult jumps she delivered, and no matter how much she rotated, she did not lose her balance. And how elegant Anna was, and the best of these three at speed. Her spins were incredible; the Biellmann was as thin as a pencil!
Act II
Yuna Shiraiwa (9th at Nationals, 5th at Junior Worlds), Elastic Heart, showed her exhibition number in a bright red costume. She used to be a lovely and adorable skater, however, in her second year as a senior (at the end of 2018-19 season, she decided to compete in Junior Worlds), she seemed to try to be more mature. To this music, she showed a different style from the one she used to skate to, and she looked very modern and fashionable. As she said, "I was working on reforming the techniques on jumps and other things last season, consequently the results at competitions were not as good as I had expected." But she seemed to get her confidence back after her satisfying performance at Junior Worlds, and now we can expect great achievements from her in the up-coming season.
Kazuki Tomono (4th at Nationals, bronze medalist at the Rostelecom Cup 2018), Moulin Rouge. This new free program is fantastic; I honestly thought it was one of the most impressive programs of the show. The music was kind of heavy compared to what he has chosen before, but it matched his movements very well. Kazuki has a good reputation for expressiveness since he was very young, but it seems like he has gained even more. The challenge he still faces, as in former seasons, is the stability of his quads. The real evaluation of this program will depend on how well quads can be included and executed in the program.
Misato Komatsubara / Tim Koleto (National ice dancing champions, 21th at Worlds), Disco, had prepared a comical exhibition program for this show, and choreographed it themselves. Misato wore a pink wig and a pearl colored bodysuit. The choice of costume enhanced her comical moves as well. Tim also provoked laughter from the audience with his funny moves and facial expressions. They sure spiced up the event! They said they want not only to rise in rank at the international stage, but also contribute to the popularity of ice dance in Japan. As they are Japan's top ice dance couple and only beacon of hope for the future of Japanese ice dancing, please cheer them on when you see them at international events.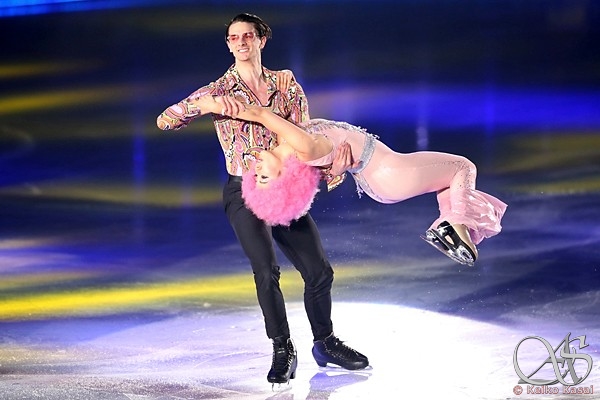 Keiji Tanaka (4th at Nationals, 14th at Worlds) Pump it, is a gifted skater. In addition to excellent skating skills, appearance and jumps; he can also dance. He showed a good performance and danced to this music fantastically; nailed solid triple jumps and really appealed to the audience. He already has two different quadruples (toeloop and Salchow), though he didn't try them here. He has everything to become a world top skater, he just needs to work on stability at competitions. So please watch him skate the way he plans at international competitions.
Kaori Sakamoto (National champion, 5th at Worlds), No Roots. Look at her deep edges! It about makes me cry of joy. Anyway, she unveiled her short program for the new season, a program I felt was very Shae-Lynn Bourne. In contrast to Benoit Richaud's program last season, which I think improved her expression very much, Shae-Lynn seemed to make more use of Kaori's speed and wonderful techniques. This performance was very refreshing and I hope the collaboration between Kaori and Shae-Lynn will find favor in the eyes of judges and fans.
Rika Kihira (National silver medalist, Grand Prix Final winner, 4th at Worlds), The Greatest,
delivered her exhibition program, which was somewhat different from her previous image. She showed off her dance ability and enhanced the side of a stylish and modern girl. It was not the day I watched, but she successfully landed a quad Salchow in front of the audience during the fun time after the show. Now, armed with a triple Axel and that quad Salchow, she has set the goal of a high position at the World Championships. She explained that she will not include the quad in the short program in the early part of the season, but will include it in the free skating.
Guest Skaters:
Vincent Zhou, USA (World and Four continents bronze medalist), I Will Wait.
Alina Zagitova, Russia (World champion, European and Grand Prix Final silver medalist), Phantom of the Opera.
Nathan Chen, USA (World and Grand Prix Final champion), Land of All.
Vanessa James / Morgan Cipres, France (National and European champions).
It was a real treat to be able to enjoy such prominent guests in Japan, and especially Nathan Chen. He nailed a quad at the beginning, the only quad in the show. Oh, how easily he took off and equally softly landed it! He looked very strong and has his own kind of aura. He enchanted the whole venue with his power.

Alina chose her short program of last season. She somehow seemed a little tired that night, but still, her jumps were very solid and she moved with grace. The audience was very excited about her beautiful performance.
Vincent's music sounded different from the other skaters' and his performance was fun to watch. I thought it suited him very well and can't wait to see it again.

Vanessa / Morgan danced happily throughout their program and got the audience involved in their performance. They entertained with sophisticated technique, such as high lifts with one hand, and spinning Vanessa with great speed as Morgan held her hands. We enjoyed this pair very much.
Dreams On Ice 2019 was a great success, but it was over for this time. It was also the 10th time I covered this event. In the early years, I watched so many Japanese top skaters at that time attending: Mao Asada, Miki Ando, Fumie Suguri, Yukari Nakano, Akiko Suzuki, Daisuke Takahashi, Nobunari Oda, Takahiko Kozuka and more… Quite frankly, the number of top Japanese skaters participating in this event now seems to decrease year by year. But that is not necessarily a bad thing because instead we get to see lots of young potential skaters and have high expectations of them; they are the future of Japanese figure skating. Back in 2009 there would be names like Yuzuru Hanyu, Tatsuki Machida, Daisuke Murakami, Kanako Murakami and Haruka Imai as up-and-coming skaters. Look at what they have achieved since!
So please, now that you've read this report, find the next potential star you believe in and follow their way to the top. May all of them have a great season and especially the younger skaters!