A report from the Japanese Junior Nationals 2019/2020
December 21, 2019
By Atsuko Kuryu
Photos © Keiko Kasai

Sixty-three young participants (30 girls, 29 boys and 2 ice dance teams) gathered at Shin-Yokohama Skating Center in Yokohama for the Japan Junior National Figure Skating Championships which were held from November 15th to 17th .
It was kicked off with the rhythm dance. Even though there were only two ice dance teams competing there, many fans came to see their performances. For the following two days, the venue was full, and we could see some fans outside with a placard asking for tickets as they were sold out as soon as released.
It seems like Japanese figure skating fever rises year by year.
There were three new champions in each category.
Utana Yoshida / Shingo Nishiyama, a couple newly formed this February, won the first title in ice dance. It was very meaningful for the future of Japanese ice dance that such a wonderful ice dance team was created. The reigning champions, Ayumi Takanami / Yoshimitsu Ikeda stayed second.
One of the two strong favorites, Yuma Kagiyama claimed his first title in the men's single event with two fantastic performances, followed by his rival and friend, Shun Sato. We expect that they will bring another golden era to Japanese men's skating.
The new champion of the ladies' single event is not well known. Mana Kawabe, who landed a triple Axel in the free skating, won her first big title as a junior. The runner up was Tomoe Kawabata who was third last year. They nailed two flawless performances, well deserved for the podium.
Ice Dance
We now have two very promising ice dance teams in Japan. The rhythm dance was a very nice event with both teams delivering wonderful performances, where they opened their dances with wonderful sequential twizzles and nailed all of other elements nicely.
Utana Yoshida / Shingo Nishiyama lead 3.65 points ahead of Ayumi Takanami / Yoshimitsu Ikeda. In the free dance, their margin was widened.
Utana and Shingo shared a fantastic free dance to "Don Quixote" and scored 90.06 while Ayumi / Yoshimitsu piled up minor mistakes and got 76.28. The overall scores of 147.55 and 130.21 seemed to be wide but their potential not so different.

Utana and Shingo made a perfect match for each other. They were vivid, brilliant and lovely. How beautiful and perfect their twizzles were! Ayumi and Yoshimitsu have a wonderful partnership already and always try to stay positive. Their performance is bright and always heartwarming. They show much improvement and promise for the future.
Utana had participated in junior nationals when she was a novice dancer and attracted many fans by delivering a passionate free dance to "Carmen" with Takumi Sugiyama. It took her two years to find a new partner. She admitted it was lucky to meet such a wonderful partner like Shingo. She said she had been looking forward to taking part in this event and felt very happy because she could enjoy their time here and deliver satisfactory performances. Shingo admitted that it was a dreamlike stage for both of them and he was very happy for their result, too. Yoshimitsu said he was very impressed with Shingo's skating skills and joked that he was relieved that they would not have to fight them next season because they will go up to seniors. However, he expressed his resolution that since the real stage for them is the senior level, so they must be strong to fight worldwide. He also said he wants to continue ice dancing more than studying at the university, and Ayumi agreed with his word sincerely. Well... I think it's also very important to get a degree... I guess Yoshimitsu likes to joke!
Utana and Shingo will be competing in senior level very soon, so their friendly rivalry will continue.
Men's event
Talking about a friendly rivalry, we soon remember Shun Sato, the 2019–20 Junior Grand Prix Final champion, and Yuma Kagiyama, the new national champion. Both of them admitted in the interview after the competition that they are very good rivals on the ice and friends off the ice. Misao Sato, the choreographer of Yuma's programs, said Yuma won this time but Shun could win in the next competition for they were equal in their ability. Yuma nailed two flawless programs and defeated Shun overall with an amazingly high score of 251.01 compared to 213.20. The margin between them was very wide, but they are about as strong as each other as Misao said.
Yuma is a perfect package, who has solid jumps, wonderful spins and skating skills, and he can dance. He landed two perfect quadruple toes and a fantastic combination jump of 3A-1Eu-3S to get 42.06 points for only three opening elements. His free program was technically great but what was more amazing was that he enchanted the audience with entertainment to the soundtrack of the movie "Tucker".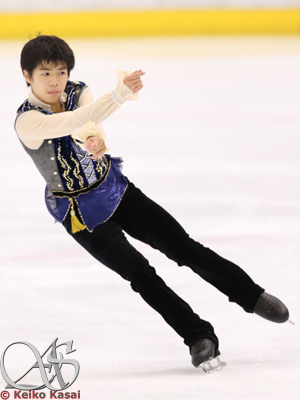 Despite this wonderful result, he was humble and said he could improve more by reflecting on today's performance where he lost some points because of levels of elements or some minor mistakes. He, of course, was very happy about his first title at junior nationals and said he felt like his effort was rewarded. His father and coach, the Olympian Masakazu Kagiyama, hugged his son after his free skating and said that he was always nervous before Yuma's performances.
Shun, the big jumper, challenged the quadruple Lutz where he used to do a quad Salchow. Unfortunately, he fell there but it was good to have a new challenge. He also included two more quadruples and two Axels and landed them nicely. He outscored Yuma's base value in the free skating, but the GOE points and PCS resulted in a big difference. He prepared two romantic programs ("The Young Girls of Rochefort" and "Romeo and Juliet") which were kind of challenging for him in terms of expression, but he showed much improvement. Shun said he was very frustrated with the result, but despite that he collected himself in the latter half. He included quad Lutz here because the Salchow was not good in practice, however, he felt like he had to include it from now on to win. He said as he wanted to open his free skating with it at the senior nationals, he would work hard on this jump.
Not surprisingly, but kind of unexpectedly, third was 17 years old Lucas Tsuyoshi Honda. He is very solid and at the same time sensitive. His short program was very charming because it involved the audience and featured a joyful step sequence. His free skating program was to the music from the movie "007" and consequently it was cool and kind of masculine which fit his style. He was the first skater of the last group and might have been overwhelmed by other big jumpers in the 6 minutes warm up, and that was why he had failed with first two 3 Axels - one popped into a single and he fell on the other. Even though the triple Axel is his biggest weapon, he collected himself very well and reached the podium. He was 9th and 16th in the last two years respectively. He is 17 and now lives away from his family to train in better circumstances.
Tatsuya Tsuboi, the reigning champion, didn't make the podium by just about 2 points. His most difficult jump was the 3 Axel, and a few mistakes divided 3rd and 4th. He was injured during summer, but his talent will blossom.
It was Nozomu Yoshioka who surprised us by jumping up the ranks from last year, where he was 21st with a score of 137.23 (he received 184.35 here). Now he is a strong jumper. He included quadruple toe and two 3 Axels and landed most of jumps cleanly. Overnight runner up, Yuto Kishina, lost his momentum in the free skating. He also has amazing skating skills and expressiveness, his performance is breathtakingly beautiful when he is on. He skated next to Yuma and he was upset when he had a glimpse of Yuma's stunning performance and heard the high score. He felt like if his starting position was not there, the result might have been different. But he said he learned a lot from this valuable experience.
Sena Miyake had a cool and nice short program but seemed to struggle in the free skating. He is a very enjoyable skater but unfortunately has had ups and downs repeatedly. There is no doubt that he is very talented. Kao Miura had two quadruple jumps (toe and Salchow) at 14 years old. His short program, "Rise", fit him very well but placed 15th because of falls - but he bounced back to 7th finally, ranking 4th in the free skating.
I interviewed Shingo Nishiyama last season. Not long after the interview, he decided to compete as both ice dancer and single skater for a while. His amazing skating skills and remarkable expressiveness grabbed the spectator's heart. By the way, Yuto Kishina said, at the interview after the competition, that the most impressive skater of this event was Shingo, not only because he has wonderful skating skills, but also he competed properly in two categories even when he must be very tired; he was very inspiring.
There are many more beautiful skaters: Takeshi Katayama; Kosho Ohshima with charismatic power; a surging young star, Ryusei Kikuchi; Kazuki Hasegawa of pure and noble style... I wish I could introduce all the skaters!
Ladies' event
Nailing two flawless programs including a triple Axel, Mana Kawabe, 15 years old, rocketed to the top of the ladies' event with 193.57 overall. Despite having a track record at international competitions in the past, her victory was greeted with surprise - because it was her second year as a junior and she had not been able to qualify for the free skating last year. She had big triple jumps including 3 Axel and landed them cleanly. She showed wonderful expressiveness in both programs; a vivid and speedy short program featuring a rhythmical step sequence to "You are a Mean One, Mr. Grinch"; and "Black Swan" in the free skating, where she was very beautiful and imposing for her age. Now we know we have a new star in Japan's figure skating. She became a teammate of Rika Kihira a year ago, and she once said that she learned a lot from her and maybe that was one of the reasons for her striking growth from last year.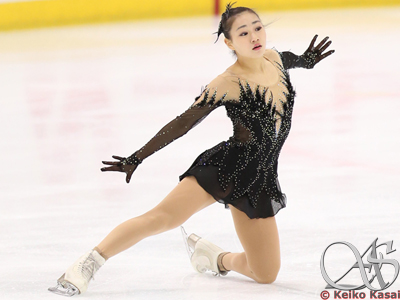 She said she couldn't believe she won and wanted to tell her family first because she, her mother and her brother moved to Osaka leaving her father alone in Nagoya. With this result, she gained the first spot for Junior Worlds in 2020 in Tallinn, Estonia. She expressed her intention to fight against the other foreign skaters with two 3 Axels at the Junior Worlds next March.
Overnight runner up after a solid short program, Tomoe Kawabata also delivered a seemingly flawless free skate with a beautiful and artistic program. This season, Stéphane Lambiel choreographed her two gorgeous programs: "An der schönen, blauen Donau" (SP) and "Yumeji's Theme / Sicriadas", and they shed a new light on her charm. She had wonderful flow in the short program to the rhythm of the waltz and, there, her movements were nothing but beautiful. To tell the truth I really loved her free skating, which was very nostalgic and delicate in the first half (Yumeji's Theme) and exotic, mysterious, and mesmeric in the second half (Sicriadas). She expressed the music fully using her wonderful skating skills and picturesque style. She said, "I regret to have missed the championship because I was aiming to win here. However, I was satisfied with this result because I could deliver two programs without major mistakes for the first time".
Another new star was born: her name was Hana Yoshida, 14 years old. After winning Novice nationals in 2017, she got injured and made a spectacular comeback with triple Axel this season. Her technical score in the free skating of 64.79 is the second highest of the ladies'. She is young and aggressive. When you saw her movement, you might feel you were watching a video on fast-forward. Her free skate to music from "Cats" was very enjoyable and she changed her way of movement to the tone of music which changed several times. She looked like a million bucks and her future will be promising.
The novice champion of this season, Momoka Hatazaki had amazing speed and dynamism. She had some under-rotation through her programs, and still ranked 4th. Her performances are already beyond Novice level and prove that she can compete well as a top junior. It is the first time that a novice skater has ranked 4th since Marin Honda in 2014.
Shiika Yoshioka was 5th with 163.63. Her performance style was pure and elegant, though subtly powerful. She lost her home rink this summer and was forced to move from one rink to another to train and grabbed the right to participate in the Senior nationals.
Mone Chiba, the champion of eastern sectionals, had a very good debut as a junior skater. She didn't make any mistakes except for the fall during her step sequence in the free skating. She was a very solid skater and we could feel the first flush of youth from her performance.
Chisato Uramatsu is very elegant with wonderful technique. She made two errors in the short program but a flawless free skate, finishing 7th overall. Usually, the top six would be selected for the senior nationals but since she is a novice skater, Momoka Hatazaki will not be able to participate. Consequently, she is going to prepare to renew her challenge for the World Junior at the senior nationals.
Moa Iwano is a very impressive skater who has such great expression for her age that the famous choreographer Benoit Richaud offered to choreograph for her. Unfortunately, her first short program "Strange Fruit" was controversial, so she had to change it. The new short program was fabulous, highlighted with an enthusiastic step sequence. The free program also appealed to the audience but unfortunately had several under-rotations and a fall to finish 8th overall.
Rino Matsuike was third at the Junior Grand Prix in Riga, Latvia, so this result must be very unsatisfactory for her. She was third after the short program but with a disastrous free, finishing 9th overall. She is a graceful skater and it is sad for us not to see her at the senior nationals. She said she was upset after hearing the applause for Tomoe and her high score... maybe if the order was different the result could have been too. But she was very positive and said she wanted to make use of this experience in the future.
Azusa Tanaka showed a very sweet short program with good speed, placing 5th but couldn't get the momentum into the free skating. She finished 10th overall. Some other skaters I took notice of are Rei Yoshimoto, whose graceful movement caught everyone's eye; Rika Tejima's effortless and clean jumps; Kiri Hirakane, who provided a unique and sensitive touch on the ice; Kinayu Yokoi who landed 3 Axel in the free skating; novice skater Ayumi Shibayama who was adorable and solid.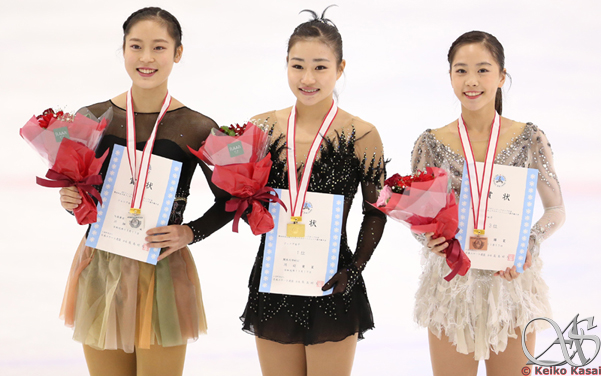 I was really impressed that so many junior skaters included difficult jumps like quadruples and triple Axels. In the Men's discipline, 16 out of 29 skaters included a planned triple Axel in the short program and 6 nailed quadruples in free skate. In the ladies', three skaters landed triple Axel, no quadruples yet, though. The time when you can't win without difficult jumps will continue but I hope young skaters pursue personality, beauty, and elegance at the same time. I noticed that the former Japanese top ice dancer Cathy Reed choreographed many programs. Actually 15 single skaters skated with her choreography - I thought "Oh, it is nicely choreographed!", and found that it was done by Cathy. Now, we are heading for the second half of this season. The next stages are varied and very important. I hope this event will help them evolve further.