The 2018/2019 Japan National Championships
January 19, 2019
By Atsuko Kuryu
Photo © Keiko Kasai
The 97th Japanese Nationals started on December 21st; this was a four-day competition which took place at the Rakutabu Dome in Osaka. Competing there were twenty-nine male and female single skaters, two pairs and three ice dance teams.
Unfortunately, Yuzuru Hanyu did not appear due to injury, but Daisuke Takahashi's comeback made the event very exciting. It was kicked off by the ice dance rhythm dance and finished with the men's single event.
Ice Dance
Misato Komatsubara / Timothy Koleto achieved the first victory with a score of 152.60. The runners-up were Kiria Hirayama / Axel Lamasse with 121.04 points, followed by Mio Iida / Kenta Ishibashi with 119.30.
It was not a comfortable opening in the Ice Dance event. Each couple had a fall during the rhythm dance. Misato / Tim didn't appear to have good unison here, and many people might have felt that Japan's standing in the ice dance event faced a step backwards with last year's national champions Kana Muramoto / Chris Reed's break-up. People need not have worried. Misato / Tim nailed a fabulous free dance to the music from the movie, Love Story. They were very expressive with lots of love and happiness, then sorrow at the end. They were very good technically as well; a beautiful combination spin, good synchronized twizzles, a fantastic step sequence and fast, solid lifts. Maybe it was not quite at international level yet, but the Japanese ice dance fans could sigh with relief. The couple know their rhythm dance needs improvement and they are determined to work hard for next year. They said they were thankful for the fans who contributed through crowd funding, and that they hoped they could skate as well (with Japanese fans' encouragement) at the Saitama World Championships as they were able to do here.
Kiria / Axel have spent a very short time together as they only paired up at the beginning of this year, so naturally they need more harmony between them. Despite this, their free dance was very dramatic and had good speed, which ended them in second place, despite their 3rd place in the rhythm dance.
Mio / Kenta showed much improvement since last year. Their movements were smoother and more elegant. If they moved with more speed, they would seem even more impressive.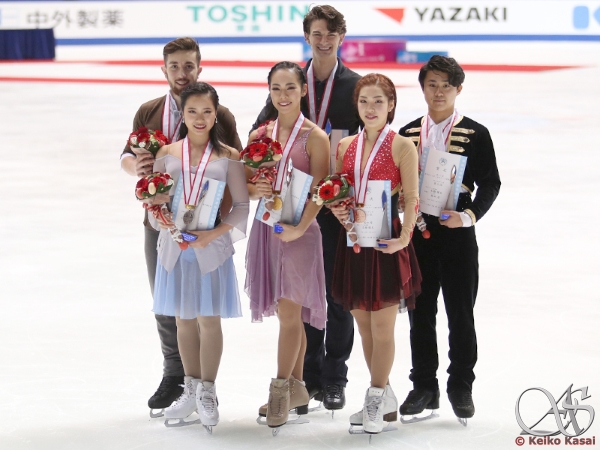 Ladies
A surprising ending came in the Ladies' single event. Rika Kihira, who fell on her triple Axel in the short program, placing 5th, bounced back to the top after landing two perfect triple Axels in the free skate with an amazingly high score of 155.01. When Satoko Miyahara popped her triple flip into a double, and placed second overall, most people believed the winner would be Rika. However, the winner came at the end of this category. Scoring 152.36 with a stunning performance, Kaori Sakamoto won her first title. Her score was second best in the free skate, but the margin between her and Rika in the short program made her the national champion.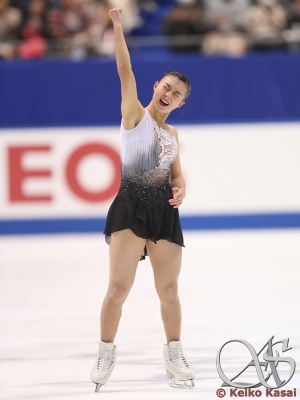 Her overall score was 228.01. Kaori had amazing speed and kept the pace going until the end of the program. She expressed the music, The Piano, showing great flexibility. It was choreographed by Benoit Richaud whom Kaori has been working with since the 2017-18 season and this encounter with Benoit seems to have paved the way to the very top of the world. However, the best part of her performance today were her jumps. She landed high and wide jumps one after another and received 9.44 GOE plus points for the jumps alone. Adding to this, she got level 4 for all her spins and step sequence. When her performance was over, the audience gave her a huge standing ovation. Kaori was surprised at the high score of the free skate but was very satisfied with her performance. She felt she left nothing on the ice. Rika Kihira was also great but unfortunately, she made one mistake on her third jump combination. If she had landed it, the result could have been different. Rika's free skate was one to remember. She moved on the ice smoothly, gracefully and along with the music, Beautiful Storm, entirely. Her overall score was 4.25 behind Kaori. Rika was very happy about her free skate because she delivered a 100 percent performance but was regretful about her short program. Satoko was beautiful and classy in her performance to Invierno Porteno. The reigning four-time national champion was very mature and showed dignity among those young rivals. She said she regretted the only mistake in her program, her flip, which might have cost her the title.
Mai Mihara was flawless in both programs but earning less program component points prevented her from reaching the podium. She looked so blissfully serene and lovely in her free skate to Gabriel's Oboe from The Mission. She is a "complete package" skater and I am a huge fan of her,
but I can't help wondering if she'd had a little more power or be a tad more dynamic, it might raise her to another level. The world silver medalist, Wakaba Higuchi, who withdrew from the Grand Prix in Russia because of injury, nailed a gorgeous short program but had several failed jumps in her free skate to come 5th overall with 197.63. It was a disappointing result, but she was still recovering from her injury. Her powerful short program Energia would promise her success soon. Mako Yamashita followed Wakaba with a narrow margin of 0.49. She was 9th in the short program but because of an energetic free skate to Madame Butterfly, she bounced back to 6th overall. It was her first senior nationals as a senior skater and 6th place was not bad for her.
The Junior champion Yuhana Yokoi made minor mistakes in her jumps but scored 196.37 and ranked 7th, which was 16 points higher than her junior national score. She is dynamic and passionate, and her two programs fitted her very well. She looked determined. Ayaka Hosoda, who was 8th overall, landed 3 triple Axels in this competition. She was supposed to retire last season but because she had a solid triple Axel at that time, she postponed her retirement. After her performance, everyone in the venue stood up to applaude her. She said she was very happy that she did it finally. Yuna Shiraiwa delivered two beautiful programs but stayed 9th with 183.16. The junior bronze medalist Tomoe Kawabata came 10th with 183.11. She nailed quality jumps and showed wonderful skating skills. Even though she fell twice on her jumps in the latter part, the plus GOE scores for the elements and PCS placed her second as a junior skater. It was important because the skaters for the world junior championships would qualify with the result of this competition. The silver medalist of junior nationals, Nana Araki finished in 13th while Wakana Naganawa, 6th at junior nationals, stayed 12th. Marin Honda and Rika Hongo, who had had trouble with their jumps and moved their base abroad, must be very disappointed by the ranks of 15th and 17th respectively. Both are attractive skaters and they are still in the process of regeneration. I hope their goals for change will bear fruit.
Pairs
Miu Suzaki / Ryuichi Kihara won their second straight title with the score of 157.70. The junior pair Riku Miura / Shoya Ichihashi withdrew from the free skate because Riku is injured.
Miu / Ryuichi choose Malaguena for their short program. As Ryuichi admitted, it was a challenging program for them because they were not used to skating to this kind of music, but this time they did it very well.
They landed the triple Lutz cleanly and nailed a beautiful step sequence. As for their free program Turn to Stone, this soft and easy sound seemed to suit them more than the short program and they gave a beautiful performance, however it was less technical than their short program. Unfortunately, Miu fell on the landings of most of the jumps except the opening triple Lutz, and Ryuichi failed at the end of the death spiral. The overall impression was pretty good, though. Their lifts looked to be more stable here than at the NHK Trophy in November. Miu said the jumps had been good in the practice so she didn't know why the three falls happened. She added that perhaps because she felt she was not ready when the music started, and this unsettled feeling lasted to the end of the program. Ryuichi regretted they had not been able to practice for three months in the summer because of his shoulder injury but felt that they were getting better and better in every competition. They said their goal in the World Championships is to qualify for the free skating. Since this year the numbers of pairs in free skating increased to 20, so they feel hopeful. They also said they wanted more people to be interested in the pairs category domestically as a result of getting good results at the Worlds in Japan. Riku / Shoya, who withdrew from the junior nationals because of Shoya's injury, again had to withdraw after the short program, this time because of Riku's injury. In the short program they couldn't deliver a satisfactory performance because they were out of practice due to injuries. They said they wanted to heal their injuries completely and give better performances next year.
Men
It received great attention from the media and figure skating fans: the comeback of Daisuke Takahashi, and he rewarded them with a good result, the silver medal. The winner was Shoma Uno by a mile. Despite injury before the short program, he bravely nailed two strong programs to receive 289.10. Keiji Tanaka was third with 236.45 while Kazuki Tomono finished
4th with a disappointing score of 227.46.
After winning an amazing short program with the high score of 102.06, Shoma made two mistakes in the opening part of the free, where he stumbled at the landing of the quad Salchow and the toe loop, but he collected himself in the latter part and easily won the title with the overall score of 289.10. Many people were worried about the effect of his injuries, but he managed to put together this performance. His expressive step sequence was brilliant. Daisuke Takahashi had many mistakes in his free skate. After showing a fantastic short program to Pale Green Ghost avoiding any quadruple jump, he bravely attempted a quad toe loop in the free, which unfortunately turned into a triple. Still, his step sequence enchanted everyone in the venue and he had outstanding presence. His total score was 239.62. As a result of being second overall, he qualified for the World team, but he passed up the spot because he was not in the right mind frame for it yet. Next season he can choose to compete as an eligible skater or not. Thanks to Daisuke's decision, Keiji got the ticket for Worlds. He was 4th in short program but second in the free skating which was good enough for the podium. He was a bit off with his jumps but received level 4 for all his spins and big plus GOE for level 3 step sequences which was brilliant. As an aside, he showed wonderful expression to the animation music, Jojo's Bizarre Adventure at the exhibition and received huge applause. If he could deliver such an explosive performance in the competition, he would have a break through there.
Kazuki Tomono who was 5th at the World 2018 finished 4th with 227.46 and could not make the World 2019 team. He was off throughout this competition, falling twice on his landing of quad Salchow, and received only three level 4s for his elements such as spins and step sequences. However, he used up-tempo tunes and slow-tempo tunes very effectively and his step sequences
in his free skating to Riverdance was so wonderful it excited the audience. The junior bronze medalist, Koshiro Shimada had an amazing short program to Adios, highlighted with a step sequence with good musicality, though he was not as good in his free skate. Skating last as he did in the junior nationals, he attempted two quad jumps which unfortunately turned into doubles. He has a competitive spirit and got rewarded with the spot for the Junior Worlds. Thanks to his mentor, Stéphane Lambiel he got very high components score, 76.50 which was 5th of all the skaters. He was 5th overall with 219.78. Despite placing 4th at the junior nationals, Yuma Kagiyama came 6th overall with 6th place in both programs. He didn't include any quads but delivered a perfect short program and flawless free skating except for stepping out of his triple Axel. The fourteen year old boy made us hopeful for his future, however he did not qualify for the World Juniors because there are only 2 spots for Japan.
The junior national champion, Tatsuya Tsuboi was 7th overall with the score of 214.87. His mistakes happened on the landings of two triple Axels; he stepped out of one in the short program and fell out the other in the free skate. In spite of such mistakes he stayed in 7th because of his amazing speed and beautiful skating skills. The bronze medalist of the JGP in Lietuva, Yuto Kishina, is a junior skater with wonderful skating skills as well. He nailed two satisfactory performances to be 8th overall. Sota Yamamoto who was still performing as he could after injury, came 9th and he was not satisfied with his current condition. But the fans were very happy because he finally landed a beautiful quad toe loop. Let me introduce the last male skater of this report, Taichiro Yamakuma. He was only 10th with 212.23 but left a deep impression on the audience. His short program to Call Me By Your Name was very exciting. This was a difficult program and he danced through it as he landing three gorgeous jumps. Even in the free skate to La La Land, he didn't lose his speed and looked very cool and snazzy, very flexible. If he keeps up this level of performance from now on, he's set to become one of the best skaters in Japan.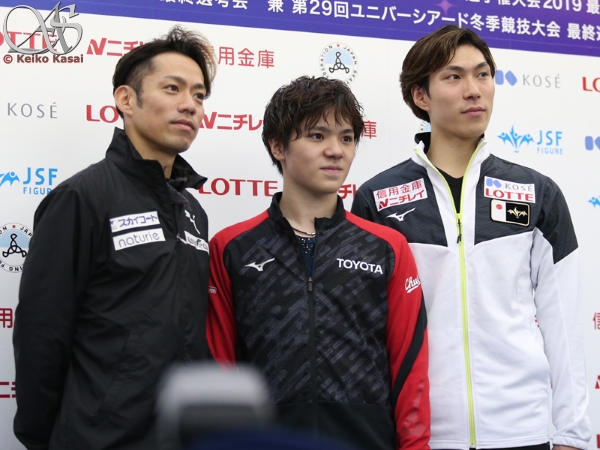 This year's Japan national championships was more interesting than ever, as the energetic performances came one after another. We feel the veterans were still very strong, while we saw many youngsters coming up showing off their wonderful potential. Daisuke's wonderful comeback seemed to give encouragement to the young skaters. It must be a very happy time for Japan being able to witness so many vivid and energetic performances. Japan is now one of the greatest countries in the figure skating world and that power only seemed to grow a little more.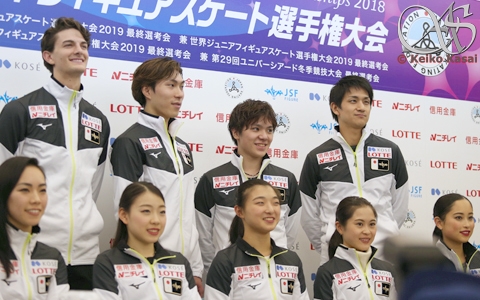 Japan's envelope of world team:
2019 World Championships in Saitama
Men's single: Shoma Uno, Keiji Tanaka, Yuzuru Hanyu
Ladies' single : Kaori Sakamoto, Rika Kihira, Satoko Miyahara
Ice Dance: Misato Komatsubara / Timothy Koleto
Pairs : Miu Suzaki / Ryuichi Kihara

2019 Four Continents championships
Men's single : Shoma Uno, Keiji Tanaka, Kazuki Tomono
Ladies' single : Kaori Sakamoto, Rika Kihira, Mai Miura
Ice Dance : Misato Komatsubara / Timothy Koleto
Pairs : Miu Suzaki / Ryuichi Kihara

World Junior Championships
Men's single : Tatsuya Tsuboi, Koshiro Shimada
Ladies' single : Yuhana Yokoi, Tomoe Kawabata, Yuna Shiraiwa*
Ice Dance ; Ayumi Takanami / Yoshimitsu Ikeda*
Pairs : Riku Miura, Shoya Ichihashi
(*as they don't have the necessary minimum score, they will go to international competition to get it)

Note: Daisuke Takahashi was supposed to get into the world team but he declined. He mentioned two main reasons: he was not ready to compete internationally - if he had started earlier, his decision could have been changed - and he wanted young skaters to have international experience.
It was surprising that Yuna Shiraiwa was selected for the World Junior Championship because she competed as a senior skater this season. JSF said it was decided according to her wishes.