Dreitannen Cup in Olten
October 31, 2020
By Judith Dombrowski
Photos © Judith Dombrowski
Let's get to know the Swiss Cup: a series of national qualifying events for the Swiss National Championships.
Dreitannen Cup in Olten was the first of the series, the first event of the season for almost all the skaters, and among the first skating events which took place after the start of the global pandemic.
Additionally, Koshiro Shimada from Japan, student at the Skating School of Switzerland, and a fan favorite, was scheduled to skate in Olten alongside some of his national and international teammates. Many reasons to be excited about this event.
The organization
The Swiss Federation did an excellent job of providing safety and making the event fun. Right at the entrance everyone attending had to sign in with their contact information, and it was mandatory for everyone to always have their mouth and nose covered, with a few exceptions for the athletes. Competitors' and spectators' areas were separated, with clear walking routes to avoid close contact with other people as much as possible. The atmosphere was nevertheless nice, free of fears and worries. Parents and other spectators were allowed on the tribune in safe distance.
There were quite a few fans present during all competitions, so the skaters could feel some warm support and appreciation for their programs.
Swiss prodigy
The highlight of the Olten event were definitely the two performances by the 13-year-old Kimmy Repond from Basel. The four-time Swiss national champion competed in the junior ladies category, landing a clean trip flip-triple toe combination and earning the best short program score of all competitors. Her free program to "La Terre Vue du Ciel" - famous in the figure skating world since Aljona Savchenko's and Bruno Massot's legendary Olympic performance - was no less impressive. With a total score of 165.81 points she showed that she is internationally competitive. "I was so excited to skate at Dreitannen Cup," Kimmy told after the competition. "I was finally able to present my new programs and my beautiful music. It's a challenge for me to put all my triple-triple combinations towards the end of the program. It needs a bit of time, but it is the right direction to be internationally competitive in the junior ranks. I'm happy with my first competition. The double Axel-triple toe-double toe combination didn't work as planned, usually this is a secure element for me. But it's just the beginning of the season, the first competition. And I think I will improve the more routine I get. I was really happy to see many of my fellow skaters again after a long time. And it was a highlight for me to meet Rika Kihira here."
"Team Champéry" representation
It was a nice and positive surprise indeed to meet the Japanese skating superstar among the spectators. Rika is currently training at the Skating School of Switzerland in Champéry with the two-time World Champion Stéphane Lambiel and came to support her Swiss teammates.
"Team Champéry" representatives were young Swiss Junior skaters Sara and Sofia Franzi, who finished in second and third place behind Repond in the junior category, Ísold Fönn Vilhjálmsdóttir from Iceland and Koshiro Shimada from Japan, bronze medalist of the 2018/19 Junior Grand Prix final. Senior Ladies winner Shaline Rüegger partly trains in Champéry as well.
Young Sara Franzi was especially happy about her free skate and her second place finish and couldn't stop smiling the entire afternoon.
It was the first competition in two years for Ísold Fönn Vilhjálmsdóttir after a long injury break. "I am really happy to be at a competition again," she explained after her free skate, "and I think it went pretty well." Ísold showed a clean triple toe-double toe combination and a very close attempt to a double Axel-Euler-triple Salchow combination which was only slightly underrotated during her free skate. She's looking forward to compete more this season.
Fans came from all over Switzerland and even from abroad to see Koshiro Shimada's new programs. Koshiro's goals for this season are to put more quadruple jumps into his programs and to show more passion and emotion on the performance side. Brave and determined, he went for the quad Salchow and the quad toe loop during his short program, however missing the landing on both.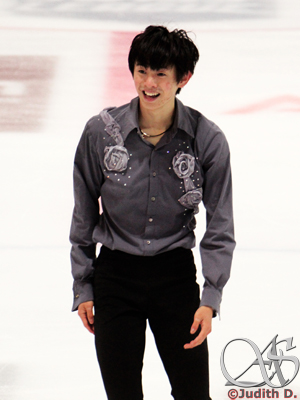 The program itself, to "Fire Dance" by Jennifer Thomas, was full of power and passion and enchanted the audience.
During his long program to "Rhapsody on a Theme of Paganini" he landed the quad Salchow as well as two triple Axels, much to the delight of his coaches and himself.
"I felt so much better than yesterday," Shimada stated after his free skate. "I don't know what happened yesterday, I felt so bad because my practices had been so good and then I ended up falling three times. But today I really enjoyed my performance and I feel happy about it." A feeling shared by coach Lambiel: "My girls did great; my boy did great. I am a happy, happy coach," he concluded after the competition.
Shimada was planning to attend another Swiss Cup event as preparation for the ISU Figure Skating Grand Prix in Grenoble, France.
13-year-old promising Swiss male junior skater Naoki Rossi had to attend the event as a spectator only. Rossi is already a five-time Swiss National champion but couldn't perform in Olten due to an injury. "I was forced to withdraw but I am already better now, and I can't wait to perform at the Swiss Cup in Lausanne in a few weeks," Rossi assured Absolute Skating.
Unfortunatley this unpredictable season couldn't go on as all of the athetes competing in Olten had hoped for. The Grand Prix in Grenoble has been cancelled because of the COVID-19 pandemic as well as next upcoming Swiss Cup events.
Looking back this makes events like Dreitannen Cup even more special, but also bittersweet to read the athletes' orginal plans and hopes. Let's hope in behalf of all skaters and fans that we can have similar events soon again, where everyone will feel safe and the skaters can show their beautiful programs.