Challenge Cup 2021: A very special and emotional event
April 26, 2021
by Judith Dombrowski *
Photos © Judith Dombrowski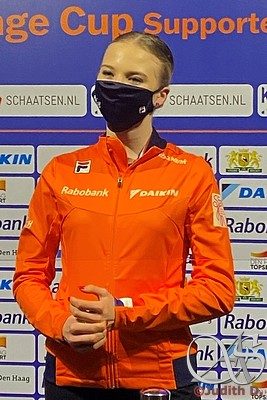 The Challenge Cup in The Hague was the first event after a long, long time for many European figure skaters. The last chance to get the necessary points to qualify for the Worlds for some, the ideal preparation for a competition under similar conditions for others. For me, a live figure skating enthusiast who attended eight events in the 2019/ 2020 season, finally the chance, after many hard months of deprivation, to do what I love the most: reporting live from a figure skating event.
Since I live in Germany near the border with the Netherlands, I was allowed to drive to our neighbour country for 24 hours without any quarantine restrictions. What this meant for me: driving the 250km to The Hague and back every day, four days in a row. That needed some well thought through preparations, but on Thursday, February 25th, at 1 p.m. I left my regular job in a car with a full tank, coke, chocolate, energy bars, drinks, and vitamins, on my way to my first real adventure of 2021.
Ladies and Ice Dance event: A long wait with happy ending and clear winners
After two and a half hours of concentrated driving I stepped into the arena right on time: the music of the first skater, local hope Lindsay van Zundert (photo above and below right) , started playing.
What an exciting moment for me, the hosting federation, but mostly Lindsay herself as she needed those short program scores to qualify for the Worlds. After a clean performance she and her coach, a former figure skater from Belgium Jorik Hendrickx (in the middle in photo), excitedly awaited the points in the Kiss & Cry. They waited, and waited, and waited a bit more. And even more. Until the friendly voice announced: you will get your scores after the next skater. Alright, waiting for another ten minutes, not that big of a deal, right?

It turned out the technical difficulties would actually last much longer. Even after the rhythm dances, all ladies were still sitting backstage awaiting their scores. But the waiting had a happy ending for Lindsay and her team. More than three hours after her performance she got the relieving scoring sheet: 32,87 technical elements score. The 16-year-old Lindsay could go to the Worlds representing Netherlands. Seeing Lindsay and her teammate, Loena Hendrickx (left in photo) from Belgium , jumping up and down in joy was the moment I realized that this was probably what I had missed most during the last months: seeing, feeling, and sharing these special moments when you see an athlete's dream come true.
Loena herself was as happy with the entire competition as her teammate: she won the ladies event with two almost clean programs which gave her the perfect confidence and security for the upcoming World Championships. This is a very special season for Loena as she can finally skate again after two seasons full of injury problems. Seeing Loena's beautiful free skate to a medley of Beyoncé songs and interviewing her after her victory was my personal highlight on Friday. (Click here to read the interview)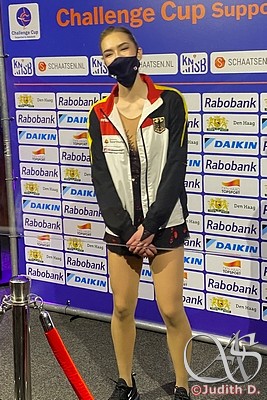 Unfortunately, many ladies didn't manage the pressure of the competition, failing to collect qualifying points for Worlds, and I realized again that falls look and especially sound much scarier in reality than on a TV screen.
But there was another happy face I met in the mixed zone on Friday—the German Kristina Isaev who skated a very convincing free skate and talked about her new living and training situation with Michael Huth in Oberstdorf. A skater that I personally would have loved to see at Worlds but who is only listed as the substitute skater for Germany.
18-year-old Emilea Zingas from Cyprus surprised me with a powerful free skate to a Billie Eilish song mix and finished third behind Loena and Emmy Ma from Chinese Taipei.
Thursday and Friday were concluded with the ice dance competition that unfortunately only had three entries and was won convincingly by the French pair Evgeniia Lopareva and Geoffrey Brissaud—a good preparation for the young team who will compete at their very first World Championships in Stockholm.
Men and pairs: Russian stars in a very emotional qualifier for Worlds
After the first two days were done, no job was interfering with the Challenge Cup during the weekend, so I had two relaxed days ahead, right?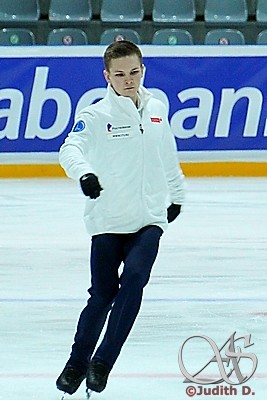 No, the biggest amount of nerve-wracking moments was still to come. As I had always been a fan of watching pre-competition practices, my alarm rang at 5 a.m. on Saturday morning, for me to be at the rink at 8 a.m. for the men's practice. The Russian stars were expected today and additionally the organizers had given me the permission the night before to live-stream the practice run-throughs on Instagram. After I had announced these news online, I hadn't expected the huge amount of response. Hundreds of skating fans were suddenly awaiting these streams. The highway was empty, I arrived on time, the streams of the first groups went well. Then the second group hit the ice and I saw him live for the very first time: Mikhail Kolyada from Russia, the comeback skater of the season, and with two of the most special programs I had ever seen. My pulse speeded up, more and more people were online awaiting my stream of his run-through. "We will start playing the music of the first skater in one minute. Mikhail Kolyada, please be ready," the friendly voice announced. I prepared my phone to go live.
"I am so sorry."
I turned around and saw the nice woman from the organizing team who had let me in.
"I just got the information that you are not allowed to film anything." What? I had hundreds of people waiting online.
"We gave you the wrong information, we are so sorry," she added.
She really was sorry and I got a lot more apologies from the organizing team afterwards. But I personally had never felt as shocked in my short skating journalism career: letting all the waiting fans down. I felt so devastated that I couldn't focus on Mikhail's run-through performance. Luckily I have been able to see him three more times that weekend.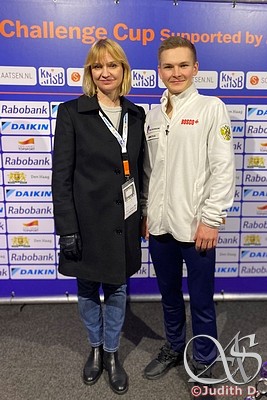 Which was really something special, I had never seen anyone landing such massive and high triple Axels before. My thoughts after watching Mikhail perform and train: if there is anyone landing a quadruple Axel anytime soon, it will be Mikhail. I still feel sorry that I wasn't allowed to record anything but luckily all fans could witness his exquisite jumps and performances at Worlds.
Of course Mikhail was the clear favorite to win the event and he did that with a convincing score of 270.17 total points. Unfortunately, the Axel didn't work for him during the short program and one time during the free program, but Mikhail and his coach were pleased with his performance at the Challenge Cup:
"I think it was very important for us and for everybody to have this competition because there were no competitions this year outside of Russia,"
Mikhail told us after his win. His goals for the World Championships:
"It's a secret," he stated with a grin.
We didn't get to see Romain Ponsart from France at the World Championships but he showed what he is capable of, especially in the free skate, with an almost flawless and very powerful performance, earning him the silver medal ahead of his teammate Adam Siao Him Fa, who tried a lot of technically difficult content in both of his programs.
The biggest emotional story and my personal highlight of the men's competition took place away from the medals: Mexico's Donovan Carrillo hadn't been able to compete at all since last year's Challenge Cup where I had a nice talk with him. (Click here to read ) And what a year had it been for Donovan.

"Because the rinks were closed I couldn't skate from March to July 2020. I needed to stay home," Donovan told me after his free skate.
"In July some rinks re-opened, but my rink in Leon stayed closed so we needed to move to different places. When the rink in Leon finally reopened in September, I caught the coronavirus. Which meant another month—all of November—without skating until I had fully recovered!"
You could see Donovan's pure joy of being able to compete again already during practice sessions and even more during his performances. Last season Donovan had missed the qualifying requirement for Worlds by 0,2 points in the free skate. It all counted here. And he made it! 67.31 points for his technical elements guaranteed Donovan his spot at the World Championships, bringing him one step closer to his big dream: qualifying for the Olympic Games in Beijing. Sharing this moment of pure joy with him touched me to tears and I only wish him the very, very best at the Worlds, and for reaching all his dreams.
Russian champions and multiple European and Worlds medalists Evgenia Tarasova and Vladimir Morozov were the big names in the pairs competition. A pair I never disliked, but at the Challenge Cup they really won my heart. Such great programs and such positive charisma. Evgenia stated after the competition that it had been important to them to compete under similar circumstances as at the upcoming World Championships.
"We didn't have such an experience before: skating in an empty stadium just as at practices and sitting locked in our hotel room awaiting our Covid test result. That's why it was important for us to skate here."

Another team who took only positives from this competition were silver medalists Annika Hocke and Robert Kunkel from Germany. I had spoken to them last year at the Nebelhorn Trophy in Oberstdorf after they hadn't been happy with their performance at all (Click here to read ). I met much happier faces in The Hague. Pleased with both performances, they were confidently looking forward to skate at their very first World Championships together. The bronze medal went to the Hungarian pair Ioulia Chtchetinina and Márk Magyar who also showed two very convincing performances.
Sunday evening, 10 p.m., I reached home again for the last and final time. My car had 2000km more on the tachometer, all chocolates had been eaten up, I had drunk as much coffee as no other weekend in my life before. I was totally exhausted but even more happy and thankful for a wonderful and emotional experience. An experience that I used to take for granted a year ago but is something really special these days.
I would like to thank Absolute Skating for putting their trust in me and sending me to the competition, the organizers of the Challenge Cup in The Hague who faced and managed so many difficulties and still went on with the competition and created a very welcoming, nice atmosphere all over the event. And the biggest thank you to the athletes of our amazing sport, who keep fighting and working hard for their dreams through all difficulties and hard times. Thank you for your wonderful performances at the Challenge Cup 2021 in The Hague!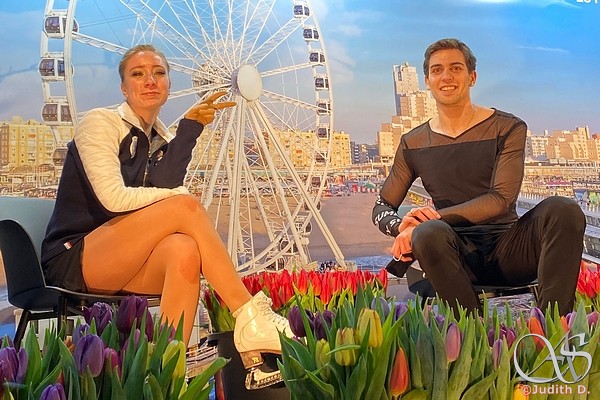 Winners of the ice dance: Evgenia Lopareva and Geoffery Brissaut
* Special thanks to Lotte from the organizing team. You did an amazing job and it wouldn't have been even half as much fun without you!