Japan Open 2023
October 16, 2023
By Ayaka Okumura
Photo © Kasumi Nabikawa
The Japan Open came back to Saitama Super Arena at the beginning of October to kick-off the series of international figure skating competitions in Japan. Earlier this year, in March 2023, this arena was full of skaters and spectators during the World Championships, and indeed most of the participants of this competition skated here seven months ago so they must have been excited to come back.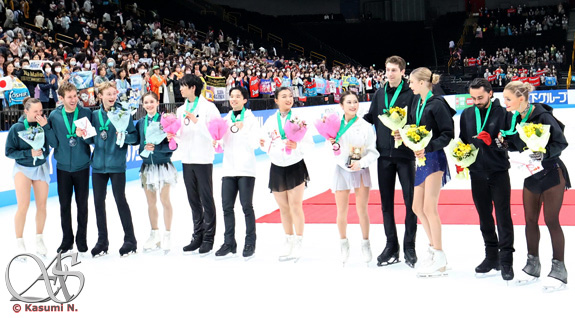 As the Japan Open is the team event, it started with team introductions - Team Europe, Team North America, and Team Japan. By the rules, each team consists of single skaters only - two men and two women. Another interesting detail about the Japan Open is that teams can include retired skaters - this year these were Morisi Kvitelashvili (GEO) in Team Europe, Mariah Bell (USA) in Team North America, and Satoko Miyahara (JPN) in Team Japan. Getting a chance to see competitive performances of beloved retired skaters is another reason that makes this event special.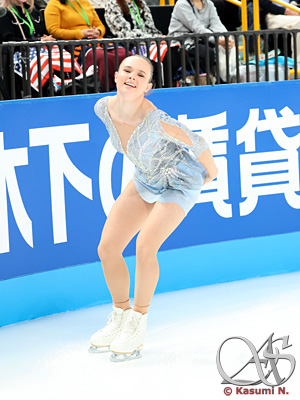 Women
Mariah Bell (USA) was the first skater to warm the arena with her lovely comeback performance. Since her retirement Mariah has been dedicating her time to her college education and she had some difficulties with her triples; however, she still tried to recover her combinations or to switch to jumps with better base values to gain as many points as possible to contribute to the team. The following Kimmy Repond (SUI) skated a clean program and the audience responded with a standing ovation.
Satoko Miyahara (JPN) came to the ice with cheers from the audience. Stéphane Lambiel was playing a role of Satoko's coach as over the summer she spent some time in Champéry and there he choreographed another masterpiece for her, "Romeo and Juliet". It was the debut performance of the program co-created by these two legends. Satoko added so much emotion into her performance and her presentation skills have improved even more as a professional skater. The audience couldn't wait to shower applause at the dramatic ending of the program and Stéphane kept shouting "Bravo!" while welcoming Satoko back with a big hug. Satoko's final competitive skate took place at this very arena during the Japan Nationals in 2021. Unfortunately, an unexpected mistake cost her a ticket to her second Olympics back then. However, this performance must have left everyone with a beautiful and updated memory.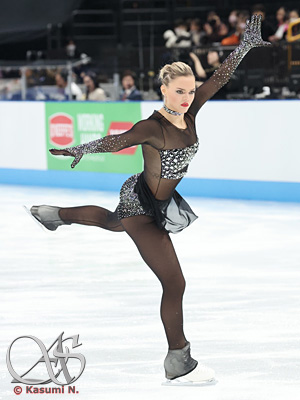 Isabeau Levito (USA) was another skater who wanted to improve her memories from this arena as she barely missed the podium and placed fourth at Worlds 2023. This time Isabeau was able to skate almost a clean program except a pop in her second Axel. The World bronze medalist Loena Hendrickx (BEL) skated next with a beautiful full-body black sheath dress. She skated to "Break My Soul" by Beyoncé and Madonna, a very danceable piece, and the audience enjoyed her powerful performance clapping throughout the program.
The last skater to skate was Kaori Sakamoto (JPN), a reigning World champion. Kaori has already won the Autumn Classic International in September and this was her second international competition of the season. Although Kaori missed some jumps at her previous competition, now she skated a clean program and the women's event ended with applause and a standing ovation.
Intermission
During the intermission, Absolute Skating, joined by other journalists, was able to conduct an interview with a newly formed Japanese ice dance senior couple Utana Yoshida and Masaya Morita. Utana, 2020 Winter Youth Olympics champion with Shingo Nishiyama, and Masaya, 2022 JGP Czech Skate bronze medalist with Nao Kida, have started working together at Kinoshita Academy this season and they recently finished a camp in Finland where they were able to train with Finnish ice dance couples Juulia Turkkila / Matthias Versluis and Yuka Orihara / Juho Pirinen.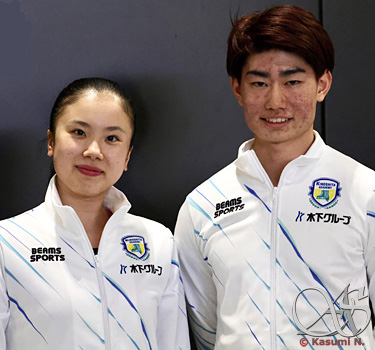 "I think we are quite a good match," Masaya said, "the goals we pursue in this sport and our direction are the same, so it is easy for us to practice together."
"Indeed, we're a good match," Utana agreed. "I actually feel we're getting better and better with daily work. Some things don't go well, but it is still fun and I'm very much looking forward to actual competitions."
The couple was at the arena for their debut performance at the gala after the Japan Open, Carnival on Ice. They planned to perform their rhythm dance of this season choreographed by Cathy Reed and Kaitlyn Weaver to "Real Wild Child/Wild Side/Wild Thing".
"I'm very excited about it," Masaya shared. "I had a chance to check the arena earlier and I saw this big audience, so I think my motivation is pumping up now."
"I still don't feel that this is real," Utana added. "Earlier I saw Riku Miura and Ryuichi Kihara skate (they were guest skaters at Japan Open - ed) and I asked myself: 'Am I really performing there?' But I will enjoy the stage when the time comes."
Utana and Masaya are planning their competitive debut at the upcoming Western Sectionals. Their aim for this season is winning the Japan Nationals and their mid/long-term goal is gaining the spot for the 2026 and 2030 Olympics and performing their best on the Olympic stage.
Men
Morisi Kvitelashvili (GEO) had his last international competitive performance at this arena at Worlds 2023. Accompanied by his former coach Eteri Tutberidze, he skated last season's free skate to Elvis' medley. Koshiro Shimada (JPN) performed his new "Dance Macabre" free skate choreographed by Stéphane Lambiel. He opened it with a beautiful quad Salchow but unfortunately popped his quad toe loop to only double. Koshiro's quad Salchow has been quite stable over the last few competitions, but he is still struggling to have both quads - Salchow and toe loop - clean in one program.
Jason Brown (USA) was next with his new program "The Legend of Tarzan". Similar to other programs choreographed by Rohene Ward, this one requires a lot of unique movements making Jason move like Tarzan and appeal with his toughness to the judges and the audience. He had to change some planned triples to doubles, probably due to a lack of stamina, but his component score was over 85 as always expected from Jason. He is not planning to join the Grand Prix circuit this year, but hopefully this energetic program will be seen by more people later this season.
The next skater was Kevin Aymoz (FRA) who skated to Ravel's "Bolero" wearing a very simple black costume with red gloves.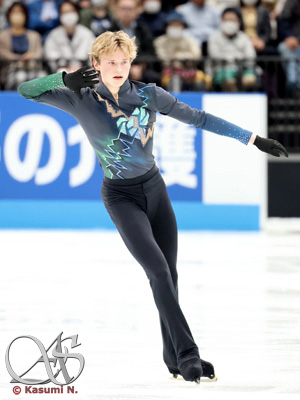 He is another skater who is capable of using his entire body to deliver a presentation, and he showcased his interpretation of "Bolero" by engaging every single part of his body. Despite his mistake on the opening quad toe, the audience was stunned by his breathtaking performance and indeed his components score went above Jason's.
Kazuki Tomono (JPN) had to deal with a lot of pressure as Team Japan was leading with Team North America being the second and the last person to skate after him being the "Quad God" himself. Kazuki performed his new free skate choreographed by Misha Ge to "Halston" by Stephan Moccio, a piano piece that is very different from his prior music choices. Despite this new challenge, Kazuki landed three quads - two quad toes and one quad Salchow - which almost certainly secured the gold for his team.
Then, here came the 'Quad God' Ilia Malinin (USA) and opened his program with a clean quad Axel! He tried quad Axel at last year's Japan Open as well but didn't succeed, this time he came back with this jump perfected. He then continued with more quads - Lutz, Salchow, quad Lutz - Euler - triple Salchow, and quad toe loop - triple toe loop - five quads giving him the technical score of 109.25 points and 193.91 in total.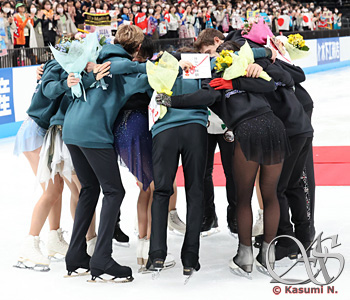 Unfortunately, his tremendous contribution to the team was not enough to help Team North America win, but he wowed not only the audience but all his fellow competitors as well.
The final results were as follows:
Team Japan secured the gold medal with 614.79 points, Team North America earned an overall total of 577.87 points, securing a second-place finish, and Team Europe claimed third place with 543.31 accumulated points.
Team Japan
Winning team contributed their comments during the press conference after the event:
Koshiro Shimada: "Since early morning I was nervous because this arena is so special. I'd like to thank the audience. And also, I was able to push myself because I saw great performances by Satoko and Kaori." (Koshiro cried after Satoko's performance!)
Kazuki Tomono: "This is my first Japan Open and the first team event, so I was very nervous as well, but after seeing the performances by three teammates I've decided to concentrate on myself."
Satoko Miyahara: "Since I had to skate a free program again as a competitor, I practiced quite hard. I was able to contribute to my team so now I feel relieved. This is all thanks to my teammates."
Kaori Sakamoto: "I have been so motivated for this last week since Kazuki Tomono told me that Satoko Miyahara's performance will be really great." (Kazuki and Satoko trained together before Japan Open - ed)
Kaori competed at the 2018 PyeongChang Olympics together with Satoko, so competing at the team event together with Satoko again must have given her so much excitement and motivation to improve. Everyone in the team commented that they succeeded in performing better thanks to the support from their teammates. This is the reason why the team event is so special in figure skating. The entire arena has witnessed another great teamwork here at Japan Open 2023.